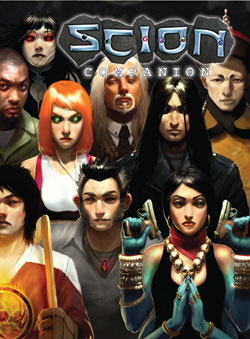 Scion is a tabletop roleplaying game by White Wolf, though not one that takes place in either of that company's trademark Worlds of Darkness. Instead the setting is the world as we know it, but there's one big difference: the various gods and goddesses of mankind's pagan pantheons really exist. The myths about them are true, and they do walk the Earth in human guise, looking for men or women to mate with.
Player characters are the offspring of such unions, making them technically demigods, though in game terms they are referred to as Scions. They grew up unaware of their nonhuman heritage, until one day they received a visitation from their divine parent, and were told the truth about their origins.
Being a demigod sounds cool, but there is a catch: the Titans, ancient powerful entities, and your grandparents on the important side of the family, once vanquished and imprisoned by the gods, are breaking free, and a cosmic war has begun between the two. The characters must join the fight, and in the process grow in power until they too become gods in their own right.
Think of it as as Exalted meets American Gods IN AMERICA; in fact the game designers acknowledge American Gods among their influences.
The rulebook includes six possible pantheons to choose from, using the time-tested White Wolf concept of making members of different groups team up into a motley crew. They are: the Pesedjet (Egyptian), Dodekatheon (Greek), Aesir (Norse), Amatsukami (Japanese), Atzlanti (Aztec), and Loa (Voodoo). Game extensions include the Tuatha De Danann (Irish), the Celestial Bureaucracy (Chinese), and the Devas (Hindu) from Scion: Companion, as well as nationalistic pantheons of America and the Allies in the same sourcebook for running games during World War Two, and it's implied that yet more pantheons exist as well (indeed, there's a PDF covering the Yazata, the Persian pantheon (Yazata: The Persian Gods), as well as a supplement not available in English detailing the Gaulish pantheon; several fan-made pantheons can be found on the net as well). There is also the Atlantean pantheon, although they are canonically dead after having been corrupted by the Titans; details on the actual Pantheon and their Cosmology are in Demigod, while the Pantheon's original Virtues (Duty, Intellect, Order, Piety) and Purview (Scire) are in the Scion Companion.
Not to be confused with the Tomb Raider artifact or the Toyota car.
---
This game features examples of:
Community content is available under
CC-BY-SA
unless otherwise noted.