"Into unreliable guns with little force, Mokuzu loaded sugar candy bullets, I loaded live rounds, and we kept shooting, yet it didn't look like we could take anything down".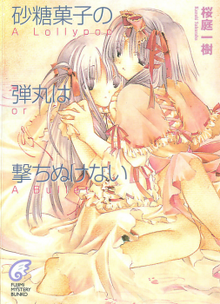 Satou Kashi no Dangan wa Uchinukenai (砂糖菓子の弾丸は撃ちぬけない, Sugar Candy Bullets Can't Pierce Anything or A Lollipop or a Bullet) is a manga series based on a novel by Kazuki Sakuraba. The manga is illustrated by Iqura Sugimoto and it has 13 chapters, gathered in two volumes.
Nagisa Yamada is an aloof and anti-social middle school girl who lives in a nondescript rural town in Tottori. After the death of her father caused her mother to struggle to make ends meet and her brother to withdraw from the world around him, Nagisa decided that things like high school and friendship meant little to her. Thus, she wants nothing more than to graduate middle school and enroll in the Self Defense Force, where she hopes to be able to shape her own destiny.
When a strange new girl by the name of Mokuzu Umino transfers in from Tokyo and declares that she is a "Mermaid", she quickly becomes the center of attention. Noticing that Nagisa is the only classmate that seems to have no interest in her, Mokuzu quickly decides that they should become "precious friends". Despite Nagisa's objections, Mokuzu begins to follow her wherever she goes.
How will Nagisa, who cares for nothing that is "not a bullet", deal with this eccentric girl who claims to need her friendship in order to survive? And what will she do if Mokuzu's wild stories turn out to be true? Or, if Mokuzu actually is lying about being a mermaid, then why would she make up such tales, and what's up with her and her father...?
---
This series contains examples of:
Abusive Parents -- Mokuzu's rockstar father, Masachika Umino, is shown to be aloof towards her at best and emotionally abusive at worst, once leaving her behind in a grocery store parking lot simply because a defective shopping cart made him angry. And that's only the tip of the iceberg.
Adults Are Useless -- Nagisa comes to this conclusion after talking with her teacher.
  Nagisa: "Adults act like heroes but all they really want is to control us children."
  Nagisa: "Is Kanajima invisible or something?"
  Nagisa: "Aren't they amazing? They can go on forever talking about pointless subjects. Even I'm beginning to admire them for it."
Title Drop --

The very last words in the manga.

Tsundere -- Transfer student Mokuzu shows type B Tsundere tendencies, by throwing half-full water bottles and shouting "Go to hell!" at Nagisa... the one girl in school that Umino wants to become friends with.
Unsound Effect -- A non-humorous in-universe example occurs when newly-arrived Strange Girl Umino Mokuzu introduces herself to the class:
 Mokuzu: "Then please treat me well."

Mokuzu: (while bowing to the class) "Bow."

Nonplussed Student: She actually said "Bow"!
Zettai Ryouiki -- Most of the female students in Nagisa's school sport Type C, but Mokuzu doesn't seem to settle for less than Type B.
The following tropes are inherent spoilers, read at your own risk!
Spoiler Tropes
Community content is available under
CC-BY-SA
unless otherwise noted.