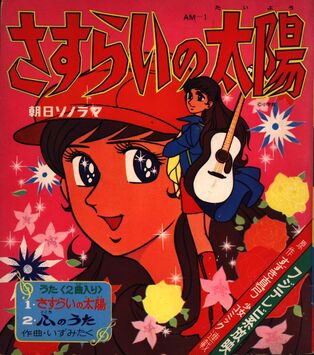 Sasurai no Taiyou
(さすらいの太陽), known as either 
Wandering Sun
 or 
Nozomi in the Sun, 
is a shoujo manga by the writer Keisuke Fujikawa and the artist Mayumi Suzuki. It was published in Shogakukan's
Shoujo Comic
magazine from 1970 to 1971, and it also had an
Animated Adaptation
in 1971; it ran through 26 episodes.
A nurse named Michiko Nohara deliberately switched two baby girls at birth, Miki and Nozomi, out of personal grudges. As such, Nozomi should've been raised by the rich Kouda clan but was brought up by the poor Mine family, and her counterpart Miki the opposite. Not knowing this, the girls find one another in highschool: Miki has become a proud Alpha Bitch (in no small part, thanks to her Rich Bitch mother) and Nozomi is a kind Girl Next Door. But both young women have the same dream: to become the most popular singers in the Japanese pop music scene...
Sasurai no Taiyou is said to have been the Trope Maker for Idol Singer, having been among the first to depict the Japanese music industry. Shows as different as Creamy Mami, Perfect Blue, The Idol Master, Full Moon o Sagashite and others owe some of their tropes and influence to this one. Additionally, Nozomi's VA Junko Fujiyama was a prospect singer in her own right and managed to use the series to kickstar her own career. And last but not least, this was the first anime where both Yoshiyuki Tomino and Yoshikazu Yasuhiko (of Gundam fame) worked together.
Not to be mistaken with Wandering Son (Horou Musuko in Japanese), a much more recent seinen manga with a very different theme.
---
Some of the tropes that show up in Sasurai ni Taiyou are...
Community content is available under
CC-BY-SA
unless otherwise noted.