Wiki Targeted (Entertainment)
Play Sound

YMMV

•

Radar

•

Quotes

• (

Funny

•

Heartwarming

•
Awesome

) •

Fridge

•

Characters

•

Fanfic Recs

•

Nightmare Fuel

•
Shout Out

•

Plot

•

Tear Jerker

•

Headscratchers

•
Trivia

•

WMG

•

Recap

•

Ho Yay

•

Image Links

•

Memes

•

Haiku

•

Laconic

•
Source

•

Setting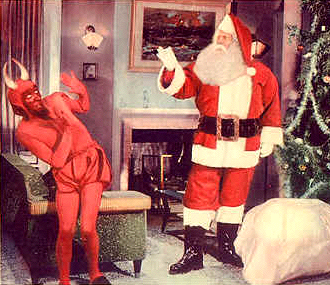 Prepare yourself for a Big Brother Santa Claus fighting the evil forces of prancing demons with the help of child labor and Merlin.
Santa Claus is a 1959 live action motion picture depicting the adventures of Santa Claus in preparation for and during his annual Christmas rounds. Most commercial adaptations of the Santa Claus legend add a distinctive twist to the traditional story, but this film trumps them all with its depiction of an extraterrestrial Santa doing battle with a demon sent to Earth by Lucifer to ruin Christmas by killing Santa and "making all the children of the Earth do evil."
El Santo Claus was directed by Rene Cardona and written by Cardona and Adolfo Torres Portillo. The original film was produced in Mexico and features primarily Spanish dialog. It should be noted that in the late 1950s Santa Claus remained an unfamiliar figure in much of Mexico, where holiday gift-giving customs still focused on the Magi and their feast day, Epiphany (January 6). Even today, many discussions of Mexican Christmas customs make no mention of Santa Claus, instead focusing on such traditional holiday elements as posadas and pinatas. Santa has become more popular only in recent decades. This helps explain some of the film's... unique take on Santa Claus.
A dubbed and slightly edited English-speaking version was produced for U.S. release in 1960 under the direction of K. Gordon Murray. Santa Claus was considered to be a financial success over several holiday-season theatrical releases in the 1960s and 1970s. Broadcast of the film also became a holiday tradition at several U.S. television stations. The film garnered at least one award, winning the Golden Gate Award for Best International Family Film at the San Francisco International Film Festival in 1959.
Not to be confused with Santa Claus the Movie.
For the Mystery Science Theater 3000 version, please go to the episode recap page.
---
Santa Claus has examples of: