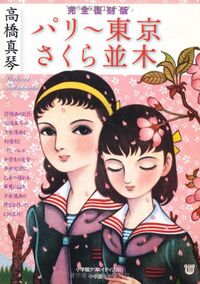 Sakura Namiki 
(さくら並木, T
he Rows Of Cherry Trees
) is a four-chapter short manga published in 1957. Created by Makoto "Macoto" Takahashi, it has been considered as an early example of what would later become the
Yuri Genre
.
The Sakura Girls Institute, an all-girls school located in Osaka, is holding its Sports Festival. One of the biggest highlights is the ping-pong tournament, where three girls are the biggest candidates for the final victory: the first-year student (and protagonist) Yukiko Nakahara, the second-year student Ayako Sunayama, and the third-year (and team captain) Chikage Maki. However, this is just the beginning: the manga in itself delves on the relationship between Yukiko and Chikage, their almost Love Triangle with Ayako, Yukiko's own past marked by her loneliness and her father's early death, and how she decides to deal with the potential problems between her and her dear "Onee-sama". . .
---
Tropes used in Sakura Namiki include:
Community content is available under
CC-BY-SA
unless otherwise noted.