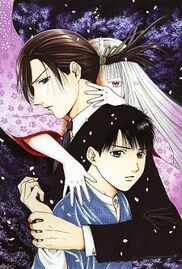 Sakura Gari is a Taishou Era romantic story by Yuu Watase, ten years in the making. Its nine chapters were published in the josei magazine Rinka from 2007 to 2008, then gathered in three tomes.
The story is centered around the 16 year old Tagami Masataka as he tries to find his place in life. While attempting to start prep school as a rounin, he encounters Saiki Souma, the 25-year-old son of a distinguished noble of the Saiki Koushyaku family, and becomes part of the Saiki household as a mix of boarding student and servant: he will be one of their butlers, and in exchange they'll pay for his education and help him get a stable job. The Saiki household, however, are hiding some very dark secrets, and Masataka unwittingly starts getting involved... especially when Souma and his younger sister Sakurako are the keys to unlock these cruel mysteries.
This manga is a rather explicit entry in the Boys Love genere, and is departure from the usual Yuu Watase's usual work in Shoujo romantic series.
---
This series has examples of:
Abusive Parents - Sakurako's mother abused Souma physically, emotionally and sexually, having snapped after her child became The Unfavorite.

Katsuragi hints that

his mother was abusive too

, during the Motive Rant he sprouts while he is

raping and torturing Masataka.

For that matter, Katsuragi's wife Asayo suggests that

her father was like this as well, saying that a beating was always a good remedy when she messed up.

Accidental Pervert - Masataka meets Katsuragi... when he walks on him giving Souma head.
Alone in a Crowd - Souma is constantly in a Friendless Background, especially his childhood where he was trapped in a living hell to the extend it almost drove him into Go Mad From the Isolation territory. That said, Masataka gets his fair share of this as well.
Alpha Bitch - Kanako Kawamori
And I Must Scream - Souma's childhood is... there's actually not a word to describe how horrible and tortuous his childhood was. It was just... being molested, raped, and tortured daily, isolated, lonely and ostracised, with all the adults turning a blind eye to how horrifically he is being treated. Rape as Backstory Up to Eleven He has a very good Freudian Excuse for his behaviour. In fact, considering what happened to him, it's actually surprising that he is able to function as well as he does. This extends beyond Break the Cutie and through the Trauma Conga Line; each new hit keeps breaking him.
Anything That Moves - Souma.
Aristocrats Are Evil - Most of the nobles and aristocrats are shown being very snooty and insufferable. Even Souma and his family, although not shown being snooty, are certainly very messed up.
Arranged Marriage - Kanako's father wants to engage her to Souma as soon as she graduates from her women's college. Souma refuses at first, saying he's too troubled to get married, but later he accepts.

Nothing happens in the end, though, as he's stabbed by Katou in the last pages of the manga and it's not clear if he makes it or not.

Art Shift: Watase sets aside her super prettified usual style to favor a still pretty-looking, but more realistic one.
Ass Shove - A not-comedic example -- one of Katsuragi's torture methods against Masataka included him forcibly shoving a household object up the guy's anus right after having raped him.
The Atoner - Souma's father tries to pass himself off as one. Souma's mother Abigail was a woman he had an affair with in England, but he had to go back to Japan to marry his fiancee. Abigail was already pregnant with Souma at the time, and she died at childbirth. His way of making amends to her? Have

Souma dress up as Abigail and continually apologize to him

. Yeah, he's messed up.
Attempted Rape - Subverted: it's believed that

Terashima

went into the warehouse

Sakurako

was locked in to rape her, as revenge against

Souma

; later we learn that she had called him up voluntarily, then crushed his hand and pushed him down the stairs.
Bastard Boyfriend: Souma is maybe one of the most complex examples of the Conflicted sub-type, as he is a smug and abusive sexy bastard to Masataka and near any lover that he has... but is revealed to have heartbreaking, terrifying reasons to be as messed up as he is.
Berserk Button - DON'T touch Masataka. Souma will fucking KILL you, and he will not make it painless.

And do NOT attract Souma's attetion to yourself. Either Katsuragi or

Sakurako

will catch and torture you, and neither will make their punishments easier either.

Beware the Nice Ones - Souma is gentle, kind, caring and generally submissive, allowing anyone to screw him if he can get by in life. But you touch Masataka and you've crossed the line.
Big Brother Complex - Subverted and followed in different instances. Masataka and his blood-related big brother Takafumi, although they don't look like they get along, are actually very close (with Masataka always having felt guilty about his older brother suffering while working under a different family). Masataka and his younger brother Mitsugu, however, are a different story - Mitsugu is clingy and Masataka is actually cold and mean to him. And then there's

Souma and Sakurako

, where their relationship actually goes into Brother-Sister Incest.
Bishonen - Souma and Masataka.
Bitch in Sheep's Clothing - Katsuragi seems to be a normal, efficient and handsome doctor at first. Then we see him having sex with Souma, but he still looks like a shady but not openly evil man, even supporting Masataka when he deals a What the Hell, Hero? to a nobleman during the ball. Later, we see

that Sakurako has told him to slowly kill her father via poison

. And later, there's both his abuse of his wife and what he did to Masataka (read:

raping and torturing him out of jealousy.

) And there's what he did to Souma...
Bi the Way - Souma doesn't really make gender distinctions. Masataka claims that he's not interested in romance, but he feels undeniably attracted to both Souma and Sakurako.
Break the Cutie - First, we see Masataka getting horribly and painfully broken in the Saiki household as time passes. Then we learn Souma that became so broken by the end of his childhood that he grew into an Empty Shell Stepford Smiler who allowed anyone to screw him if he could get by in life in return. Honestly, the base premise of the entire series is this trope.
Broken Ace - Souma. He's handome, affable, rich, intelligent, a skilled businessman. . . and horrifyingly screwed up.
Broken Bird - Katsuragi's wife Asayo, utterly broken for his abuse.

She ends up killing him.

Souma is one of the rare male cases of this trope.

Brother-Sister Incest - Half-siblings version:

Souma and Sakurako. They even have sex in the second chapter of the manga.

.

Except that Sakurako happens to be Youya, his brother. And further subverted when we find out that

Youya is in fact the product of Kato and the wife of Souma's father (the one he left Souma's mother for), and hence Souma and Youya are actually not related at ALL.

But Not Too Foreign - Souma is half Japanese, half English.
Cannot Spit It Out -

Souma can't bring himself to tell Masataka that he loves him and instead rapes him repeatedly, and then gives him an index of poems to describe his feelings. A straight-out confession would have been much less psychologically scarring.

Casanova - Souma is the King of this... except that that he's not seducing anyone. Everyone else just wants to screw him and he lets them.
Celibate Hero - Masataka for the majority of the beginning, claiming that he has no interest in things like love, and that love is simply for people's self-satisfaction. (In fact, once he has a wet dream and goes take a cold bath in the nearest well, extremely ashamed). Which also brings him a bunch of internal conflict when he starts feeling attracted to BOTH Sakurako and Souma...
Chains of Love - More like Ropes Of Love. There's a lot of centerfold pictures of Masataka and Souma tied up together.
Chick Magnet - Souma is shown attracting many, many female suitors.
Child by Rape -

Masataka, who knows it well. He refers to himself as a "dirty child" because of that.

Clingy Jealous Girl - Kanako and Sakurako.
Cold-Blooded Torture - Dr. Katsuragi's rape and torture of

Masataka

.

Also, what

Sakurako

does to almost every single lover that

Souma

has among the household staff, and takes pictures of each abuse session. The most notorious cases are:

Masataka (tied up, force fed a meal with glass shards hidden inside, threatened)

,

Terashima (crushes his drawing hand, throws him down a flight of stairs)

, and an unnamed maid ( Bound and Gagged, savagely beaten up -- causing her to lose Souma's baby that she was pregnant with.) In the culprit's own words:
   Sakurako: "That night, I called him (read: Terashima) deliberately... like with all the persons who had a relationship with Oniisama... It's so intresting! Just by punishing them for one night and taking pictures, all of them got scared and became strange..."
 Masataka (upon finding a passed out Sakurako): This beautiful girl... her skin and hair, were all white.
Notes
↑ No, not Messianic Archetype
↑ It's worth noting that this is one of those cases where this trope is cultivated and deconstructed gradually over the entire series, and isn't used to invoke a Mary Sue as Masataka is very flawed.
↑ With the way this trope is so utterly decimated, this manga showcases one of the few times when a writer actually deserves the credit of Magnificent Bitchery.
Community content is available under
CC-BY-SA
unless otherwise noted.