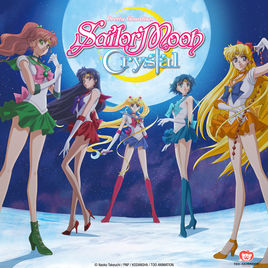 Sailor Moon Crystal (美少女戦士セーラームーンCrystalクリスタル Bishōjo Senshi Sērā Mūn Kurisutaru; Pretty Guardian Sailor Moon Crystal) is the second anime series based on the classic shoujo manga Sailor Moon by Naoko Takeuchi. Originally announced in 2012, it actually started its run in 2014 and lasted until 2015, spanning 39 episodes that were released online and then in Blu-Ray/DVD's. It follows the original manga closer than the first anime (though still with some changes), and it adapts the first three arcs: Dark Kingdom (first anime's original season), Black Moon (Sailor Moon R), and Infinity / Death Busters (Sailor Moon S). There will also be two movies covering the Dream (Super S) Arc, named Sailor Moon Crystal: Eternal.
The base story, for those who don't know about it, is more or less this: The middle schooler Usagi Tsukino meets the talking cat Luna, who tells her that she is destined to become Sailor Moon, a Magical Girl Warrior who fights the forces of evil. Her classmates Ami Mizuno and Makoto Kino, plus two other girls named Rei Hino and Minako Aino, turn out to be her fellow Sailor Senshi (Sailors Mercury, Jupiter, Mars and Venus, respectively) and join her in her adventures; so does a mysterious young man named Tuxedo Kamen/Tuxedo Mask, the secret identity of the highschool student Mamoru Chiba. Little by little Usagi and her friends find out the truth behind their past lives, are later joined by other Senshi (Chibi-Usa/Sailor Chibimoon, Setsuna Meiou/Sailor Pluto, Haruka Tenou/Sailor Uranus, Michiru Kaiou/Sailor Neptune and Hotaru Tomoe/Sailor Saturn), and have to face other villains that threaten Earth and the universe itself.
Tropes used in Sailor Moon Crystal include:
Community content is available under
CC-BY-SA
unless otherwise noted.