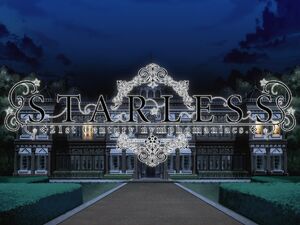 STARLESS 21st Century Nymphomaniacs, known in English as STARLESS Nyphomaniacs' Paradise, is an H-game by Sei Shoujo, the same artist and writer of Discipline: The Record Of A Crusade and Bible Black. Like most of the games which he has created, it features exquisite artistic detail and every twisted sex fetish you can possibly name shoved into an eroge plot. It was released in Japanese in 2011, and in an English language adaptation in 2015.
The protagonist is Sawatari Yukito, a guy who just wanted to earn some money over the summer, and unwittingly took a job offer to be a handyman for the Big Fancy House of the Mamiya family out in the country, since they were offering quite a bit for the job.
Soon after he arrives, he quickly finds out the job title is In Name Only. In fact, the residents of the mansion are kinky, twisted aristocrats who engage in perverse sex play of every sort, and he's now forced to join the maids of the manor in pleasing their every decadent whim.
That is, unless he can escape.....
In 2019, Great Deceiver, a sequel featuring Mamiya Marie as a returning villain, was released in Japanese. No English adaptation has been announced as of the end of 2019.
Tropes used in STARLESS include:
Community content is available under
CC-BY-SA
unless otherwise noted.