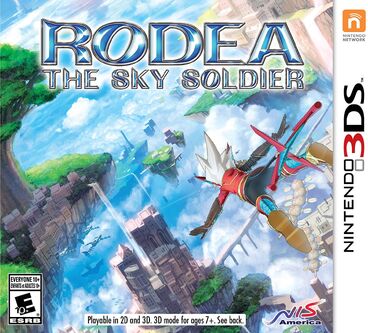 Rodea: The Sky Soldier (Tenkuu no Kishi Rodea in Japan) was originally an game for the Wii and Nintendo 3DS, but since the production on the 3DS version was taking longer than expected, the Wii version was shelved in 2013 and a Wii U port was started, since the Nintendo Wii was considered obsolete at this point. But despite these setbacks, the Wii version was available as an tie-in with the first series of the Wii U games. Published by Kadokawa Games and designed by Prope and Yuji Naka; this game was released in Japan on April 2nd, 2015, and worldwide on November 13th, 2015, the game emphasize flight-based gameplay and a touch of problem-solving.
The setting consists of the Naga Empire facing an severe energy shortage and Emperor Geardo's solution is to invade Garuda. But his daughter has an more pacificatory idea and steals an relic that Geardo needs to completely invade the floating continent. She tries to escape, but doesn't quite make it. Faced with imminent capture, she breaks the Key of Time in half and sends Rodea into the future. 1,000 years later an young mechanic named Ion finds and repairs the currently amnesiac Rodea. Faced with the reprise of another invasion from the Naga Empire, the duo sets off to disable the four Chronos Towers to halt the invasion.
---
Rodea: The Sky Soldier provides examples of:
Amnesiac Hero: 1,000 years after the prologue, Rodea barely remembers anything, except his promise to save Garuda.
Attack Its Weak Point :

The turtle enemies are invulnerable until they're flipped over.
The shark bombers can only be destroyed by attacking their engines on their wings.
The bosses guarding the Chronos Towers needs to be struck on ah certain area to expose the rest of their vulnerable spots.
And the second battle against Emperor Geardo revolves around attacking the red crystals on his body.
Community content is available under
CC-BY-SA
unless otherwise noted.