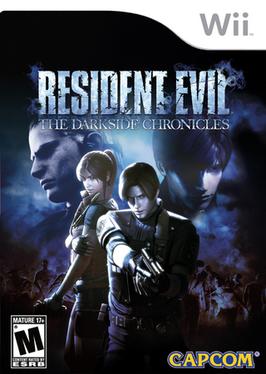 Resident Evil: The Darkside Chronicles is a sequel to earlier Resident Evil rail shooter Resident Evil: The Umbrella Chronicles. Set in 2002, it covers Leon S. Kennedy's backstory with Jack Krauser, hinted at in Resident Evil 4, as the two are deployed deep into the South American jungles to investigate rumors of an infamous drug lord, Javier Hidalgo, having contact with an underground Umbrella researcher. They discover that the rumors are true and Javier has bought a considerable number of B.O.W.s to use as terror-weapons against his enemies, as well as samples of the T-Veronica virus, which he has used to unleash a plague of zombies upon the countryside. Meeting a mysterious girl named Manuela, the two men must find out why a drug lord has begun to dabble in bio-weaponry.
The Darkside Chronicles is divided into three levels, each of which is subdivided into a number of chapters. Operation Javier is the main level, covering Leon and Krauser's efforts to battle Javier. Memory of a Lost City is an adaptation of Resident Evil 2, framed as Leon recounting his previous experience with biohazard outbreaks to Krauser. Game of Oblivion is implied to be Leon's recollections/near-drowning induced fever dream of the story of the T-Veronica virus, as told to him by Claire Redfield after the events of Resident Evil Code: Veronica. In the game, Memory of a Lost City occurs after the first chapter of Operation Javier and Game of Oblivion likewise occurs in between the second and third chapters of Operation Javier. Chapters 6 and 7 of Operation Javier, sometimes referred to as Darkness Falls or Krauser's Hidden Story, are a retelling of Chapters 4 and 5 from Krauser's point of view.
It's harder to place The Darkside Chronicles on the canon scale then its predecessor, as its adaptations change things more then The Umbrella Chronicles did.
---
Tropes featured in this game include:
Actor Allusion: This isn't the only time Jim Ward played a character who ends up

being fired by his own government for certain reasons.

Adult Fear: Imagine being a resident of the South American village in the Operation Javier scenerio in the game, when a lot of girls are going missing

and becoming unwilling organ doners for the dying daughter of the drug lord that governs over the village.

Also, being forced into very dangerous combat service or else risk having a little girl be killed/vivisected/experimented on/etc by your government.

Animation Bump: In a rare example of taking a step back to improve animation, this game goes with Chris Redfield's original look and not his steroid-fueled look from Resident Evil 5. It could also arguably be said Chris simply canonically bulked up between appearances and was "officially" less muscular during this time frame, similar to Leon.
Anti-Villain: Javier Hidalgo of the Type III. He is a drug lord and knows what he's doing is wrong, but genuinely loves his daughter Manuela

and after suffering the death of his wife Hilda and learning his daughter contracted the same disease, desperately turned to whatever means he could to keep her alive. Of course that meant he was willing to use the T-Veronica virus and abduct girls about Manuela's age to transplant their organs.

Attack Its Weak Point: Many enemies have a spot that they take extra damage from, usually the head or mouth. With bosses, this is usually the only way the player can actually hurt them. Examples include the head and heart for Tyrants and the Jabberwock S3s, Nosferatu's heart, and the open mouth of Hunter Gammas.
Awesome but Impractical: The unlockable Linear Launcher has a ridiculously slow recharge rate per shot unless it is fully upgraded.
Blood Knight: Krauser's reason for joining SOCOM is because he doesn't think he could actually function in normal society, and this work actually gives his life meaning.

Steve likes to take his aggression out on zombies, and given recent events, he has a lot of it.

Boom! Headshot!: Identical to the version used in The Umbrella Chronicles, except the target zone is wider and so it's easier to pull off. True headshots result in the head exploding, while misaimed headshots will cause more damage and result in a neat little spurt of blood.
Boring but Practical: The standard pistol may be all the player ever needs for all the difficulties besides Very Hard. It has unlimited ammo and, when fully upgraded, has enough firepower to utterly destroy any single boss the game throws at the player. Plus, it's the only weapon capable of One-Hit Kill-Boom Headshots.
Boss in Mook Clothing: Inverted. The Jabberwock S3 looks like some variant of the Tyrant right down to the exposed heart, perhaps incorporating spider DNA, but otherwise is just an ordinary enemy.
Bragging Rights Reward: Getting the Linear Launcher as a weapon that the player can use in any chapter.
Broad Strokes: Basically how the adaptations of Resident Evil 2 and Code: Veronica should be seen. Even beyond the strong application of Never Split the Party compared to the original's predominance of Let's Split Up, Gang!, the cutscenes often change events. The most blatant change came in the retelling of Code: Veronica, which displayed Alfred and Alexia Ashford as disturbingly close - here,

Alexia cares little for Alfred and even kills him for being "useless"

.
Deadpan Snarker:

Both Claire and Leon get to duke it out on who's more snarky between the two.
Krauser more than holds his own; banter between him and Leon are veritable snark-fests.
 Krauser: I don't care how much they're paying [Leon]. This job sucks.

Krauser: Maybe they don't like door-to-door salesmen.
| | | |
| --- | --- | --- |
| |   Steve: Zombie, zombie, zombie, zombie, zombie! It's like a damn video game! | |
After going through a door puzzle that has the player removing (via shooting) dolls so a boy can get to his lover, Steve says this gem that hangs a lampshade on all of the nigh-ridiculous or nonsensical puzzles in the series:
| | | |
| --- | --- | --- |
| |   Steve: Well that's a complicated way to open a door. | |
 Leon: This is like a horror movie...

Claire: But you don't have to do this many stunts in a horror movie.
Community content is available under
CC-BY-SA
unless otherwise noted.