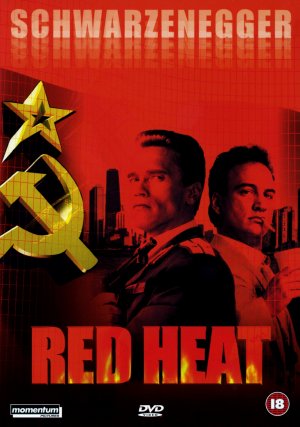 Ridzik: About this pile-of-shit pimp in here. In this country, we try to protect the rights of individuals. It's called the Miranda Act, and it says that you can't even touch his ass.

Danko: I do not want to touch his ass. I want to make him talk!
Red Heat is a 1988 action film directed by Walter Hill and produced by Carolco Pictures.
After failing to catch the Georgian drug dealer Viktor Rostavili (shortened to "Rosta"), who shot his partner in the process, Soviet cop Ivan Danko (Arnold Schwarzenegger) is tasked to follow Rosta into the United States and bring him back. There Danko is forced to be a partner to the loose cannon Chicago cop Art Ridzik (James Belushi), and they both have learn to work together.
This film has examples of:
 Ridzik: You look like Marvin Hagler. I lost money on Hagler!
 Ridzik: I'm gonna get us something from all four food groups: hamburgers, french fries, coffee and doughnuts.
 Ridzik: Captain Danko, congratulations. You are now the proud owner of the most powerful handgun in the world.

Danko: Soviet Podbyrin, 9.2 milimeter, is world's most powerful handgun.

Ridzik: Oh, come on, everybody knows the .44 Magnum is the big boy on the block. Why do you think Dirty Harry uses it?

Danko: Who is Dirty Harry?
 Commander Donnelly: Since I figure cops are cops the world over, how do you Soviets deal with all the tension and stress?

Danko: Vodka.
Community content is available under
CC-BY-SA
unless otherwise noted.