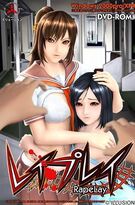 | | | |
| --- | --- | --- |
| | "In the past Hentai games have often catered to casual rape enthusiasts. These are perfectly normal folks like you, me and your next door neighbor who only leaves his apartment to buy canned meat and plastic tarps. I like to think of this audience as the "beer and pretzel" rape gamer. They're interested in a fun "pick up and play" rape game and they don't want to get bogged down in details. Then there are the rape grognards who want a rape simulator to be as realistic as possible. They want it to include accidental pregnancies, crying, abortion, threat of murder, fuel mixture, full elevator control, and pre-rape start-up checks. Rape Lay is the grognard's rape simulator. It is the Falcon 4.0 of rape." | |
Rapelay is a 2006 H-game in which the player is Masaya Kimura, a chikan (pervert) who was arrested by the authorites for groping a woman on a subway. But, because the rapist's father is well connected, he was able to escape jail. It was a single mother called Yuko Kiryu who reported him to the authorities. Kimura, upon finding out that Yuko had two daughters, decided revenge was due.
This game includes examples of:
Karma Houdini: Played Straight, then Averted.

In both story "endings", the player character gets killed. In the first, he gets run over by a train and one of his victims decides to keep his child. In the second, he gets stabbed to death by one of the daughters.
Community content is available under
CC-BY-SA
unless otherwise noted.