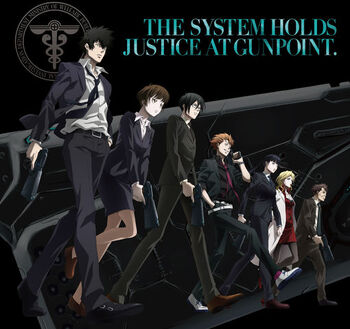 A 2012 Anime.
In the future, the thoughts of the humans can be read by machines. Not only that, but they are able to read the level of likeness of a person to commit crimes based on their mental states. If that happens, well, you're likely to be arrested, even if you didn't commit any crime.
Akane Tsunemori is a novice and naive cop in her first night of work. She gets the responsibility of commanding a group of "mental criminals" that the police uses to hunt other mental criminals, nicknamed "Vigilantes". The criminal in question that must be arrested, Nobuo Okura, is a man that apparently never did any wrongdoing, but easily slips  into a being truly a criminal by beating and raping a woman.
Also, it seems that this "mental pollution" can be transmitted to anyone nearby, like the victim of Okura. Tsunemori don't get this concept, and tries to prevent the woman of being killed, even to the point of shooting a "Vigilante". And this is only the first episode.
Also, the first episode begins In Media Res...
An original TV Series made by Production I.G.
---
Tropes used in Psycho Pass include:
"Jesus told them another parable: The kingdom of Heaven is like a man who sowed good seed in his field. But while everyone was sleeping, his enemy came and sowed weeds among the wheat, and went away."
Community content is available under
CC-BY-SA
unless otherwise noted.