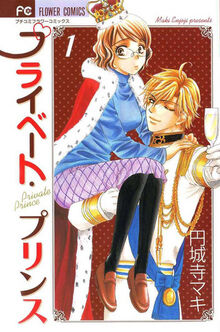 Miyako Sakuragawa is a graduate student at Eito University against the wishes of her family, who wants her to take over their ryokan inn. She finds out that the prince of Estolia, Wilfred alias Will, is studying abroad and is at Eito University. She wants to get close to him only in the hopes of finishing her thesis on his great grandmother, Queen Ritsuko--but he has other ideas!?
Miyako also thought that Wilfred was the perfect White Prince. Oh, how wrong she was. He has no any sense of personal space, is completely clueless about Japanese customs, likes to call her "Miss Melons" because of her boobs and pretty much installs himself in the ryokan after cutting a deal with Miyako's mom. And so, she can't help but being cold and hot to him. However, it seems that for all his pervertedness, Wilfred might have started to become genuinely fond of her and show another side of his heart...
Private Prince is a Josei manga written by Maki Enjouji. Published in Shogakukan's Petit comic, it spanned through 24 chapters and five volumes.
Needs More Love. Give it by reading the manga here.
---
Private Prince invokes these tropes
 Wilfred: It's a part of every prince's job to give women something to dream about!
Community content is available under
CC-BY-SA
unless otherwise noted.