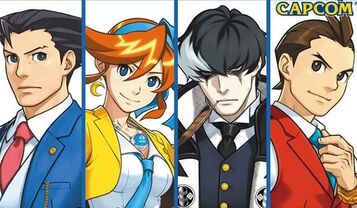 Phoenix Wright: Ace Attorney − Dual Destinies is a visual novel adventure video game developed and published by Capcom. It is the fifth main entry in the Ace Attorney series, and was originally released for the Nintendo 3DS in 2013, with iOS and Android versions following in 2014 and 2017.
Set a year after Apollo Justice, it deals with the Dark Age of the Law. Ever since Phoenix Wright was unjustly disbarred, the court system has gone into a massive crisis due to corruption, false evidence, false charges, etc. This is the court world that the now rehabilitated Phoenix is dealing with, and he's not alone: people like his old friend and now chief prosecutor Miles Edgeworth, his daughter and assistant Trucy, his once-fanboy and now protegé Apollo, his other protegé Athena Cykes (a young lawyer who's specialist in psychology) and the police detective Bobby Fulbright are by his side, ready to start fighting back and cleansing the system.
The new prosecutor is Simon Blackquill, a somber man who is actually in death row, but has been recommended by Edgeworth himself; he and Athena seem to have a sort-of connection, and as the cases come and go, many ugly truths about the Dark Age itself are revealed AND that leads to very shocking revelations...
Tropes used in Phoenix Wright: Ace Attorney − Dual Destinies include:
Community content is available under
CC-BY-SA
unless otherwise noted.