Abe: Unsatisfying sex life?

Homer: N -- yes! But please, don't you say that word!

Abe: What, seeeex? What's so unappealing about hearing your elderly father talk about sex? I had seeex.



Homer: [groans]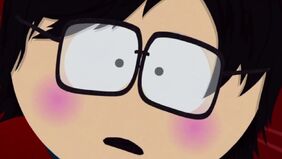 Do you have parents? Are your parents human? Do you have one or more siblings who are not your twin/triplet/etc?
If you have answered "yes" to any of these questions, then it's entirely likely that your parents have had sex.
Disgusting, innit?
In fiction, it's common enough to see a child react with curiosity to their parents in a Primal Scene. As they get older, however, the very thought that their parents might be getting it on is enough to send them searching for some Brain Bleach.
Examples of Parental Sexuality Squick include:
Mr. Woodcock: The protagonist sneaks into his mother's house and, when he realizes she's come home, quickly hides under the bed. Guess what she and her boyfriend promptly start doing?
In Sybil, the titular character is described as having spent her nights until she was about ten in a crib beside her parents' bed, never being given an opportunity to leave the room while they had sex. It's considered among the many, many abuses she endures that causes her disassociation.
In The SM Judge, the protagonists are a judge and his wife. One of his enemies try to destroy his career by publicly using their sex life against him. One tactic used by this enemy is to force their daughter to watch a video of them having BDSM sex. This make her break all contact with her parents. Not because of the scandal or the BDSM, but simply because they had a sex-life, period. "You are my parents, and parents don't have sex!"
 Howard: Think about it. The only reason you exist is because your grandmother had sex.

Raj: Yeah, Meemaw did the nasty!
Two characters in Zits had the stories of their conceptions told to them, with horrible reactions.

Jeremy was in his room playing "Stairway to Heaven" on his guitar (he always like the song for some reason), when his mother mentions that he probably likes the song so much because he was conceived to it. Within minutes, he's rinsing his ears out and boiling his guitar string.
Hector's parents let slip that a batch of blueberry muffins burned during his conception. The very sight of a blueberry muffin results in severe nausea.
Music
Notably averted in The Lonely Island song "Mother Lover", where a pair of friends played by Andy Samberg and Justin Timberlake go into detail about their plans to seduce the other's single mother as a Mother's Day gift.
 "We both love our moms, women with grown women needs"

"I say we break em off, show em how much they really mean"
Community content is available under
CC-BY-SA
unless otherwise noted.