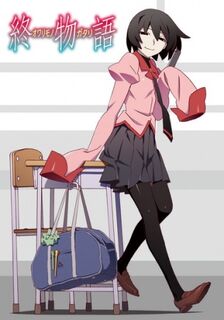 Owarimonogatari ("Ending Story") is the twelfth installment of the Monogatari Series. It is comprised of three books. The first volume details more about protagonist Koyomi Araragi's past, and how he came to be the loner he was before meeting Hanekawa in Kizumonogatari. The second volume expands on Shinobu's past as told in Onimonogatari, in particular about her first vampire servant. These two volumes also builds on the enigmatic Oshino Ougi, officially "introducing" her to the series universe. The third volume is the climax of the overall main story, answering and tying up all the build-ups from the previous books.
The stories contained are Ougi Formula, Sodachi Riddle, Sodachi Lost, Shinobu Mail, Mayoi Hell, Hitagi Rendezvous and Ougi Dark.
An anime adaptation was handled by Studio SHAFT as usual, aired in October 2015 for the Fall 2015 Anime Season. The adaptation only consist of the first two volumes, whereas the final volume was later adapted as an online broadcast titled "Owarimonogatari 2nd Season" in August 2017 for the Summer 2017 season.
In the novels release order, it is following
Koyomimonogatari
and is followed by Zokuowarimonogatari.
Tropes used in Owarimonogatari include:
Community content is available under
CC-BY-SA
unless otherwise noted.