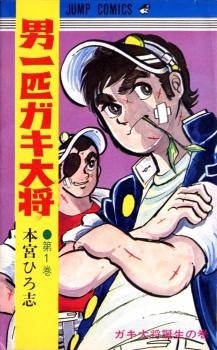 Otoko Ippiki Gaki Daishou
(男一匹ガキ大将 ||lit. "The Ideal Boy's Gang Leader") is a manga by
Hiroshi Motomiya
, the author of
Salaryman Kintarou
and
Ore no Sora
. Starting its run in 1968 and finishing it in 1973 (and recopilated in 20 volumes), it was one of the first actually popular stories published by
Weekly Shonen Jump
, plus the first one to get an anime series in 1969 (with the late
Kei Tomiyama
as the lead character, plus in a rather uncommon format of six-minutes long episodes) and
a live-action movie in 1971
.
The series was popular with Japanese kids and teens of both genders (to the point that many girls visited Motomiya's studio so they could watch him draw), gave inspiration to future famous authors like Masami Kurumada (Saint Seiya), the Yudetamago duo (Kinnikuman), Yoichi Takahashi (Captain Tsubasa), Motomiya's own assistant Tatsuya Egawa (Golden Boy) and Tetsuo Hara (co-author of Fist of the North Star with another Motomiya assistant, Burunson), and ultimately codified a very specific type of shonen manga (especially prevalent in Shonen Jump): adventure stories with either Kindhearted Simpleton or Jerk with a Heart of Gold heroes who relay a lot in their skills AND The Power of Friendship (Dragon Ball, Yu Yu Hakusho, One Piece, Naruto, Bleach, My Hero Academia, etc.)
The story in itself is about Mankichi Togawa, a junior high student from the small and humble fishing village of Araiso. Having lost his father at an early age and very tragically, he was raised by his widowed mother and came to believe that he was destined to become a very strong man who will dominate the school gangs and help people in need. So he, followed by his friend Rappa and his Friendly Rival Ginji, will set out on quests that will lead him to become the number one gang leader in Japan, even if he finds MANY obstacles in his way...
Tropes used in Otoko Ippiki Gaki Daishou include:
Ain't Too Proud to Beg: One of Mankichi's rivals, Gontaro, does this when he begs Mankichi to face an actually more powerful gang leader,

Matsukawa from Toei Middle School, who is also Ginji's cousin.

All Girls Want Bad Boys: Mankichi is popular with ladies, though he thinks Love Is a Weakness. (At first, considering how he acts regarding Tomoko). Meta-wise, it looks like many girls quite liked the character as well.
Boisterous Bruiser: Both Mankichi and Ginji, in different ways.
Bowdlerise: In the manga, Tomoko is

kidnapped by gangsters who have recently escaped out of prison.

In the anime, she is instead

trapped in a mountain hut surrounded by packs of wild dogs.

City Mouse: Ginji and Tomoko
Coming of Age Story: It follows Mankichi from junior high to young adulthood. With time he goes to Tokyo to fight against inequity, protect others, extend his leadership over even more gangs...
Cool Old Guy: The Priest of Kaiun Shrine, the local Buddhist Temple.
Country Mouse: Mankichi is this when he visits Tokyo, and later he decides to go back there.
Defeat Means Friendship: Mankichi and Ginji
Demoted to Extra: Arguably, the Priest is this in the anime.
Determined Widow: Mrs. Togawa
Disabled Love Interest: Tomoko is this for Mankichi in the manga, but she's Put on a Bus after her introduction. She still leaves him a letter with a Love Confession.

Subverted in that she returns few issues later, and by that time she's quite healthier.

Disappeared Dad: The death of Mankichi's father ties in deeply into the early plot.
Downer Beginning: The anime starts with a flashback depicting the death of Mr. Togawa (which, in the manga, is referred to only at the end of the first chapter).
Eyepatch of Power: Ginji
Japanese Delinquents: Mankichi, Rappa, Gon and Genji, plus MANY others.
Jerk with a Heart of Gold: Mankichi is rough and tough, but he also has a strong sense of justice and he will never abandon anyone who needs help. He's also noticeably sweeter to Tomoko.
Ill Girl: In the manga, Tomoko is in a wheelchair and can barely walk

until a short while later

. In the anime, however, she's more or less healthy.
Love at First Sight: Subverted in the manga - when Mankichi sees Tomoko giggling at the sight of him, he thinks she's an Alpha Bitch mocking him. He only 'defrosts' when he finds out she's an Ill Girl, and starts crushing on her a bit as they actually interact and he sees that she's a Spoiled Sweet Ojou.
Mama Bear: Mankichi may be a tough guy, but his mom knows quite well he's a good boy deep down and NO ONE shall disrespect him in her presence.
Naked First Impression: In the anime, Mankichi is in his underwear when he meets Tomoko.
The Ojou: Tomoko, of the Spoiled Sweet kind.
Sailor Fuku: Genderflipped by Mankichi's gakuran.

OTOH, when Tomoko shows up in chapter 5, she's wearing what seems to be a Western blazer uniform.

Trickster Mentor: The priest, again.
The Uriah Gambit: Eight years ago, 

the "Foreman" aka Tomoko's father let Mankichi's dad die via abandoning him when he was trying to save the people in a shipwreck and everyone else was too scared to help him

In the present,

he tries something similar when he sends out Mankichi to rescue Tomoko when she's either kidnapped by gangsters who have escaped prison and have grudges against the town (manga) or trapped inside a mountain hut that's threatened by wild dogs (anime).

. This gets pointed out eagerly during the second incident by

Mankichi's mom/Mr. Togawa's widow.

, causing a My God, What Have I Done? reaction.
Yamato Nadeshiko: Mankichi's mom is sweet and kind, but quite serious when needed. And in the anime, she is also completely unafraid of slapping him if she believes he's crossed the line.
Community content is available under
CC-BY-SA
unless otherwise noted.