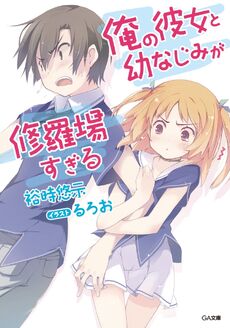 Oreshura, short for Ore no Kanojo to Osananajimi ga Shuraba Sugiru, is a 2011 light novel series.
Eita Kidou is a young boy that really hates the concept of "romance". The reason because of that? His parents abandoned him in the search of "true love", that apparently didn't exist between each other. With this fact on his mind, Eita rejects any confession, and concentrates on studying so one day he can enter medical school. He keeps that "anti-romance" opinion to himself though, preferring to only comes up with dodgy answers when any question related to romance comes to him.
That doesn't prevent him of having as best friend a girl, Chiwa Harasuki, a tomboyish, energetic girl.
One day, however, a girl called Natsukawa, envied and/or loved by several students of Kidou's school, asks him out, shocking everyone, even Kidou himself. But, as it turns out, Natsukawa don't wants a "true" romance, but a false boyfriend so boys stop trying to confess to her. And she chose Kidou exactly because she knows he isn't interested in romance and therefore he can't cheat on her and possibly ruin her plan.
But Chiwa secretly loves Kidou, and soon a "battle" initiates, between Kidou's childhood friend and "girlfriend".
Written by Yūji Yūji. Art by Ruroo. Published by SoftBank Creative.
Tropes used in Oreshura include:
Community content is available under
CC-BY-SA
unless otherwise noted.