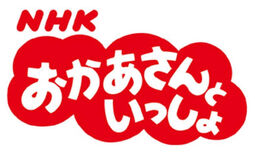 Okaasan to Issho (roughly translated, "With Mother") is a long-running show on NHK in Japan (since 1959) aimed at preschool children, much like The BBC's Watch with Mother. The show is a collection of sketches, songs and dances, many designed to be interactive with the child's parents (specifically, Mommy, see Housewife below). Actual children are usually part of the show and interact with the hosts.
The show's hosts are four young adults, two dancers/gymnasts and two singers, one of each sex, respectively. New hosts are rotated in roughly every five years to keep the hosts young (and more relatable to children, one would suppose). Many prior hosts have gone on to become pop stars and actors in mainstream Japanese culture. Additionally, there are four full body suited actors playing a series of characters and skits. These, too, are constantly changed out every few years (though it's possible it's the same people in the costumes).
The current hosts are:
Mitani Takumi: Singer
Yokoyama Daisuke: Singer (is the lead host most of the time)
Itou Mayu: Dancer (appears to have a ballet background)
Kobayashi Yoshihisa: Dancer/Gymnast (does the ending theme, wears brightly colored jumpsuits)
The show can be seen in the United States on any premium Japanese-language channel weekday and Saturday mornings. Saturday shows are generally reruns or live events from theater tours.
---
Tropes used in Okaasan to Issho include:
Community content is available under
CC-BY-SA
unless otherwise noted.