"I was just a regular office worker on my way home from work, when I had the misfortune to be involved in a traffic accident. Next thing I know, somehow I'm in Edo-period Tokyo, in the red light district?! Is this for real?! Did I somehow slip through time?"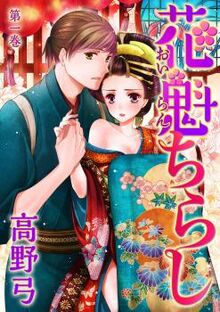 Oiran Chirashi (花魁ちらし, The Scattered Courtesan) is a josei manga by Yumi Tamura, serialized by Sekirara Comic. It ran from 2016 to 2018 and had 5 chapters.
Haru Hanamori was a normal Office Lady with an average work, average friends and average everything. Until a certain night when she was near hit with a car. She braced herself for death or serious injury, but got neither: instead, she found herself thrown across time and into the past! And the place she arrived to was Yoshiwara, the Red Light District from the old Tokyo.
Haru is completely alone in this strange and old place, and due to her cuteness she's taken in by a lady who owns a popular high-class brothel. On the other hand, the first person she more or less bonds with is Shuihei, a handsome stylist and hairdresser who works in Yoshiwara itself, and who introduced her to her boss. While she's understandably not thrilled with the idea of becoming a High Class Call Girl, Haru knows she cannot just step out of it at the moment, so she allows the lady to reinvent her as "Ayame", the newest of her oiran group, while she and Shuihei try to hide their mutual attraction so their newfound social positions won't interfere...
---
Community content is available under
CC-BY-SA
unless otherwise noted.