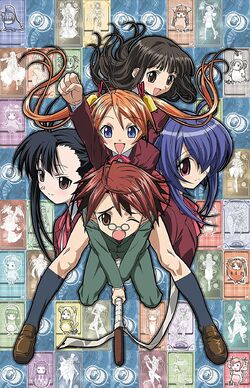 A Continuity Reboot of the Manga Mahou Sensei Negima! by Studio Shaft. This 26-episode series takes the basic premise and characters of the Manga, adds Deranged Animation and gags, removes almost all of the Fan Service, transforming it into a Widget Series.
There is also a manga of the anime series called Negima!? neo (making it the manga of an anime of a manga), which keeps the same overall plot but removes a lot of the Deranged Animation and Widget Series elements and adds a few of the old series's elements back in.
---
Negima!?
Chamo: Speak through one person!!
The above is taken to it's logical extreme towards the end,

when the Crystal creates illusions of the entire class in order to trick Negi. When revealed, the girls all shout a single sentence, with each girl saying a few words.

Improvised Weapon: Asuna throws a boat at Eva while at the lake. As Eva says
Negima!? neo
Community content is available under
CC-BY-SA
unless otherwise noted.