Currently a work-in-progress. There will be spoilers here. Be ye warned!
10%+ (Ten Percent Plus)
Meander (Maned Wolf)
The protagonist of 10% and a student of Rule.
Quintet (Cat)
Meander's friend and a fellow student.
Rule (Wolf)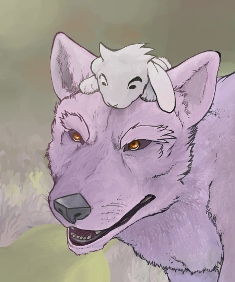 Meander's teacher. Works with Polarizing to exploit "wild" animals for things like slave labor and meat, an extreme taboo in their society.
| | | |
| --- | --- | --- |
| |  I have a goal, and I have no need of a body when I stand on my principles! | |
Polarizing (Tamandua)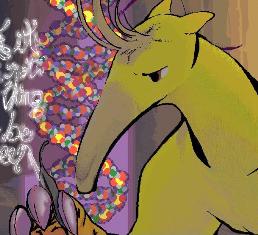 A former doctor, and another of Meander's teachers.
Syncope (Kinkajou)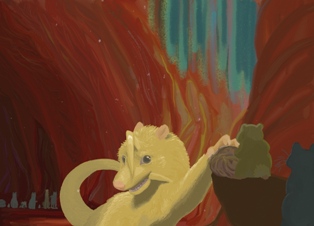 A law clerk and good friend of Meander.
Fiat (Kinkajou)
| | | |
| --- | --- | --- |
| |  Fiat's story would be a full-blown NofNA storyline, since it would have its own plot. She just happened to be enough of a character to have a foot in this story. | |
Keratin Junior (Rabbit)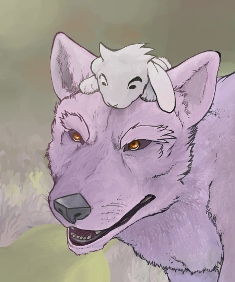 One of the many children of the crime lord Keratin. He (alongside a long tract of land) was sold to Rule and Polarizing in exchange for wild coyote slaves. A major source of comic relief for much of this arc's conflict.
Secretary
SV / Marigold /

Malice

(Degu)
The protagonist of Secretary. An ambitious and impatient student out to prove he has something of worth to add to the world.
| | | |
| --- | --- | --- |
| |   Tell them to come... to the new teacher! A teacher that is also themselves! That is also everyone! From behind.. from within!! MALICE! | |
XZ / Nutsedge (Long-Eared Jerboa)
Fellow student and sparring partner of SV. They jointly develop the Dust Bath fighting style.
NT /

Umbra

(Degu)
Older brother of SV, goes to college at the same time as SV, but in the advanced class instead of beginner.
Lycosa
Lycosa gulosa (Wolf spider)

The protagonist of Lycosa. At the start of the arc, she's searching for her lost eggsack. When she finds out that Venom 8 have taken it, she goes on a Roaring Rampage of Revenge. And that's the basic plot of the arc... but it wouldn't be NofNA without a twist at the end, now would it?
Venom 8

The antagonists of Lycosa. The Venom 8 team is a group of eight (actually nine) spiders who aim to create a spider equivalent to the internet that all spiders are always connected to. This requires egg sacs from every spider species, which kicks off the arc. One by one, we meet them, and one by one, Lycosa kills them off.
The members of Venom 8 are, in order of appearance: Deinopis spinosa, Antrodiaetus unicolor, Argiope aurantia, Scytodes thoracica, Mastophora cornigera, Patu digua, Theraphosa blondi, and Nephila clavipes... with the ninth being Gladicosa gulosa.
Pisaurina mira (Nursery web spider)
Not actually a member of Venom 8, but "an appendage". Repeatedly fights Lycosa.
Solar System
Yuri Sergiev (Mankind)
Evander Oneir (Mankind?)
Yuri's friend and a consciousness specialist. He works with Acheff and Hector.
Diana (Mankind?)
Strelka (Dog)
Able "Abe" (Chimpanzee?)
Acheff (Guinea Pig)
Part of the development team that Yuri's company contracts to work on their spacecraft. Acheff is the software engineer and Hector's adoptive father.
Hector (Mouse)
Part of the development team that Yuri's company contracts to work on their spacecraft. Hector is a secretary and the art director, and is a firm believer in the power and relevance of art.
Community content is available under
CC-BY-SA
unless otherwise noted.