Here be spoilers. Any thing that has not been aired on the free version[1] of Crunchyroll should be spoiler-tagged.
---
In General
Team 7 provides examples of:
Naruto Uzumaki
 I never go back on my word. That's my Ninja Way.
 Voiced by: Junko Takeuchi (JP), Maile Flanagan (EN), Isabel Martiñón (Latin America), Javier Balas (Spain)
The main character. The Hero. In case you couldn't tell. He starts off as the stock Shonen anime Hero out to prove his worth to the villagers who've shunned and hated him by becoming the Hokage [2] of Konoha. As a newborn, the Fourth Hokage, his own father, sealed the evil Nine-Tailed Fox demon inside his body. He goes from being viewed as nothing but the demon itself to a full-fledged ninja once he saves his sensei Iruka from the evil Mizuki. He gradually matures from his Idiot Hero demeanor over the course of the series, and by the time Shippuden rolls in, he's older and wiser, not to mention stronger than ever.
Now Naruto is one of Konoha's most powerful ninja, easily was considered to be Hokage by the villagers after Pain's Invasion, master of Sage Mode and he beat the Nine-Tailed Fox, taking its power for his own. Then he tames Kurama by showing him and all tailed beasts the compassion they wanted ever since they were created by the Rikudo Sennin himself.
---
Global
  Tenten: "He's kind of a dimwit, and a scatter brain, and a little clumsy, and a butthead, and cheap, and perverted, and greedy, and egotistical, and oblivious, and a dork, but you can't let your guard down!"
Badass Boast: He always boasts before he engages in fight. It inevitably became this.
Badass Longcoat: When Naruto returned from learning Sage Mode to fight Pain, he was sporting one of these, but quickly lost it. He regains one

with an elaborate, seal-decorated coat of chakra when, together with Kurama/Nine-Tails, they finally pulled off their Biju Transformation.

Berserk Button: It's highly recommended to NEVER hurt his friends, mentors, or Parental Substitute, ever.
Big Damn Heroes: Several times throughout the course of the series. Most of the time played straight, but the most spectacular one

his rescue of Tsunade and the Leaf Village from Pain

is actually a Double Subversion.

Pain had already killed multiple significant characters and obliterated the vast majority of the village landscape

before Naruto arrives. But he manages to convince him to make a Heel Face Turn, so Nagato promptly sacrifices his own life to revive everyone he'd killed.

Gets another one after taming Kurama. Just as Tobi's Biju are about to blast Kakashi and Gai with their Bijudama he flicks them all the way just by sheer speed.

Born Lucky: Not only he wins big in slots (manga) or a lottery (anime), just walking close to a nearby casino causes everyone there to win.
Broken Hero: Between his past, Sasuke and Pain...
Chain of People: Naruto replicates to pull this off by himself occasionally.
Chronic Hero Syndrome:

Naruto has it bad during the Ninja War arc, where he insists on breaking out of hiding because he can't bear to sit back while his friends die to protect him, and pretty much takes the task of winning the war on himself, sending clones to help every division and protecting his fellow shinobi left, right and centre

.
Cursed with Awesome: Having the Nine-Tails sealed into his belly. It makes everyone hate him but the trade off is access to the biju's chakra in addition to rapidly developing his personal chakra reserves to the point where he has more raw power than most jonin before the story even begins. Its revealed later to be Blessed with Suck as his father choose to stash the beast in his son so Naruto could fight Tobi and hoped it would be a blessing both tactically and socially.
Determinator: This trope more or less defines Naruto.
Ditzy Genius: Has very little in the way of common sense, but has shown himself to be both surprisingly perceptive of others, likely due to only being able to watch others as a child, and extremely proficient when it comes to making strategies, especially under the heat of battle.
Doppelganger Attack / Me's a Crowd: One of his two trademark techniques.
Everything's Better with Spinning: His Signature Move, the Rasengan, and all its variants. The tenth anniversary game one-ups this by making an Instant Awesome, Just Add Dragons version! It's even in his name!
Facial Markings: Whiskerlike marks on his cheeks, apparently a result of the Fox inside Naruto.
Fan Nickname: "Naruko" for his Sexy/Harem Jutsu and "GARuto" for whenever his badassery starts reaching critical levels.
Gender Bender: "Oiroke No Jutsu" alias "Sexy Jutsu".
Generation Xerox: Jiraiya, a member of the Legendary Sannin and Naruto's godfather-mentor, has more on one occasion remarked that Naruto resembles and is surely able to surpass his former student the Fourth Hokage,

who is Naruto's father

, and even himself (in terms of awesome and pervertedness). Kakashi also remarked in the third Shippuden movie Inheritors of the Will of Fire that Naruto's ethic of protecting his friends solemnly reminds him of his late comrade Obito Uchiha, whose spiky hair and knuckleheaded determination Naruto mirrored perfectly.

And to put the icing on the cake, Naruto's personality, favorite food, and even verbal tic are all similar to his mother's

.
Genius Ditz: He may normally be an idiot, but the plans and strategies he comes up at the span of seconds while under pressure are definitely to be admired. It has gotten to the point it is lampshaded at various points in part II.
Healing Factor: Thanks to the Kyuubi.
Hellish Pupils: Vertical slits when using the the Fox's chakra.
Heroic Self-Deprecation: Beats the shit out of himself if he feels he's being "useless". Actually, the more powerful he gets, the more he seems prone to this, perhaps because he used to suck earlier in his lifetime, or to keep balance in his characterization (boasting loser -> doubting hero).

He claims that he's "not that good of a ninja" after

defeating five out of six of Pain's bodies, when few could even defeat one

, and before

defeating the last and most powerful one

. Granted, his opponent was tired and and had used most of his chakra in fighting the villagers and

nuking the city

, but still...

Heroes Want Redheads: The girl he has a crush on has pink hair, he loves

his mother's red hair

and at least a couple of the Filler girls he's Ship Teased with have red hair.
Hidden Depths: Enough to be poster boy on the trope page.
Highly-Visible Ninja:

Lifetime achievement award

. And it seems it's a hereditary trait

between his mother's red and father's yellow

.
Hot-Blooded: When he was a kid he'd more or less charge straight into battle screaming and spaming shadow clones. He's more level headed in part II, but stille has his moments.
Hurting Hero: Which he hides behind a smile and a upbeat cheerful attitude.
I Gave My Word: He never goes back on his promises.
Innocent Blue Eyes: Inherited them

from his father, the Fourth Hokage.

They symbolise his youth, naive personality and inexperience.
I Want My Beloved to Be Happy: His promise to bring back Sasuke for Sakura is rooted there. Though he also has personal motives as well, and they overtake through the course of the story.
Jerk with a Heart of Gold: Can be fairly blunt and quite willing to tell people when he thinks less than highly of them, but is very willing to help when needed.
Knuckle-Cracking: Over and over. More than any mortal knuckle could really take.
Leeroy Jenkins: Often charges in on his own, and gets called out for it by Yamato, Kakashi and Sakura in the Three-Tails arc. This is even explicitly the reason why he was hidden what was going on

at the beginning of the War Arc.

Lightning Bruiser: He qualifies as this when using the Fox's power, and also when in Sage Mode.
Look What I Can Do Now!: Naruto uses this as his quasi standard way to progress. In fact, he does it in the first episode/volume when he first busts out what will later become his signature move.
Magnetic Hero: Definitely. Other characters often point out his uncanny ability to bring out the good in people.
Meaningful Name: Naruto can either mean "maelstrom" or a type of fish cake ramen topping with a spiky starburst and spiral in the middle which obviously inspired his look. Uzumaki either means "spiral" or "whirlpool." Both names tie in well with his energetic personality and his signature move, the rasengan ("spiral sphere"), and narutomaki is meant to resemble the whirlpools in the Naruto Strait, which may have inspired

his mother's home village of Uzushiogakure, the Village Hidden in the Whirling Tides

.
Oblivious to Love: To the extreme. He didn't understand Hinata's feelings towards him. When she offers him some medicine or an opportunity to cheat on a written exam, he finds it awkward (justified while Naruto thinks to himself Hinata is way too kind to sabotage him, he thinks Kiba might be putting her up to it).
Red Eyes, Take Warning: When using the Kyuubi's power and

Dark Naruto

.
Running on All Fours: Naruto each time the Bijuu cloak appears.
Screw the Rules, I'm Doing What's Right: Naruto has little respect for rules on a good day, and when those rules become a hindrance he ignores them entirely.
Sealed Inside a Person Shaped Can: He's the aforementioned Person, with a demon fox sealed within him.
Signature Move: Shadow Clones and later Rasengan.
Stepford Smiler: Naruto will tend to mask his pain with a smile, such as when he promises Sakura to bring back Sasuke for her before and after the retrieval mission. Before the Chunin exams finals, he admitted that he viewed himself as a loser and tried to act cool and brash to cope with this. In Part II, Pain

put him on the ropes by breaking him down with words, getting him to second guess his own actions

.
Surpassed the Teacher: He perfected sage mode, which Jiraiya wasn't able to do.

He also surpassed Kakashi, because the latter wasn't able to add element manipulation to the rasengan -which is why Kakashi made chidori.

The Tease: Sexy Jutsu.
Time to Unlock More True Potential: Every time Naruto learns a new skill, it's quickly rendered insufficient and it's back to training. Rinse and repeat.
Took a Level In Badass: Several times. Achieving Sage mode and

harnessing the Nine-Tails chakra

are the most notable occassions.
Trademark Favorite Food: Ramen, ramen, ramen!
Training From Hell: His training to learn the Rasen-Shuriken involved using a jillion Shadow clones to master his chakra control. He fainted more than a couple of times.
Trauma Conga Line: Sasuke, Jiraiya

and his parents

are pretty much why he's so messed up.
Ubermensch: In-universe. Since the first arc he has stated that he rejects the ordinary ninja way and will follow his own. It's constantly reaffirmed throughout the series.
Unskilled but Strong: Jiraiya describes him as this during the chunin exams. Thanks to his high levels of Chakra, Naruto doesn't need to worry about the fine control his peers do and can more readily rely on raw power ninjutsu. This is played in contrast to Neji's Weak but Skilled. Later, Shadow Clone training helps convert raw power into skill, but he's still prone to muscle his way through jutsus that require loose chakra control. He does, however, master the sage mode (which Jiraya couldn't do before his death) and learns how to properly control the power of Kurama (the nine tails) and is skillfull with said states, but he never really leaves this trope as he still relies on either the power of Kurama or rather simple but powerful jutsus that are useful at the moment, he also never becomes proficient in other areas of jutsus such as genjutsu nor he develops new techniques that have nothing to do with his normal abilities.
Unstoppable Rage: Thrice. In part 1 when he believed Sasuke had been killed, in part 2 against Orochimaru and when Pain

seemingly kills Hinata

.
Verbal Tic: "Dattebayo/Believe It!" He uses it as a comma, for gods sake. "The sky's blue, Believe It!" * Verbal Tic: Naruto: -"dattebayo!".

Inheritance of Acquired Traits: His mother has almost the exact same Verbal Tic ("Dattebane" to his "Dattebayo"), which he couldn't have possibly picked up from her, as he'd been alive for no more than an hour before she died.
Before time skip
 Naruto: It's almost unbearable, isn't it? The feeling of being all alone. I know that feeling; I've been there in that dark and lonely place, but now there are others... other people who mean a lot to me. I care more about them than I do myself, and I won't let anyone hurt them. That's why I won't ever give up. I will stop you even if I have to kill you!

Gaara: But why... why would you do this for anyone but yourself?

Naruto: Because they saved me from myself. They rescued me from my loneliness; they were the first to accept me for who I am. They're my friends.
After time skip
Almighty Janitor: Out of all of his friends, Naruto is still technically a genin. A genin that is a literal One-Man Army, whose personal favorite technique is the logical conclusion of tossing a million razors into a whirlwind and sealing it into one big Happy Fun Ball, and can pull multiple several-story-tall weapon-using toads from another realm, but still a genin.
Anchored Ship: He's in love with Sakura, but doesn't believe he can tell her until he fulfills his promise to bring back Sasuke. To further complicate matters, he said this at some point before finding out Hinata loves him. Much later, Sakura

told him that she loves him and not Sasuke now, but Naruto calls bullshit on it. The fact that she was asking him to go back on his promise didn't help matters much either

.
Battle Aura: One in the form of the Biju cloak, and the other while using his Sage Mode abilities. He can punch people with both.
Beneath the Mask:

Dark Naruto.

Blank White Eyes: Played For Drama whenever he goes 4 tails/6 Tails
Blow You Away / Razor Wind: The main nature of his chakra is "Wind", and he puts it to good use with Futon(Wind Style): Rasen Shuriken, which basically creates a crapload of tiny little blades that cut every cell in your body.

In 4th tail form, he creates a cyclone with a fling of its claw

.

Black Eyes of Evil:

Dark Naruto

, who's a manifestation of

the darkness in Naruto's heart

, complete with a constant Slasher Smile and eyes that are completely black.
Broken Messiah: Temporarily had this spectacularly happen to him during the Iron Country/Kage Summit arc.
The Chosen One: According to Jiraiya, Naruto is the one child of an ancient prophecy destined to save the world and not Nagato aka Pain or Minato as Jiraiya always thought. Though it's later hinted that they're all The Chosen One. Might as well be just Naruto, though, since the other two are dead..
Death Glare: Give this to

The nine tails in chapter 538

and even it was afraid.
Defeating the Undefeatable: The Third Raikage resurrected by Edo Tensei was shilled as being an incredibly strong one man army (literally) that beat the Eight Tails in a fight. Not only did Naruto take him out, he did it unscathed. Which was kinda necessary seeing as a shadow clone was the one to do it.
Dull Eyes of Unhappiness: He has these shown after he finds out that

Jiraiya

is dead.
The Empath: Naruto gains the ability to sense negative emotions while using the Kyuubi's chakra after he defeated it. This is incredibly useful when fighting an army full of hateful plant zombies because apparently, real soldiers never get angry or upset while fighting.
Flash Step: Once he has

tamed the Nine Tails

.
Heroic BSOD: Naruto usually handles himself outstandingly well, but some things that happen are enough to drive even him into a state of gaping, awestruck desperation. So far it happened twice, one of which was completely justified and long overdue and the other... Well. It involved Sasuke and hyperventilation and let's not go there.
He's Back: Several times (after his 3 years training with Jiraiya, then after he fails to bring back Sasuke again, and after

Jiraiya

's death).
I Can't Believe I'm Saying This: Said word for word in Chapter 551.
 Naruto: I can't believe I'm saying this, but thanks for the save, Itachi!
Sasuke Uchiha
 I spared your life on a whim, nothing more. But this time, my whim is telling me to finish what I started...
 Voiced by: Noriaki Sugiyama (JP), Yuri Lowenthal (EN), Victor Ugarte (Latin America), Adolfo Moreno and Eduardo Bosch (Spain. As a kid and adult, respectively)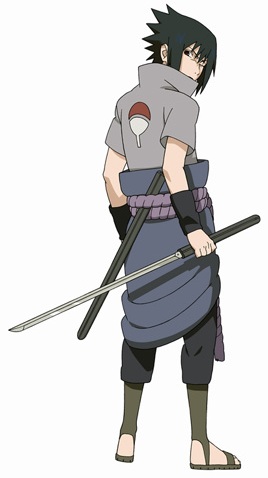 Sasuke Uchiha is rival and The Lancer of Team 7, a prodigy who possesses the power copying Sharingan bloodline limit. He's one of the last remaining members of the Clan, who were mostly murdered by his Aloof Big Brother Itachi in a single night. Since the incident, Sasuke focused himself to acquire enough power to kill Itachi and avenge the clan. Initially a loner and so-not-a-team player, Sasuke develops a grudging respect for Naruto. He eventually grows jealous of the possibility of Naruto outshining him, and abandons Konoha and heads off to join Orochimaru, who desired his Sharingan. Not even an epic battle with Naruto could change his mind.
In Shippuden, he returns, stronger than ever, and now knows of the Nine-Tailed Fox inside Naruto. He disposes of Orochimaru, forms a team of the latter's old captives and associates, calling the team "Snake", and finally faces his brother in battle. After Itachi dies suddenly, Sasuke learns from Madara some harsh truths about the history of Konoha and the Uchiha Clan. He and his team, now called "Hawk", joins up with Akatsuki to wipe out Konoha. All in the name of revenge. Again.
---
Global
Before time skip
After time skip
Aloof Ally: He believes he's this towards

Tobi

. It's more accurate to say he's under More Than Mind Control, even if he attacked him once.
Anti-Villain: Type I and/or II. He only wants his clan members revived.
Avenging the Villain: How he justifies his objective of

killing every single member of the Leaf village

. Interesting in that it's clearly not what

Itachi

would have wanted.
Ax Crazy: From the Kages summit on, though he has had the Sanity Ball at times. Notably when he sees Itachi again.
Bastard Understudy: Towards Orochimaru

and Tobi

.
Chronic Backstabbing Disorder: Almost everyone he gets involved with. In chronological order: the Leaf Village, Orochimaru,

Tobi (said, but not done yet for several reasons), Jugo and Suigetsu, Karin, Sakura again, Zetsu

.
Deadly Upgrade: The Mangekyou Sharingan. It grants numerous cool powers but slowly degrades the user's eyesight with each use. His Eternal Mangekyou Sharingan averts this.
Discard and Draw: Loses his cursed seal, his regenerative powers, and certain other abilities from Orochimaru's remains, but acquires the Mangekyou Sharingan.
Disproportionate and Misplaced Retribution:

Wants to kill everybody living in Konoha, even those completely unaware of what happened or not even born then, for the village elders role in the Uchiha Massacre

.
Fallen Hero
Go Mad From the Revelation: He reacted poorly to the fact that

His brother loved him above all else and self-sacrificed. And that it was by order of Konoha that the Uchiha where killed

.
Tears of Remorse: The end result of

his last fight with Itachi

, when he learns

he was horribly wrong about his brother

. The first and only time so far he has cried since he was 7 years old.
My God, What Have I Done?: After learning the truth about Itachi.
New Powers as the Plot Demands: Persistent and notable in that it mostly matches Naruto's progression. Lampshaded by the Tobi when Sasuke reveals a new summon, which requires a contract he didn't likely have the opportunity for: "Oh, a new summoning? When did he learn that?"
Partial Transformation: His mastery of the Curse Mark lets him to do this.
Psycho for Hire: This is all he really is to Tobi. Sasuke is not important enough to be let in on Tobi's plans and the latter mostly uses him as muscle he can point at something. His ultimate value to Tobi is as a bargaining chip to keep Kabuto on his side, as some kind of gladiator he wants Naruto to fight, or as Gedo Mazo's new battery.
The Power of Hate: Tobi says that the more Sasuke gives into his own hatred, the stronger he becomes. Naturally this isn't a very healthy way to power up.
Red Eyes, Take Warning: Sasuke was stated to be more evil as he used his sharingan more.
Revenge Myopia: Sasuke wants revenge on all of Konoha for ordering Itachi to kill the Uchiha just because the Uchiha were about to pull a coup.
Strong and Skilled: A high contrast to Naruto, is that he's always been a genius and prodigy, and as such he shows no problem in performing multiple jutsus. He seems to be excellent in the three ways, ninjutsu, genjutsu and taijutsu, and his mastery over chidori is equal/better than Naruto's mastery over rasengan. He also learns how to use Susano'o pretty quickly and with no known training, just by pure experience.
Shoot the Hostage: Happens when he makes his Chidori blade go through Karin to reach

Danzo

.
Took a Level In Badass: Between part 1 and part 2. It's difficult to say whether or not the Mangekyo Sharingan gave him one.
Ungrateful Bastard: Team Hawk learns it hard.
Woobie, Destroyer of Worlds: He becomes one after hearing the truth about Itachi.
You Have Outlived Your Usefulness: Towards Orochimaru, no less!

He did some research to defeat him.

Later done to Suigetsu and Jugo. He thanks them for saving his life repeatedly by telling Karin to leave them behind when she expresses concern for them, just so he can have his shot at Danzo.

Karin, while not taking direct part in the battle, is instrumental to Sasuke's victory over Danzo, and healed him from his earlier wounds to enable him to fight. When Danzo takes her hostage, Sasuke shoots them both with his Chidori. He tells her that she became a burden when she became a hostage

.
Sakura Haruno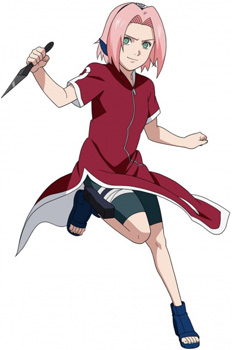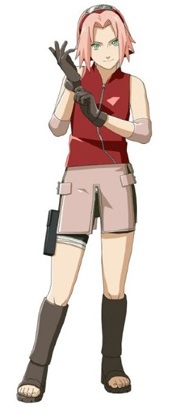 The Chick of Team 7. Naruto has a crush on her, while she has a crush on Sasuke. Sakura herself is an intelligent, gifted kunoichi from Konoha. Unlike most other ninja in the series, she has no unique skills of her own, using only standard ninja techniques and her brains. As a result, during the first part of the series she mostly sits on the sidelines or loses the ones she participates in. She concludes that she can't leave things like this, however, and after failing to prevent her friend and first love Sasuke's defection, apprentices herself to Princess Tsunade with the intent of no longer being a burden.
In Shippuden, Sakura has picked up Super Strength and medical skills courtesy of Tsunade's Training From Hell, which turns her from The Load to...well, pretty useful. Hers is the first major fight of the new series, joining forces with Chiyo to defeat Akatsuki member Sasori in a drawn-out battle, and her healing skills are put to use for much of the series. Later, Sai calls her out on her accidental abuse or Naruto's dedication her, causing her to throw together a plan to "confess" to Naruto to get him to stop. From here, she takes a more active role in stopping Sasuke and other threats to people she cares about in hurting each other.
---
Kakashi Hatake
 In the ninja world, those who break the rules are scum, that's true, but those who abandon their comrades are worse than scum.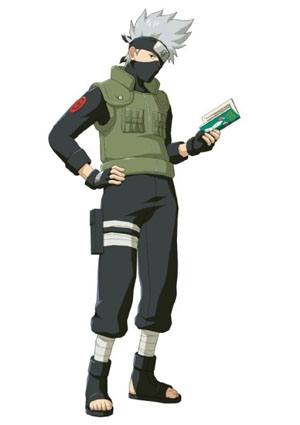 Kakashi Hatake is a sneaky, snarky ninja who serves as sensei of Team 7, and also as The Big Guy and The Smart Guy. Prior to Team 7, he had failed every single applicant who had come before him. He's one of the strongest ninja in Konoha, and is never seen without his dirty pornographic novel/manga.
Kakashi, for reasons that are at first unknown, has a Sharingan in his left eye, despite not being of the Uchiha (In a Gaiden Prequel story, the eye was revealed to have been transplanted from his deceased friend Obito Uchiha, one of Sasuke's relatives). Kakashi has mastered its use about as well as a non-Uchiha can, picking up the epithet "Copy Ninja". He knows dozens of techniques and uses them, but his only unique jutsu is the Chidori (and its upgraded form, Raikiri), which electrifies his arm, allowing it to punch through anything. He learned the Rasengan from his former sensei, the Fourth Hokage.
In Shippuden, Naruto and Sakura's development causes Kakashi to serve less as a mentor and more as a comrade. He's somehow managed to pick up a variant of the Mangekyo Sharingan that differs from Itachi's, which he uses to crush Deidara's arm in the first arc. He still teaches Naruto, though, eventually helping him create a more powerful variant of the Rasengan. He has recently confronted one of Pain's bodies. After a long battle, he exhausts all of his Chakra and dies. He makes a recovery. After Danzo's treachery was revealed, the leaders of the other ninja villages have decided to treat Kakashi as the Sixth Hokage, which was pre-empted (to his relief - and the complete and utter angst of his fans - as he admitted he's not the type of person suited for the job) when Tsunade recovered from her coma. After the Shinobi Alliance forms to protect Naruto and Killer Bee from Madara, he is made general of the Third Division.
---
Sai
Starting in
Shippuden
, two members are added to Team 7. Initially, they were just meant to be replacements for Kakashi after his overuse of the Mangekyo Sharingan during the first
Shippuden
arc exhausted him to the point where he had to be hospitalized, but they've stuck around for subsequent arcs.
 A smile can get you out of a tough situation, even if it is fake.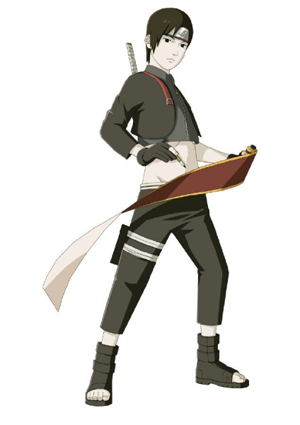 Sai is... a jerk, to put it mildly. A ninja from the village of Konoha, pretty much all that is known about Sai is that he's a loner and that he has no family. He's a member of ANBU's Root Division, and first joins Team 7 in the second arc. "Sai", a type of three-pronged dagger, is probably a pseudonym, but who knows? Given Root's... special methods of training, it might even be his real name.
As one might expect from someone who isn't around people much, Sai doesn't exactly make the greatest of first impressions on his teammates. Indeed, his first actions are to question Naruto's manhood, call Sakura ugly, and diss their former teammate Sasuke. Naruto flatly states that he'll only put up with Sai for Sasuke's sake. He claims to have no personality whatsoever -- being polite or assholic is just a front for him.
A talented artist, Sai claims to have drawn several thousand pictures in his life, but, in keeping with his role as the hollow man, finds himself incapable of ever giving one a title. Sai uses his art in his jutsu. He has the ability to animate his drawings, creating creatures for attack or espionage, or generating clones out of ink.
It seems, however, that his purpose is more than just filling out Team 7. In reality, he was given the job by Danzo to assassinate Sasuke -- a task which he's clearly unable to do. He has a change of heart and forms a genuine friendship with Naruto and Sakura, although he's very socially awkward (which is often Played for Laughs).
When the Shinobi Alliance formed divisions to fight against Madara, Sai was placed in the Ambush Division under Kankuro and alongside Omoi. They fight Deidara, Sasori, and two other Edo Tensei zombies. One of whom turned out to be Sai's deceased brother

.

---
And I Must Scream: one of his latest techniques, named Sealing Technique: Stalking Predator Launch, consists of an animated drawing of a tiger which can attack the enemy and then go back in the drawing with him.
Art Initiates Life: His ability the Cartoon Beast Mimicry, with it he paints ink creatures to assist him in battles including: Lions and tigers for attacking and sealing, birds for transportation and aerial assaults, snakes for binding enemies, rats for tracking and even The Two Benevolent Kings for brute force.
Bare Your Midriff: A rare male example.
Berserk Button: When Deidara blows up his brother and threatens to do it again and again. Then he insults Sai's art. To say that Sai was pissed is an understatement.
Brutal Honesty: At first on account of his lack of social skills. Eventually, just out of genuine concern for his friends.
The Comically Serious: Zigzags between this and Deadpan Snarker not quite fully understanding humor due to his emotionless nature so its hard to tell when he's using Brutal Honesty, snarking or is genuinely confused or serious.
Cool Sword: Specializes in long-ranged combat with his ninjutsu but is no slouch in taijutsu and swordfighting.
Deadpan Snarker: His only reaction to Konohamaru's "reverse" version of the Sexy Jutsu? "Ah. So that's me".

More deadpan than snarker, other than insulting Naruto a few times early on.

Emotion Suppression: Being a member of a special ANBU branch, Sai has undergone a training that removed his emotions. It also left him with No Social Skills.
Honorifics: Uses them on Naruto and Sakura at first, despite being quite rude to them in most other regards, but drops them when trying to become friends with them.
Horse of a Different Color: His ability to surf on flying ink birds makes him one of the few flyers in the series.
Identical Stranger: To Sasuke.
Jack of All Stats: According to the databook, his skill levels in the various aspects of being a ninja are actually not far from one another. They all range between 3 and 4 (inclusive) out of a maximum score of 5. This makes his skill set really balanced when compared to the majority of other characters in the franchise.
Mysterious Past: We only know that he's been in the ANBU for a long time and he's got a dead brother.
Only One Name: Technically not his real one, but he prefers going by it.
Paper Talisman: He can create paper bombs by the dozen by painting them.
Raven Hair, Ivory Skin: Noted for being both good looking and eerie.
Rei Clone: No Social Skills -- check, pale-skinned -- check, Mysterious Past -- check.
Restraining Bolt: Has a seal on his tongue that prevents him from revealing any information about Danzo, though this disappears after said character's death.
Smoke Out: Sai is very skilled with the body flicker technique, having an ink variant.
Sempai-Kohai: Considers Kakashi a senpai, as well as a nameless older member of Root.
Stepford Smiler: Smiles to please those he interacts with despite being emotionless.
What the Hell, Hero?: Calls out Sakura for having Naruto promise to bring back Sasuke and expecting him to keep working at it when it's rather obvious Naruto loves her. He compares the binding of this promise to his own abuse at the hands of Root/Danzo.
Yamato
Yamato
 I like being nice and friendly, but I don't have any problems with ruling by fear either.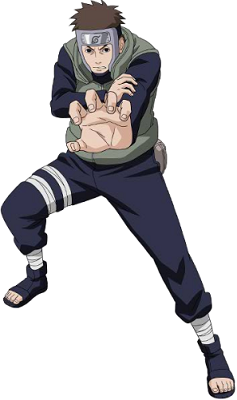 Real Name: Tenzou
A member of ANBU, and one of Kakashi's juniors, he is made the temporary Captain of Team 7 while Kakashi recovers in the hospital. As he serves as more of a unit leader than a mentor, Naruto and Sakura call him "taichou"("Captain" or "Commander" in the English manga) instead of "sensei". The name "Yamato" (which means "spear") is actually a codename given to him by Tsunade; his real name is Tenzou. He very much prefers to be called Yamato.
As a child, Yamato was one of sixty infants that Orochimaru injected with the DNA of the First Hokage, trying to replicate the First's unique abilities. Fifty-nine died, and Orochimaru was forced to flee the village before learning that one subject -- Yamato -- had survived. As a result, Yamato can use the First Hokage's Mokuton ("Wood-style") jutsus, although not with the First's level of ability.
Yamato is a friendly, easygoing person. He prefers diplomacy over using threats when it comes to running his team, but he's not afraid to scare Naruto into doing what he wants. He notes that he's less indulgent than Kakashi is, and says that Naruto and Sakura should not be treated as ninjas in training who need protection, but as ninjas who will eventually have to support Konoha. It's revealed that he was selected as Captain for more than his Mokuton abilities -- he is the only person in the village capable of using Enclosed Hermitage: Return to Society, which, in turn, is the only technique strong enough to contain Naruto's four-tailed Fox state. He later helps Naruto with his training, helping to prevent the fox's chakra from becoming dominant. After the Shinobi Alliance decides to hide the remaining jinchuriki, Yamato accompanies Naruto to a hidden island in Lightning Country, but gets captured by Kabuto.
---
Community content is available under
CC-BY-SA
unless otherwise noted.