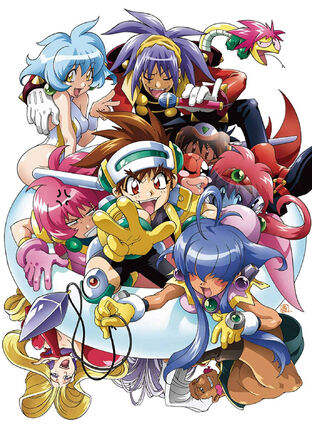 Our hero, Baba Lamune encounters a mysterious girl selling video games on his way home from school. When he gets back home, he starts playing the game he bought, named "King Sccacher". After playing for hours, he beats the game -- and then the girl who sold him the game comes out from the television. She introduces herself as Miruku (Milk) and asks him to save her world -- Hara-Hara World -- from a Evil Overlord. And then she promptly drags him into the TV before he could ask any question or say no... Humongous Mecha and Hilarity ensue.
NG Knight Lamune & 40 is a traditional and straight forward Young Hero Shonen series, which is quite a popular theme for the age group.
NG Knight Lamune & 40 premiered in 1990; it was never distributed by any English-language production company, despite the fact that it was dubbed in Arabic, Korean and Cantonese. The series was originally followed by 2 OVA series: NG Knight Lamune & 40 EX and then NG Knight Lamune & 40 DX. They were both aimed at an older age group than the original. In 1996, a full-fledged sequel, VS Knight Lamune & 40 Fire was broadcast. This version spawned its own OVA sequel, VS Knight Lamune & 40 Fresh -- which is both a Dork Age for the franchise and the only installment released in English (as Knights of Lamune).
Note: Not related in any way to the 2005 Lamune anime.
---
The Lamune & 40 franchise provides examples of:
Community content is available under
CC-BY-SA
unless otherwise noted.