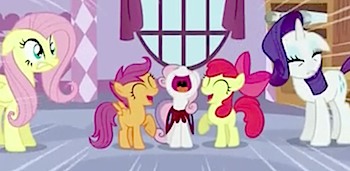 In the world of My Little Pony Friendship Is Magic, the most important moment in a young pony's life is when they earn their cutie mark: a magical marking that appears on a pony's flank that represents what makes them special. These three fillies spent five seasons trying to figure out theirs, but what a mission it was.  And they're going to be adorable while they're at it!
The CMC form the secondary cast of the series, with a number of episodes addressing their horribly botched attempts at getting their own marks or their astonishing success at helping others achieve or understand theirs.
Return to the character index here.
---
Aesop Amnesia: While "Call of the Cutie" appears to be about learning to let nature take its course instead of trying to rush into a cutie mark, they still form the Cutie Mark Crusaders at the end in order to keep searching for their special talents. Justified Trope by the fact they're only children and the school bullies are highly unlikely to back off after being

upstaged at their own party

.

Deliberately invoked in "Show Stoppers" after the Cutie Mark Crusaders' embarrassing rock ballad performance at the talent show wins an award...for comedy.
 Sweetie Belle: Well...maybe we were trying too hard.

Twilight: Yes? And?

Scootaloo: And instead of forcing ourselves to do something that's not meant for us...

Twilight: Yes, yes?

Apple Bloom: We each should be embracing our true talent!

Twilight: And that is?

Crusaders: Comedy!
 Scootaloo: Ugh! These namby-pamby stories aren't getting us any closer to finding our cutie marks! They're all about 'finding who you really are' and boring stuff like that!
Rather cleverly subverted in "The Cutie Pox". They run off to earn their Cutie Marks five seconds after learning a lesson about good things coming to those who wait, but the lesson was about not trying to take a dishonest shortcut to force something you're not patient enough to wait for. So what would normally count as this trope actually reinforces the aesop of earning their Cutie Marks the honest way.

Badass Adorable: At times. Other times they have to settle with just being adorable.
Badass Damsels: Every so often.
Butt Monkey: All of them to an extent. If there's a way to fail, they'll find it. Not that it ever stops them.
Chekhov's Gunmare: Apple Bloom had a very brief speaking part in the pilot and is shown huddling with the other future crusaders when Nightmare Moon appears. She didn't play a major role in the series until her reappearance in "Bridle Gossip;" the other two had to wait until "Call of the Cutie" to make their debut.
Cheerful Children: Under most circumstances, they're all very happy children.
Chew Toys: Their quest for their cutie marks has put them through Wile E Coyote levels of abuse. Even an unrelated task (Scoot and Belle helping Apple Bloom in "Family Appreciation Day") leads to all three of them getting pelted across the farm via Tree Buchet.
Collective Identity: Gabby Gums
Comically Missing the Point: They don't understand that a Cutie Mark is all about self-discovery, so instead of practicing things they're already good at, they constantly try new things in hopes of getting a cutie mark in those areas.
Cute but Cacophonic + In the Name of the Moon + Motor Mouth = CUTIEMARKCRUSADERSSCREAMINGOUTTHEIRPLANS!! YAY!!
Desperately Looking for a Purpose In Life: Finding one's purpose and special ability is how you obtain your cutie mark. Apple Bloom spends "Call of the Cutie" trying to find hers, and ultimately teams up with the other fillies at the end.
Determinator: They are going to find their cutie marks and nothing's going to stop them.  (It ultimately happened in "Crusaders of the Lost Mark.")
Deuteragonists: Considering how much focus is put on them, they collectively form the deuteragonist cast of the show with the Mane Cast as the protagonist cast.
Early-Bird Cameo: The three were first seen together in a blink-and-you'll-miss-it shot in "Friendship Is Magic, Part 1" ("Mare in the Moon").
Expy: Of The Power Puff Girls. Apple Bloom, the leader and Smart Girl, is Blossom; Scootaloo, the tomboyish Action Girl, is Buttercup; Sweetie Belle, the adorable ditzy one, is Bubbles.
Failure Is the Only Option: Everything the Crusaders try to do to get a cutie mark fails. It would certainly be extremely surprising to see them succeeding in the course of the series...especially since Hasbro wants the episodes to be viewable in any order.

Though from an in-universe prospective, they absolutely will get their marks someday.

Genki Fillies: Individually they're rather energetic. Together they egg each other on and build off each other to astonishing lengths.
Kid Appeal Characters: As it says on the trope page, while FiM is a kids' show, the CMC are much closer to the age of the target demographic than the Mane Cast.
Lower Deck Episode: Episodes focusing on them tend to be that way.
Mad Libs Catchphrase: CUTIEMARKCRUSADER<insert current scheme>YAY!!!
Master of None: See Failure Is the Only Option.

The series has shown that each of them does have at least one clear and impressive natural talent that they enjoy doing... but they're too young and excitable to recognize them and really earn their marks.

Meaningful Names

Apple Bloom is the one who wants her Cutie Mark to blossom the most (i.e. blossom out of youth).
Scootaloo rides a scooter to get around most parts and is very adept at it.
Sweetie Belle is a sweetheart and sings like a bell.

Noodle Incident: The three end up covered in tree sap after their most recent failure to gain a cutie mark in "The Cutie Mark Chronicles". Scootaloo then notes that being covered in sap seems to be a common result of their past attempts.
The Only Way They Will Learn: Given that earning a cutie mark takes a personal epiphany about one's talents and purpose, most of the adults in their lives are resigned to just let the Crusaders continue their futile attempts to force their marks to appear in hopes that they'll eventually come to understand that lesson themselves. So long as they have fun with each other while they do it.

Twist had such an epiphany and admitted she was clueless about her talent beforehand, so there's hope for the Crusaders. Plus, there is the fact that cutie marks are an absolute certainty in-universe.

Power Trio: in many ways.
Promotion to Opening Titles: As of the second opening (introduced in "Lesson Zero").
Ridiculously Cute Critters: Their cuteness is even remarked upon by the, already cute, adult ponies.
Rule of Three: This is followed in multiple ways. Aside from being a trio of three different types of ponies (an Earth Pony, a Pegasus and a unicorn), they also all have three syllables in their names (A-pple Bloom, Scoo-ta-loo and Swee-tie Belle).
Shipper on Deck: In "Hearts and Hooves Day", they ship Big Mac/Cheerilee.
Skewed Priorities: They could have all died after that ziplining mishap. What do they do first? Ask about their cutie marks. The whole town of Ponyville declares them equine non grata when they learn whom Gabby Gums is. What's their main concern? Seeing if they had their cutie marks.
So What Do We Do Now?: What "On Your Marks" is all about.
True Companions: Like the Mane Cast, they've got a very close and strong bond of friendship between them.
Vitriolic Best Buds: Apple Bloom and Scootaloo. Sweetie Belle is really only a part of this when the entire group fights with each other.
What The Tartarus, Fillies: Hearts and Hooves Day, Ponyville Confidential
Apple Bloom
 "Aren'tcha gonna stay for brunch?"
 Voiced by Michelle Creber
Apple Bloom is Applejack and Big Macintosh's baby sister, an adorable Earth pony with a yellow coat and fluffy pinkish-red mane. In "Call of the Cutie", she became very insecure about not having her cutie mark yet and began desperately searching for her special talent. After learning two of her classmates had the same problem, she formed a Power Trio with them in order to work together towards the same goal.
Scootaloo
 "These namby-pamby stories aren't getting us any closer to our cutie marks!"
 Voiced by Madeleine Peters
An orange pegasus with short hot pink hair and purple eyes, Scootaloo is one of Apple Bloom's classmates. Though she originally hid the fact she hadn't earned her cutie mark yet, she and Sweetie Belle stood up for Apple Bloom during "Call of the Cutie" and became fast friends, forging the Cutie Mark Crusaders so that they could search for their talents together. A brash Tomboy, she effectively serves as the Power Trio's equivalent to Rainbow Dash. She has a scooter that she's very good at riding really fast.
 Applejack: It just needs some TLC.

Scootaloo: TLC as in "Tender Loving Care" or "Totally Lost Cause?"
Sweetie Belle
  "Why does everyone always think I'm gonna sing?"
 Voiced by Claire Corlett

Singing by Michelle Creber
Another of Apple Bloom and Scootaloo's classmates, and the Girly Girl to Scoot's Tomboy, this unicorn rounds out the Crusaders trinity. Like them, she had yet to discover her cutie mark and helps found the Cutie Mark Crusaders in hopes of discovering it. Idolizes her older sister, Rarity and would like to follow her down the same career path, but isn't quite as good at it yet. Has a knack for singing and making up melodies but balks at the thought of singing for an audience.
Community content is available under
CC-BY-SA
unless otherwise noted.