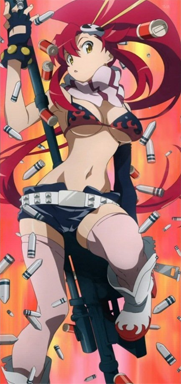 Ash's female companions in Pokémon are basically supposed to be this to younger viewers, according to Word of God.
Bulma from the Dragon Ball series is a very noteworthy example, her Playboy Bunny outfit being one of the many instances of fanservice early on. Probably helped by that she's mostly the Token Girl throughout the series.
Motoko Kusanagi in Ghost in the Shell.
Seras Victoria of Hellsing becomes Ms Fanservice after Alucard turns her into a vampire -- her breasts apparently go up a few cup sizes, and she is issued a tight fantasy police woman uniform with a super-short skirt.

In the manga, it takes her a few chapters to become this. In fact, the original design in the character presentation had Seras (named simply "Police Girl") without showing any inch of skin or bosom in contrast to Integra who was the one with huge cup sizes and no jacket to hide it.

Virtually every female character in Gunbuster.
Sayaka Yumi from Mazinger Z and Mazinkaiser (especially in the fourth episode). In the original series it was more prevalent in the manga than in the anime. The busty yet brainy twins, Loru and Lori, from the manga from Great Mazinger and Mazinkaiser also gave good examples. Jun Hono from Great Mazinger also suffered from it.
The Dark Magician Girl of Yu-Gi-Oh! is the incarnation of fanservice for the series. Long blonde hair, bright green/blue eyes, an outfit cut low on her breasts, which are round and large, a very short skirt explosing long legs, and of course she's a Magical Girl, complete with a bright blue and pink outfit, the occasional heart motif, and bubbly demeanor. Even in-universe she's a famous sex symbol. To go with the Dark Magician's alternate art, there's a lot of fanart of an "alternate" Dark Magician Girl with silver/purple hair, dark skin, and a red and silver outfit. Just in case the original didn't quite do it for you.

And hey, pick pretty much any female duel monster, there's tons of them with designs of all imaginable fetishes.
Mai Valentine, to the point it's a Running Gag in Yu-Gi-Oh the Abridged Series. Midriff-baring corset, miniskirt, ankle boots, large breasts, and more. Tea is more subtle but is still very shapely, and her outfits usually consist of a miniskirt or shorts with stockings to emphasize her very long legs, and sleeveless shirts showing off her bare shoulders.
Asuka/Alexis in GX-- big breasts, a dangerously short skirt, and long legs which are further complemented with a pair of ankle boots. She actively tries to avoid that title, but the love-struck characters won't let her. In the manga, her boobs are even bigger, not helped by the fact her introductory shot is a low angle, and an entire duel centers around her winning a beauty pagent. The dub leans on the fourth wall when Tyranno sees her for the first time - Chazz just happens to be filming a TV show pilot when Alexis appears, and Tyranno remarks "your show just got a whole lot better."
Yu-Gi-Oh 5D's with Aki/Akiza, Large breasts, a victorian-style outfit with a long coat, a corset and stockings, long red hair. Early in the series she's pretty much the poster girl for Black Magician Girl, being a sadist who takes joy in causing pain and suffering by manifesting her cards for real -- keep in mind most of Aki's cards are plants and thus an attack from them is usually in the form of Combat Tentacles. And then there's her skin-tight low-cut leather riding duel uniform...

Faye Valentine from Cowboy Bebop. Of course, the only other female member of the main cast is a tomboyish 13-year old, and it's hinted that Faye may be doing it deliberately.
The mountainous Rangiku Matsumoto on Bleach is hardly shy about bringing up her godly assets in regular conversation, while the exhibitionist Yoruichi Shihoin has no qualms over strutting around bare-ass naked in public at random points, the aggressive Ikumi Unagiya is an adult-type Tsundere with a biker chick outfit, and the fetishistic Kukaku Shiba has damn-near every single mainstream appeal jammed onto her for the tongues to drool over.

In episode 352 we get a huge fanservice shot of Jackie Tristan's crotch while she fights Ichigo.
Furthermore, the shameless Tia Halibel seems to prefer wearing Stripperific outfits for practically the entire time she's on-screen; the antagonistic Cirucci Thunderwitch wears a Gothic Lolita dress and exhibits a sadistic dominatrix-type personality, complete with a whip as her main weapon; the playful Haineko flirts with and teases various characters of both genders alike, regardless of sexuality.
Orihime Inoue often wears outfits that seem tailor-made to show off her curvy, busty figure... but in practice, she's a subversion, since more often than not said outfits are rather modest, compared to clothes that other girls wear in the series. In example, her Hueco Mundo white dress is very form-fitting, yet at the same time it covers her whole body pretty much from chin to toes. And also, when she does wear more revealing clothes, they often emphatize her legs than her Gag Boobs.
One episode turns virtually every female character (that is reasonably considered to be of age) into Ms Fanservice.
Rukia can be seen as pretty fanservicy too (no matter how some of her fans deny it). While she has a rather flat chest (which is kinda fanservicy in itself), she gets quite the focus in regards to her gorgeous legs and her often bare feet.
Given that nearly the entirety of the series' cast is a Fetish Fuel Station Attendant, practically every non-youngin in the series can be considered Ms. Fanservice.

While Misato Katsuragi is not the only source of fanservice in Neon Genesis Evangelion, she embodies this trope so well that she even makes jokes about it in the voiceover for several of the series' Post Episode Trailers. Jerkass Asuka is the second main source, and it's intentional on the character's part. Her Freudian Excuse has the effect of making her a total attention whore.

Misato actually gives surprisingly little fanservice throughout the series, making her Post Episode Trailer fanservice promises more a case of Trailers Always Lie than anything.
Rei Ayanami is a cross between this and Fetish Fuel. Especially when

you learn that Rei is a clone, and that there is a tank with dozens of multiple naked copies of her being created.

Fujiko from Lupin III would have to be included, given that Misato and Faye are more than slightly "inspired" by her.
Black Lagoon has Revy, who can show off her legs that many times and yet still be a relevant character.
Sakura Yamazaki in Blue Seed (although the other female characters certainly are attractive, she is the only one who flaunts it).
Weda, the Hot Mom and Bottle Fairy of Jungle wa Itsumo Hale Nochi Guu.
Mikuru, the resident Moe-Blob in Suzumiya Haruhi. She was recruited into the SOS Brigade by Haruhi specifically to fit this role. Future Mikuru fits this trope better, though.

Haruhi herself is another example. She does seem to like her bunny outfit a lot, and more generally has no problem showing off her figure.

Tsunade from Naruto. She's got a huge rack and only wears Absolute Cleavage outfits.

Anko Mitarashi. She wears only a fishnet underneath her Badass Longcoat.
Kurenai Yuhi, in one of the openings Jiraiya stops to oogle at a photo of her in a short kimono.
Ino. After the Time Skip, she also wears fishnet like Anko. Still, even before the timeskip, when she was twelve, she seemed to wear only about cloth straps as underwear and bra underneath her (scantily, compared to the other similarly-aged characters) clothes.
Mei Terumī. That is all.
Naruto. At times.
Karin wears extremely tight short shorts and cultivated a, er, sultry attitude for Sasuke's benefit.
Sakura is very flatchested in comparison, but her legs and butt get quite a bit of attention.

Most of the women in Mobile Suit Gundam 00 are large-chested and wear tight outfits, but it's especially noticeable with Bottle Fairy Sumeragi and Anime Chinese Girl Liu Mei. The first season could be particularly blatant about it, especially early on, while the second one was somewhat more prudent. Then there's Nena Trinity - An Evil Redhead with large breasts dressed in Sensual Spandex and long socks/boots.
Shown as the page's exhibit picture is Yoko from Tengen Toppa Gurren Lagann, a shapely young woman with a sniper rifle, a Scarf of Asskicking and a flame-painted bikini top with teensy shorts and stockings....and very little else. Her Beach Episode swimsuit is less revealing than her normal outfit.

Post-timeskip Nia also counts, what with the outfit as the

Anti-Spiral Messenger

.

Rushuna Tendo from Grenadier. Her manga incarnation may very well be the Grand Poobah of Fanservice. Even the way she reloads her revolver is fanservice.
Hot Mom Aki Hinata of Keroro Gunsou intervenes on Earth's behalf with authority and boobs. No. Really. It apparently runs in the family, as her daughter Natsumi gets a lot of fanservice shots too.

Natsumi definitely qualifies, at least in part for being a Schoolgirl Lesbian magnet. And when she gets aged up to adulthood thanks to one of the aliens' devices, she's absolutely smoking hot.

Haruka-neesama of Minami-ke is amazing. She's enough of this trope that, in addition to the guys already attracted to her, she also invokes Incest Subtext and Even the Girls Want Her.
Kallen alone would technically fulfill the quota for Code Geass but C.C. certainly contributes as well. The staff have gone out of their way here, taking advantage of pretty much every available opportunity to showcase Kallen's assets, including positioning the camera at an odd angle when she piloted mecha just to get a better view of her behind. And who could forget the time she piloted a mech clad only in a bunny-girl costume. Oh, and making her forget that she's naked in the shower, so that she can threaten/kill a young man.

As far as Euphie is concerned, everyone remembers one scene starring her more than any other. No, I'm not talking about

when Lelouch accidentally uses his Geass on her, and makes her go on a killing spree, which ultimately leads to her death.

I'm talking about the sequence where she meets Lelouch on the beach, in her usual revealing dress, and apparently in order to dry said dress, ends up talking to him wearing nothing but his overcoat and a smile (back-to-back, actually; Lelouch has a superhuman will to not look at fanservice girls, as he previously proved during Kallen's shower).
Pretty much any female member of the cast within Ashford Academy (except Nina). And even she has her moments of this at times. Who knew that she Britannian scientists were allowed to use such short miniskirts?
Villetta Nu is Ms. Fanservice for the baddies -- except for the Heel Face Turn... or Heel Face Revolving Door, to be more precise. Cornelia has quite a few fanservice-y traits to her too... aw, hell, almost anything with boobs (except Kaguya who is the most flat-chested according to Word of God, and possibly Nina) can be Ms. Fanservice at one point or another during the show.

Miss Deep in the Read or Die OVA. Her outfit is even more Stripperiffic than Faye Valentine's. For crying out loud, her name is Miss Deep. This is even lampshaded in the English dub: "Sounds like the name of a porn star!" Justified since she's a clone of scandalous spy dancer Mata Hari.

Ironically,

the actual Mata Hari

was quite modestly endowed

Lavinia from Soukou no Strain. This is made even more obvious when you realize that, in the source material, she was a bully, but in the anime, she's the heroine's biggest fangirl, the change made apparently to keep the yuri fanboys watching. She was the only one in the thirteen-episode show to have her own episode, which consisted mainly of her trying to win Sara's love, fantasizing about their kissing and making out, kissing Jessie in the shower, and running around naked, with a small bit of plot at the end.
Young coach Aoi Hanamura from The Prince of Tennis is a very beautiful lady with a rather large chest, and also fond of wearing leather pants.

She's not the only one, either. Yumiko, Shusuke and Yuuta Fuji's sister, is as gorgeous and large-chested as Hanamura is.
Watch episode 129. Look at young Ryuzaki-sensei.

Hevn in GetBackers. The anime really toned her down; she actually doesn't show any cleavage in the very beginning of the IL arc.
Nami in One Piece.

And Pirate Empress Boa Hancock.
And Nico Robin, with her Zettai Ryouiki and her vaguely fetishistic leather outfits.
Alvida tries to be this once she becomes sexy, but usually gets overtaken by the urge for carnage, or gets sideswiped out of focus by a bigger baddie.

Dear God, the

timeskip

has been good to the fans. Even Sanji agrees. *nosebleed*

Minato Haruka in Martian Successor Nadesico. (An unintentionally amusing scene comes late in the series when, in a shot with generally higher-quality animation, she suddenly has conspicuously airbrushed-and-shiny cleavage.)
Kaere Kimura, and Kiri Komori and Arai Chie to a lesser degree, in Sayonara, Zetsubou-sensei are straight-up parodies of this trope, taking the pointless fanservice to its logical extremes. Half the time they only make appearances for the sake of fanservice. Kimura keeps flashing her panties, at first in situations where panties should be visible without a Magic Skirt, but later on is seen bent down in some bushes, with only her backside visible, despite it having nothing to do with the scene. The scenes between Chie and Komori become increasingly suggestive, especially since the characters never interact outside them, in any way. Considering the nature of the show, it should be clear that this is something of a commentary about fanservice in general, while still providing it in absurd amounts.
Urd & Peorth of Ah! My Goddess. Sayoko often tries to draw Male Gaze, but gets outshined by the goddesses.
Kurumu from Rosario to Vampire. One wonders why she even bothers wearing a skirt if she's just going to show off her panties all the time.

That's not something that Moka can't outbeat...

Ghost Hound mostly lacks fanservice, with Outori being the sole exception; her breasts and legs get ample attention and her feet even get swooned over by her boss. It is not overdone, though, and doesn't really distract from the premise. Still, it is fairly remarkable in that she is an adult character in a show that is mainly about middle/high school kids.
This title is shared between Mai and Natsuki of Mai-HiME, though they're not just there for fanservice (in the anime, at least... the manga is a totally different animal). Mai's, um, appreciable features occasionally draw stares from Yuuichi and Mikoto... and according to boys and girls alike, Natsuki looks damn good in a swimsuit.
Yoshinoya-sensei from Hidamari Sketch sometimes fulfills this role, since her love for Cosplay makes her show up in some very revealing or titillating costumes -- for instance the maid outfit from He Is My Master. She has the sexy poses down pat as well.
Kaito of Mermaid Melody Pichi Pichi Pitch is the resident Mr. Fanservice. For those in the Periphery Demographic, Hanon has quite a few bath scenes.
Ranma Saotome. Half the time, at least. Lampshaded in its abridged form.

Female Ranma provides easily 80% of the Fan Service in the series, with Shampoo contributing with about 15% and Akane the other 5%.

Pretty much every character Rumiko Takahashi has created has had his/her moment as Mr. or Ms. Fanservice. Most notably those who change genders, wear tiger-striped bikinis, have dog ears (earning quite a few topless scenes at the same time), or have the name Akemi.
Sheryl Nome, from Macross Frontier. This is much more obvious in the second (third?) opening, wherein she defies the laws of physics to avoid a Wardrobe Malfunction. Oh, and she gropes one of her own breasts in it too, an act repeated for both Hopes and Dreams in the series itself.

This even happens a lot in the series itself, from her stage outfits, including an Barbie Doll Anatomy shot on stage (holographic), to Godiva Hair, ShowerScenes, and an entire episode devoted to Fan Service (nearly all of it of her). She's not the worst offender on this example list by far, but generally if there's a Fan Service shot in Macross Frontier, it's probably of her.
From the second opening? We should have figured this out before we even saw the first opening. In fact, we should have known this from the very beginning.
The Movie cranks it Up to Eleven with her concert, which has so many Fetish Fuel elements that it's actually kind of silly. Just for starters, there are two of her: one innocent, virginal, and white-clad, and one in slinky black leather who ties the other up and bites her neck.

Elisabeta aka Petrushka from Gunslinger Girl.
Lady Susan in Zatch Bell, whose name in the Japanese version is... well... Big Boing.
Fate of Magical Girl Lyrical Nanoha is another main character example. She retained her Stripperific villain costume after her Heel Face Turn, sleeps in black lingerie, and where Nanoha upgrades by getting covered with more armor, Fate upgrades by being covered with less to make her move faster.

And for the non-loli crowd, her familiar is also pretty well rounded?
Not to mention Fate again after getting older.

Lust from Fullmetal Alchemist.

Also Sloth to a certain degree. (Specifically, the one from the first anime, not the second.)
And Riza.

Machiko Mai form Maichinngu Machiko Sensei got a panty shot (or MUCH more) Once an Episode. She doesn't like it at all,
Honey Kisaragi, the main character of the Cutey Honey franchise (unsurprisingly, given that she was created by the man who invented anime fanservice). Her default 'hero' outfit has a Cleavage Window that borders on Absolute Cleavage, and in Cutie Honey The Live, her outfit is a leather one that shows off all her features just perfectly while still being mostly cartoon-accurate. And she takes the Magical Girl Transformation Sequence to a new level - the transformation mechanism actually makes her clothes disintegrate and reintegrate in a new form, leaving her quite naked for a good few seconds while in midmorph. It doesn't seem to bother her in the least.
Fujiko from Zettai Karen Children goes out of her way to show lots of legs & boobs, despite being the highest-ranking officer (and president) of BABEL. One scene even has her giving orders while being barefooted and wearing an ultra short miniskirt for no good reason whatsoever.
Please Teacher: Mizuho Kazami. Dear gods, the voluptuous redhead that is Mizuho Kazami!

Her mother Hatsuho far outshines her (and she's over 40 and looking even hotter).

Gun X Sword has Carmen 99 and Fasalina.
Yanagi and Fuuko serve this purpose in Flame of Recca, aside from their other roles as The Medic Love Interest and Action Girl respectively.
Sedusa and Ms. Bellum in Demashita! Powerpuff Girls Z definitely fit this trope.
Sanae Nakajima, the Meganekko from Sumomomo Momomo is the heir of the horse family of martial artists. Most of the horse family's fighting style involves kicks, so Sanae is constantly strengthening her legs and thighs... And then there's the family heirloom, a horse- and bondage- themed outfit that greatly strengthens the wearer... But works better the less of it is worn, to the point where she sometimes has to fight wearing just boots, a thong, and very carefully placed suspenders. Or nothing at all. And poor Sanae really just wants to be normal.
Melinda from Somedays Dreamers gets a lot of shots of her in a miniskirt, and she is not shy of showing off her cleavage either. Curiously, main character Yume is not far behind in that regard, even though she is much younger and therefore not quite as well endowed.
Any of the DearS are Ms. Fanservice really, but the TEACHER in that series, OH MY GOD! She glomps nearly ANYONE is bouncing up and down, running from one end to another, and just... well the way she dresses... I'll be in my bunk.

In the mood for Christmas Cake I see.
It should be noted that in-universe at least, she's so over-the-top ALL THE TIME that her antics are actually Fetish Retardant to her students.

Kenichi: The Mightiest Disciple gives us Miu, who wears Sensual Spandex all the time, and Shigure, who could care less about Kenichi walking in on her while she's changing, and suffers Clothing Damage on a regular basis.
Margery Daw from Shakugan no Shana is a very blatant case of this.
Simca, in Air Gear. All. The. Time.

Almost every Air Gear girl, actually. Kururu and Ringo have their moments as well, and Kururu's Wrench Wench friends are pretty much all naked at some point.

Senou Natsuru in Kämpfer. The twist? He attracts the fanservice part in his Kampfer girl form.
While not exactly as revealing as other examples, Yuuko of XxxHolic.
Ryoko from Tenchi Muyo!! I mean, seriously, just look at her.

Not to mention Nagi during the beach episode. Solely to piss off Ryoko.

The older girls and women in Soul Eater fit this.

Blair is practically the incarnation of this. And thanks to the Book of Eibon, she's both.

Mylene Hoffman/Agent 009-1 from Zero Zero Nine One often goes to mission briefings wearing a really short skirt, tends to wear Modesty Bedsheets as a Sexy Backless Outfit and her ample breasts double as machine guns that cause Clothing Damage when she fires them.
Lum from Urusei Yatsura is definitely this. Her normal outfit is a tiger stripe bikini. She's Got Legs and Bare Your Midriff going for her. Granted, she isn't nearly so outright and openly super sexy and suggestive like the other examples. However, she somehow manages to be very enticing and quite attractive the whole time.
Lucy/Nyuu from Elfen Lied. Even when Lucy is being Ax Crazy, there are frequent frames zooming in on her cleavage. She's also frequently seen naked. Nyuu takes it even further with her fondness of her breasts being touched. Her cleavage is toned down in the anime adaption unfortunately.
Although all of the girls in Chrono Crusade get their fair amount of fanservice, Satella is extremely flirty and well aware of her good looks, as well as the curviest woman in the entire series. And in the manga, she's also a Shotacon, which means she spends a lot of the series giving Chrono special attention.
Lamia from Demon Lord Dante, pretty obvious there would be at least one since it's Go Nagai. While Medusa does wander around half-dressed-to-naked most of the time since her cover in the human world is as a model, Lamia wears a fetish-y outfit that, with her dark grey skin and long ears, make her resemble a Drow. And then there's the fact her raison d'être is to have Dante's babies and conquer the world with them. Fortunately for humanity, he thinks with the head on top.
Naomi Flugel from Zoids/ZERO

Kotona Elegance and Re Mii of Zoids Genesis fame would go on and take the title from her.
Moonbay and Adult Fiona from Zoids: Chaotic Century fit the trope to a tee. Especially adult Fiona...given how her outfit seems to put her... assets in full view.

Baka to Test to Shoukanjuu: Hideyoshi fits this trope perfectly. The series is even aware of it, as whenever there is a possible point to insert fanservice, they make sure she is there. Dressed in various costumes including nurse and maid, and appears as the round girl (girl holding up the round number) in various suggestive positions and clothes. The only part that doesn't fit is her flat chest, but for some, that's also an appealing factor... Wait.... HE'S A GUY?
Mizuki Tachibana from Gravion, seriously look at the clothing she wears. Couple that with the all the Gainaxing, Male Gaze and Clothing Damage, she might as well be called mistress fanservice.
Junko from Desert Punk invokes to trope to get other mercenieries to do her job for her.
Female assassin Yuki from SEX likes to wear leather and latex bondage gear and extra high heels on missions. She's also seen lounging around half-naked, for no reason whatsoever. Main character Kaho is also this, increasingly often as the story progresses.
Yura of the demon hair. Nicely stacked, wears very little (in fact, shes probably dressed most skimpily out of any other female from the show) is Ax Crazy if you like that sort of thing, and has inspired quite a bit of fan art. And only got a two episode appearance. Two early episodes.
Fairy Tail has Erza and Lucy.
Sailor Moon has a lot. Usagi in the anime, Minako in the manga, Ami sometimes in the anime. most female villains.
Seikon no Qwaser has plenty but a special mention goes to Tomo; DEAR GOD THOSE BOOBS!!!

She has no problem being topless in front of a stranger holding her hostage.

LaLa Satalin Deviluke has to be the best example of this, or just Fan Service in general. Not that most of the other characters are very different, particularly Momo, recently.
Suou, her exploitable fanservice style personality made her even more a fanservice bait than Yin was.
Misaki of Kaichou wa Maid-sama, aside from having to work at a Maid Cafe. She has been caught in a couple of indecent incidents.
The subject of most of the fanservice in Birdy the Mighty is its title character, Birdy Cephon Altera.
Blue Rose from Tiger and Bunny. A bit of a unique situation in that she's well aware that her attire is rather risque and even her parents comment on how it might be inappropriate. However, since she's a superhero sponsored by Pepsi, they choose what she wears.

This is more of a Deconstructed Trope, considering that she's marketed as a mix of Faux Action Girl (she does have decent ice powers, but her fanservicy outfit puts serious hampers on her fighting skills and she doesn't have much hand-to-hand skill) and Romanticized Abuser (people think she's a hot dominatrix, but she's as much a Tsundere)... and she hates it, due to how far her public image is from her real personality.

Kureha from Tokko. She likes to walk around topless with only a unzipped leather jacket covering her, a jacket that tends to come open in fight scenes.
Shizuki Kumiko form Gekkoh. A Yakuza schoolgirl whose body seems far to adult for her school uniform.
Hannah from the second Black Butler anime doesn't wear underwear under her dress save for a corset, has big boobs and hips, has a very beautiful face (save for an eye of hers), and gets frequent Clothing Damage.
A few females in Zero no Tsukaima due to all the Fan Service, like Kirche. Heck, even Louise counts as this despite her flat chest, what with her Zettai Ryouiki and her nice legs.
Toyed with in Axis Powers Hetalia, since the female characters do have more than one trace and yet the males are way more sexualised than they are. (And yet the fans sometimes slutshame the girls and "forget" how the dudes are way more fanservicy). The closest to the trope and the most prominent would be Hungary (Ninja Maid, Action Girl, occasional Bifauxnen, shown in Chainmail Bikini, with Boobs of Steel) and maybe Belarus (Elegant Gothic Lolita, Yandere, Tall Blonde And Bishoujo), but in the case of Ukraine it's more of a parody (her Gag Boobs are more often than not Played for Laughs).

Zigzagged with Belgium who is the only female in the 2010 Christmas Bloodbath to be shown in her bra in-comic, but in a sketch on the author's blog was shown covered in a blanket, saying that it wasn't going further than that. Other than that incident, she is usually drawn in very conservative outfits.
Hungary and Taiwan recently got a Hot Springs Strip together.
Community content is available under
CC-BY-SA
unless otherwise noted.