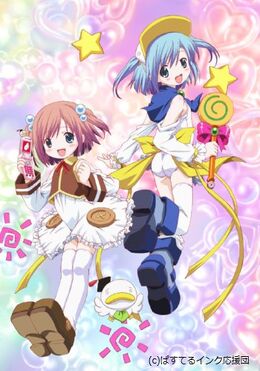 Believe it or not, Moetan started as a way to teach the Otaku of Japan the English language. The phrases they learn aren't of use to anyone but an Otaku, but that's beside the point. With its cute mascot, Nijihara Ink, and her Magical Girl alter-ego Pastel Ink, it caught on. So much that they decided to make a series out of it.
Nijihara Ink is a high-school student, but you wouldn't believe that by looking at her. She looks like she's elementary school age, and refuses to be called that. Then there's Arks Elbyas, a strong magician turned into a duck who comes to turn Ink into a Magical Girl so he can be freed from his duck sentence. Ink uses this as a chance to teach her crush, Nao, the aforementioned otaku-centric English. Later includes two more magical girls and some self-referential humor.
The series aired in the summer of 2007.
See the quotes page for all of the anime's Gratuitous English lines.
---
This show provides examples of:
Community content is available under
CC-BY-SA
unless otherwise noted.