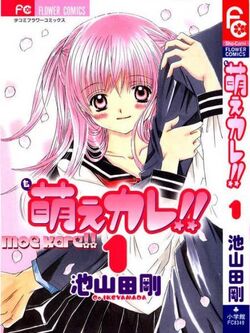 A 2005 manga.
Hikaru Wakamiya is a 15 years old girl that reads too much shoujo. And by that we mean she dreams to find a "prince", a handsome kind man of the kind that, um, seems a little unrealistic -- you know, the kind you would only find in a shoujo actually. One day, she seems to meet a guy that seems to be like that when he repels a group of bullies along her (more or less), but the guy is a perverted individual that soon after kissing Hikaru (using his tongue!) dismisses her because she lacks volume on the front and the back, if you know what I mean.
In the next Saturday, she goes in a group date with her friends where she meets a guy who looks almost exactly like her "perverted prince", except for the fact he's not that perverted and has black eyes instead of her "perverted prince"'s blue.
Having initially misunderstood him for the individual that took her mouth's virginity, Hikaru decides to apologize to this boy, Takara. But as she begins to know him, she begins to realize she may be falling in love....
Wriiten and drawn by Go Ikeyamada. Published by Shogakukan's Shoujo Comic.
Tropes used in Moe Kare include:
Community content is available under
CC-BY-SA
unless otherwise noted.