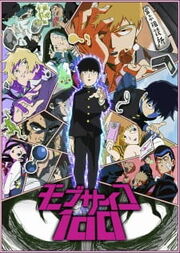 Adolescence can be a rather conflictive time. It's double hard for the junior high student Shigeo Kageyama, nicknamed "Mob", who at age 14 has to deal with the difficulties coming from both his muddled emotions and his Psychic Powers... which are starting to grow and get harder to keep control on. He at first tries to suppress them, but as time passes this gets harder to do, and there's the chance that if he does lose the grip on them, there will be a massive catastrophe that can ruin his life and those of the people around him.
Trying to get a hold on his powers and himself, Mob associates himself with a con artist named Arataka Reigen, who both pretends to be a powerful psychic and tries to genunely resolve the problems of his clients. So he begins to "study" and work under Reigen's eye and exorcise all kinds of evil spirits, while also dealing with normal life and school as much as possible...
Mob Psycho 100 (Japanese: モブサイコ100 Hepburn: Mobu Saiko Hyaku) is a Japanese webcomic created by ONE (of One-Punch Man fame), running from 2012 to 2017 on Ura Sunday. It has also been published on paper by Shogakukan (16 volumes), and has an animated adaptation by Studio BONES (which ran from 2016 to 2019) and a 12-episode live-action adaptation in 2018.
This page is under heavy construction!!
Tropes used in Mob Psycho 100 include:
Community content is available under
CC-BY-SA
unless otherwise noted.