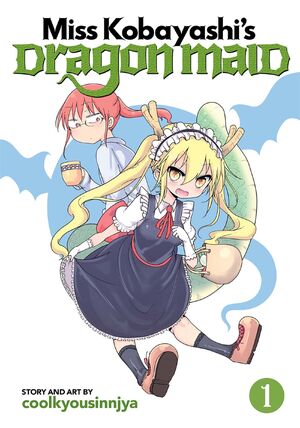 Kobayashi-san, hung over and chugging medicine for an upset stomach, is off to her programming job's daily grind until she opens her fourth-floor apartment door and sees the massive head of a green, scaly winged dragon staring right into her eyes. The dragon, which is actually standing on the sidewalk, transforms suddenly into a pretty girl with long blond hair, four-point horns, and a green, scaly tail in a maid uniform, to Kobayashi's dropped-jaw surprise.
So begins the manga, Kobayashi-san Chi no Meidoragon by Coolkyoushinja, published in May 2013 and adapted into a one season anime in January 2017. It combines Slice of Life, as Kobayashi slowly gets used to having a drastically overpowered maid (and a social life) with her maid Tohru's Fish Out of Water story, as the former Chaos dragon adapts to the strangely mundane human world. Under the battles, the magic, the jokes, even the dragons themselves, Dragon Maid's power comes from friends, family and home.
Tropes used in Miss Kobayashi's Dragon Maid include:
They'll get a free tour around Gehenna, Jahannam, Hellheim, and finally, the Lake of Fire.

—Tohru
Community content is available under
CC-BY-SA
unless otherwise noted.