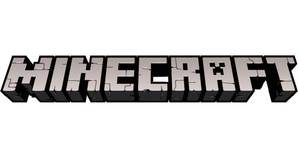 "I have heard [Gabriel] suggest that the game is crack, but it's more like all of the ingredients and equipment that you need to

make

crack, which I'd say is worse."
A cross-platform, block-based sandbox game. It was originally intended as a Spiritual Successor of the free game Infiniminer and is inspired by Dwarf Fortress as well, even to the point that someone developed a program to convert Dwarf Fortress maps into Minecraft landscapes.
Currently Minecraft has two main branches: "Classic" and simply "Minecraft" (Previously "Beta"; "Alpha", "Infdev", and "Indev" before that) with the latter further sub-divided into "Survival", "Creative", and "Hardcore" modes. It is currently priced at €19.95 (US$26.95, £17.20), Classic is free to play, but has fewer features than the full release. You can find the game here.
Classic is a simple sandbox mode that can be played either single or multiplayer. Players can place or destroy blocks as they see fit, and can switch between various kinds of blocks. For the most part, it's focused solely on building, and can be used to easily make very large structures or pixel art. Many players have compared it to playing with LEGO[1], and the visuals definitely carry that vibe. Classic is free to play, and a good way to introduce someone to the mechanics of Minecraft, but it is extremely basic when compared to the full game's more varied and complex features.
The full version features two modes: Survival and Creative.
Survival adds myriad features, such as a crafting system, a day/night cycle, and hostile monsters, and unlike Classic, the player must collect blocks manually. Players are dropped into an empty world with absolutely nothing but the clothes on their back. At night, zombies, skeleton archers, Giant Spiders, exploding Creepers, and teleporting Endermen roam the land (unless you're playing on Peaceful Mode [2]). The player is forced to scrounge for supplies, building up a base to protect from the nocturnal beasts while also mining deep underground for valuable materials. The landscape is also populated by more docile animals, like cows, that can be killed for their meat (which fills your food meter) and other useful items. Even after its official release, the game is constantly updated with many new features and tweaks, and players who have already paid for the game receive these free. For more details about Survival mode, refer to the analysis section.
The second mode, Creative removes the health bar, gives the player infinite access to every item/block in the game, lets the player spawn nearly every kind of mob[3] and gives them the ability to fly. It is, in essence, a more full-featured version of Classic.
Notable for its frequent updates and very involved creator, Notch (now working on other projects, having turned Minecraft over to Jeb). The full game was released on November 18, 2011 (Originally slated for November 11, but due to some other game launching that day, Notch pushed it back a week). The game also exists as a mobile version for the Sony Ericsson Xperia Play and two official Android apps (one free and one paid version - both of which roughly correspond to the Classic and gold versions, respectively). An iOS version of this was released on November 17, one day before the computer version left Beta. Versions for many consoles are also available, the first being a version for the Xbox 360.
In 2019, Minecraft became the best-selling video game of all time, with over 200 million copies sold as of May 2020.
Worth mentioning, one of the texts that can pop up at the title screen is "Less addictive than TVTropes!"
The largest third-party Game Mod, The Aether, has its own page. There is also a page reserved for fan-made Adventure Maps.
---
Minecraft provides examples of:
| | | |
| --- | --- | --- |
| |  sssssssssssssSSSSSSSSSSSSSSSSSSSSSSSS-*BOOM* | |
Cuteness Proximity: Many, many, MANY gamers, including most of the popular L Pers, are reduced to baby talking hysterics and "awwws" at the mere sight of a tamed wolf.

Taken even further here when Shawn sees the "wolves" at the end of the Mars Mission.
Ocelots. Cats. Kittens. That is all.

Damn You, Muscle Memory!: The default buttons for walking and 'toss whatever is in your hand' button are right next to each other. It is normally a simple inconvenience — until you accidentally throw your diamond pick into lava. It also happens to be the same button that is commonly "Previously selected weapon" in a great deal of PC first-person shooters. Fortunately, you can change the Drop button to something harder to reach, but most people don't bother until after it's already caused a big enough problem.

Just try going back and forth between Minecraft and any game that requires multiple presses of the attack button in order to perform multiple attacks. Neither will end well.
Going the other way, holding the shift key lets you sneak. This reduces your speed, makes enemies less likely to notice you, and most importantly, allows you to walk right up to the edge of a cliff without falling off. It's not uncommon for someone who plays a lot of Minecraft to eventually take this for granted and subsequently fall to their death in some other game where sneaking/crouching lacks that functionality.
Sprinting movement in other FPS games is completely swapped in Minecraft. The shift key, usually used for sprinting, is used for sneaking around in Minecraft. Additionally, players usually would have to double tap the W key in order to make small adjustments with ordinary player movement... guess what double tapping forward does in Minecraft?

Darkness Equals Death: Enemy mobs spawn at night or in the dark.
Dead Character Walking: Mobs have a glitch where if you kill them, and exit quickly and on return they will be alive and moving around in whatever position in dying animation they were in when you exited.
Dem Bones: There are arrow-shooting skeletons among the many enemies.
Defictionalization: Stone pickaxes are available for purchase.

LEGO Minecraft. That is all.

Difficult but Awesome: The bow, as of the Adventure Update. Charging it to full brings your movement to a crawl, making you a sitting duck unless you have superhuman reflexes, but it deals more damage than a diamond sword. It's also very accurate at 20 meters, but it's possible to kill monsters as much as 100 meters away if you compensate for gravity by aiming above your target.
Disadvantageous Disintegration: Traps that blow up, set fire to or bring cacti into uncomfortably close contact with enemies, while fun, will also generally destroy whatever items they drop.
Dronejam: Animals can, and often will, block narrow passages, and there rarely is another way to get through but killing them.
Dug Too Deep:

The bottom z level of every Classic mode map is nothing but lava. In the full game, every map has a rough layer of unbreakable bedrock (which can be revealed in Classic with water); if you somehow get past that, you'll find an endless void that quickly kills you.
In Beta 1.2.0, the rules changed so the deeper you dug, the more light you needed to prevent enemies from spawning, until eventually they could spawn even in direct sunlight. However, Notch reverted it back to the old light rules in 1.2.1, saying it was too annoying and he'd have to come up with a better way to carry out this trope.
There has been discussion about the addition of megabeasts, sea monsters, and prefix mobs which may make this trope a greater reality.
It has always been possible, using external editing tools to remove the bedrock layer of the map and literally fall out of the bottom of the world, but the Adventure Update made it both easier and significantly creepier. Easier in that Creative Mode allows you to destroy any block with a single hit, up to and including the otherwise-indestructible bedrock. Creepier in that The Void is now a pitch-black... well... void, glittering with the same particle effects used for the Endermen. And it kills you. (For comparison, the pre-1.8 void still killed you, but it was at least the color of the sky.)
As of Beta 1.8, the immediate area above bedrock level has a peculiar fog that precludes seeing much beyond twenty meters, so bedrock-level branchmines and caverns are rather difficult to navigate, with the reduced viewing radius, and the reduced viewing distance might hide hostile mobs... Placing more torches doesn't seem to help, either. Once you get above y-30, the effect goes away.

Dummied Out:

Inverted; some items appeared long before their function was decided (milk, eggs, fishing rod, slimeballs, bookshelves), and other items are still waiting for a purpose (e.g. dragon eggs).
Played straight with sponge blocks, which used to be the means of removing the water in Classic and Indev. They have no more use since Infdev, although the player can still edit them into his inventory.

With the addition of Creative Mode in Beta 1.8, sponge blocks can now be obtained legitimately again... well, about as legitimate as a built-in inventory editor can get.

Chain armor was also going to be used at some point, but was dummied out as well. Legitimately, there is no way to obtain any parts of the chain armor. You can get it via item hacks/mods or (while using a mod) using blocks of fire to craft the armor. While it looks cool, the chain armor is as durable as gold armor, which is not very durable at all.

Easier Than Easy: Peaceful difficulty, which gets rid of hostile monsters and grants regenerating health. Falls and lava remain dangerous, though. Creative Mode removes your health bar altogether, making you invincible, but you can still die by falling into The Void.
Easter Egg:

If you look in the splashes.txt file, you'll see that the deja vu splash is listed twice.
"This message will never appear on the splash screen, isn't that weird?"

Elaborate Underground Base: You're only a few well wasted hours of digging away.
Eldritch Abomination: The Ghasts, house-sized, floating tentacled creatures with an anguished-looking face and the ability to spit burning explosives with pinpoint accuracy. And they sound like little children -- traumatized little children in extreme pain.
Elemental Crafting: Played straight, except see the entry below for Reality Ensues.
Emergency Weapon: Axes, picks, and (most) shovels deal more damage to mobs than bare hands. That said, they were not intended as weapons, and will break twice as fast as swords.
Endless Game: Before Minecraft 1.0 came out, there was no ending to the game.
Enemy Mine: The player and Zombie Pigmen when confronting Ghasts.

For that matter, any mob hit by a skeleton's arrow will stop attacking you to deal with its aggressor unless you hit it again to focus it back towards you (and once that mob hits the skeleton, the skeleton will ignore you to attack them!)

Eternal Equinox: Day lasts ten minutes, night lasts seven minutes, and they're separated by an intermediate period 90 seconds long. Though the moon has different phases, the moon always rises as the sun sets and vice versa, behavior typically associated with a full moon.
Everything Breaks: Oh, yes. Except when dealing with bedrock/adminium.
Everything Fades: Blocks and items mysteriously disappear when dropped and left on the ground for a few minutes.

All mobs (including players) follow this trope as well.

Lava Adds Awesome: You can collect and use lava in constructions, either as an exotic light source, a trap for intruders, or an incinerator for junk. If you're not careful, it can easily kill you or ignite wood nearby.
Everythings Cuter With Kittens: The new jungle biome contains ocelots. Ocelots can be domesticated into cats. Cats can be bred to make kittens, which are the first kind of baby animal whose head doesn't look disproportionately large. Whereas tamed wolves will fight for you, cats are pretty much useless, which basically means they were added just because they're cute.

As of 12w05a, Creepers will run away from Cats if they are within a 6-7 block radius, thus making Cats useful Creeper deterrents.

Everything's Squishier with Cephalopods: Squids! They respawn far more frequently than other passive mobs (due to not being breedable) and drop ink sacs usable in dyeing.
Exactly What It Says on the Tin: You Mine stuff and you Craft stuff. That's essentially the entire game, right there.
Eyes Always Shut: Ghasts open their eyes for one reason - to make your life as miserable as humanly freaking possible.
Fake Crossover:

A strange case... The Halloween update features portals to hell.. And for the time being, occasionally when leaving hell, a portal will drop you off into a different save file.
Eventually, Notch hopes to make a canon crossover and allow travel between servers.

This is sort of available in classic, as you can go between "games" in a single server.

Fast Forward Mechanic: The bed feature which can skip the night-time portion of a day cycle.
Fast Tunnelling: It helps that a player has a large amount of space in pockets to store all the blocks gathered by mining.
Filk Song:
Fireballs: Ghasts shoot devastating fireballs that can destroy most blocks. Blazes shoot fireballs that will set you on fire. You can make a harmless version by throwing snowballs through a lavafall. You can make a considerably more powerful version by combining blaze powder, gunpowder, and coal, and loading the result into a dispenser.
Flash of Pain: Along with a brief Mercy Invincibility, on both the player and mobs.
Flat World: The super flat option when creating a new world. You won't find any hills, caves, dungeons, or anything else. You get nothing but grass, two layers of dirt underneath it, and the bedrock layer after that. This feature was added in version 1.1 to help players that want to build something without having to clear away the landscape first.
Floating Continent: It's a setting, though not available since Infdev. In Indev, set the kind to "Deep" and the size to "Huge", and you get... awesomeness.

The End consists of these, floating in a black void.
Depending on the generation of the terrain, you may sometimes get small islands floating in the air. You can also create your own floating landmass, but it will take a lot of building and terraforming.

Floating Platforms: You can make some, too.
Floating Water: In past versions, water not only floated, but duplicated itself infinitely to occupy all space below the highest point of water. Nowadays, water still has very strange physical properties. You can use a bucket to pick up a water source block and place it somewhere else, where it will create an endless flow of water that travels a limited distance horizontally.
Follow the Leader:

FortressCraft. From the looks of the trailer and other videos, it looks like Minecraft for the Xbox 360 with upgraded graphics. made even more ridiculous and redundant after the announcement that Minecraft itself was coming to the 360. Naturally, Minecraft fans have already begun ragging on the game, calling it a "ripoff", to which a rep for the team responded with this.
Before that was Manic Digger, which went so far as to even allow itself to connect to Minecraft servers. Notch was not very impressed with this.
Terraria is usually described as "2D Minecraft". It's worth a mention that one of the title screen messages recommends that you play it.
Minecraft itself was a successful result of Infiniminer clone wave.

For Science!: Redstone dust + various mods = "Great Scott!"
Fungus Humongous: As of Beta 1.8, these can be found occasionally growing in the wild, as well as grown by the player via sprinkling bonemeal on a normal mushroom.
Gainax Ending: After beating the Enderdragon, you get an 8 minute long scroll of confusing text. It seems to be a pair of sentient cosmic forces discussing you, the player at the keyboard. The conversation implies, among other things, that Minecraft was All Just a Dream, life itself is a much longer dream, all the monsters you've been fighting are fragments of the darkness in your heart, and humanity is the universe's attempt at understanding itself. This is probably a Shout-Out to the Herobrine Mythos [2], a persistent Urban Legend of Zelda about a stealthy, undocumented NPC changing the environment (similar to the later-introduced Enderman mob), and one of whose propagators also posted a hidden message very similar to the ending scroll in content.
Game Breaking Bug: Mojang doesn't really do a lot (if any) internal beta testing before releasing new updates for Minecraft, leading to a ton of these every update. What usually galls players is how many of these game-breakers manifest after minutes of play. This leads to situations where some of the fanbase thinks that maybe someone should go over the releases internally before subjecting players to it, while others think that players paid Mojang to find and detail those bugs for the company. A prime example of one of these is this.
Game Mod: Minecraft has a large and enthusiastic modding community for everything from texture changes to full-blown gameplay overhauls. Go here for a comprehensive list.
Gaslighting: Endermen move blocks around at night.
Giant Spider: One of the mobs. It's about half as tall as you, but they're the fastest mobs in the game, can often be found in groups, and are able to climb walls.

Cave spiders are less than half the size of the other spiders, but at twenty inches tall, they're still giant by real-life standards.
Jeb recently posted a screenshot suggesting we may end up with bigger spiders, too.

Grave Robbing: As of 12w21a, pyramids will be in sand biomes, they have treasure inside them. But are also booby trapped with TNT.
Glowing Eyes of Doom: Spiders have glowing eyes in the dark, as do Endermen.
Gravitational Cognizance: Sand and gravel sometimes forget to have fallen down in freshly-generated terrain. Until you disturb the underside. Purty! Also shown here.
G-Rated Sex: Breeding in Minecraft differs a lot from breeding in real life.
Green Hill Zone: The default map theme.
Griefer: Almost a given in this game when playing on a server. Some servers, depending on who is maintaining them, will allow griefing against other players while other severs will forbid it. If you are running a server for the first time, using the whitelist feature can help cut down on griefing. TNT is also heavily forbidden in many servers since its explosions can easily wreck structures people built or cause lag if too much TNT goes off at once.

In the early days of Minecraft, the Flint and Steel item was heavily banned in most servers because the fires it created made other things catch on fire very quickly until a patch slowed down the speed of fire spreading.

Guide Dang It: Admit it, when players are dropped into a new world, punching a tree is not the first thing they think of. Achievements have been an attempt to alleviate some of this, although the crafting recipes (which are crucial to the success of the player) are still nowhere to be found in-game. Consequently, upon playing the game the first time, it's virtually impossible to get past wood without the wiki.

Aside from the occasional Word of God, most crafting recipes seem to be discovered by players hacking the game.
One game mod does just this: show you every recipe. Aptly named Recipe book (at bottom of OP).
Even mods are far from immune - IndustrialCraft2, which adds machine components and 3 more ore types, requires more trips to documentation (typically its own wiki) for experts than Vanilla Minecraft does for newbies. And that's not even getting to the Nuclear Reactors, which were redesigned from the ground up in IC 2 and will involve some trial and error - very painful trial and error - even when you do have a rough guide.

Nuclear Reactors require your constant attention - unlike every other set and forget power source, you have to replace exhausted cooling cells constantly, implement the perfect pattern of fuel cells and cooling cells for maximum power without overheat, and if you turn your back to it for even a moment, you will turn back around to find an enormous crater and a blast area the size of Hiroshima carved into your map, that is, if you survived the explosion. But what really tops it is that while Nuclear Reactors are awesome, their power output can be matched or exceeded by a very large solar power array, which won't meltdown and destroy a large area of the map in the process.

The Aether mod comes with a feature where all you have to do is hit a certain key and a book for the world you're in (Nether, Normal, or Aether) will pop into your inventory.

Hammerspace: The items in your inventory, and where items placed in an Enderchest go.
Hannibal Lecture: This speech by a creeper.
Harder Than Hard: Hardcore mode. It's locked on the hardest difficulty, and death means your save file gets deleted.

The 12w18a snapshot extends Hardcore mode to multiplayer. Should you die in a sever with Hardcore enabled, you'll get a Have a Nice Death message and are automatically banned from the server.

If you created a single player save file through use of seed generator, it's possible to revisit the world you died in. However, the world will spawn just as it did the very first time you played on it, as in, without all of your tools and buildings.

Have a Nice Death: Dying on a multiplayer server produces a humorous announcement on how you died, such as "[player] blew up" and "[player] fell out of the world".
Healing Potion: These can be made with some water, netherwart, gold, and watermelon. Another variety made with ghast tears will steadily regenerate your health.
Hearts Are Health: Very Zelda-esque. This (in combination with Hyperactive Metabolism) is made fun of with logos like "I [porkchop] Minecraft."
Heart Symbol: These can be seen after taming a wolf, or when farm animals breed.
Hell Gate: Thanks to the Halloween update, you can actually build them. It's a difficult task to gather the resources required, and if you aren't careful, the most dangerous flying monsters will be able to escape into the open air, where they'll be nearly unstoppable.
Hitbox Dissonance: Ghast's hitbox is much smaller than it seems.

Chickens's hitboxes are strangely shaped for swords, but works just fine for arrows.

Hoist by His Own Petard: It is possible to harm yourself with your own arrows, either by firing them upwards, having them recoil off an enemy currently experiencing Mercy Invincibility, or simply outrunning your arrows, which got much easier when bows became hold-to-charge instead of instant-fire.

This can happen to the skeletons as well, if you have another hostile mob in the way, the skeleton will be attacked by it if its' own arrow hits the mob. Skeletons can even duel each other if one were to shoot another. It's also the only way you can get records.
The Beta 1.4 updates up the ante with tamed Wolves that attack anything that has attacked you (except Creepers). If you manage to shoot yourself, your own Wolves will attack you.
Ghasts love to fly out of range of your arrows and shoot fireballs at you that aren't affected by gravity. It's possible to kill them by hitting their fireballs back at them.
One Game Mod introduces the ability to use elemental arrows, such as Ice Arrows, Exploding Arrows, Fire Arrows, and Lightning Arrows. Lightning can supercharge Creepers. Do the math.

Humanoid Abomination: The Endermen are very much this.
Hyperactive Metabolism: Before the Beta 1.8 update, all consumable food instantly restored your health. Food now only fills up your hunger meter, which will slowly restore your health if the hunger meter is at least 90% full.

Sheep now eat grass to recover their wool nearly-instantaneously.

Hyperspace Arsenal: It's possible to make a cube of 13x13x13 tiles (2197 cubic meters of material) from the blocks you can carry around and still have more than a hundred to spare.
Hyperspace Is a Scary Place: The Nether. If you enter through one Hell Gate and leave through another, you'll find yourself displaced eight times further than you traveled within The Nether. It's a very useful shortcut, if you don't mind the fact that the place is full of steep cliffs, lava lakes, and ghasts.
I'm a Humanitarian: If you're really desperate to restore your hunger bar, you can eat the rotting flesh of slain zombies. It'll give you food poisoning, but it could still save your life.

There's also an instance of indirect cannibalism when you use bone meal to grow your crops. That's human bone you're using.

Improbable Weapon User: See Improvised Weapon entry below.
Improvised Weapon:

If you're fighting a mob with anything other than a sword or bow, this is likely what you're using. You can beat zombies down with axes, mining picks, shovels, blocks of stone, blocks of dirt, blocks of sand, blocks of wool, flowers, hunks of grilled pork meat, fish, doors, ladders, furnaces, minecarts, glass, mushrooms, diamonds, eggs, paintings.... Some of these are surprisingly effective against certain mobs, such as snowballs against Blazes.

Inexplicable Treasure Chests: Some madmen have put them deep under ground with a mob spawner. Of course, it's one of the few games where the player can put chests containing things in the most unlikely places.

Chests can also naturally spawn in the hallways and libraries of a stronghold, which makes a bit more sense.

Insistent Terminology: Notch has said via his twitter that the Minecraft default player's name is "Steve?", not "Steve".
Instant A.I., Just Add Pumpkins: The player can build snow or iron golems that wander around, attacking monsters. How do you get a pile of snow or iron to come to life and move independently? Give it a pumpkin for a head. Sure, why not?
Insurmountable Waist-Height Fence: You can now build them yourself. They're the same height as a regular block, but you can't jump up on them without first using another block as a step. That's because they count as being 1½ blocks high in character collision checks (yes, that also means you're half a block above the fence if you're "standing" on it), and you jump just less than that.
An Interior Designer Is You
In Universe Game Clock: One complete daily cycle, from sunrise to sunset to sunrise, lasts for 20 minutes. This means that time is compressed at a 72:1 ratio (72 Minecraft days equals one real-time day). The time of day has dramatic effects on gameplay: Nighttime is when the monsters come out. Daytime is when they burn. As you can imagine, being several miles away from your house at sunset is not a good idea.

Beta 1.8 added moon phases.

Invisible Anatomy: When you're not using your fists to punch something, the item you're holding is just floating in front of you.
Item Crafting: With a drag and drop inventory, and a 2x2 or 3x3 craft slot depending on how you're doing it, you spend pretty much 11% of the time doing this.
Item Farming: The villager trading system. Villagers can sell better weapons and tools for you for Emeralds, you get Emeralds by trading items to them or mining. Wheat and paper are the easiest to farm emeralds from, as they are derived from renewable resources.
It's a Wonderful Failure: Death in Hardcore mode. The game doesn't automatically delete your world. It sits you at the game over screen until you manually activate the deletion process.
| | | |
| --- | --- | --- |
| |   You cannot respawn in hardcore mode! (Delete world) | |
 Mike: Hey Steve, this mine we're digging just popped us out the other side of the mountain!

Steve: Oh, let me see. *accidental bump*

Mike: FFFFFUUUUUUU*splat*

Or just hitting each other with your pickaxes while trying to mine.
A persistent bug due to out of date LWJGL involves randomly starting to walk in a different direction while walking while clicking. The way to fix it is by hitting that direction key. Which is the very most counter-intuitive thing to do. Cliffs and lava pools become an object of horror due to this bug.
Rule number one of Minecraft: don't dig straight down. Rule number two: don't dig straight up. If you ignore these rules, it's only a matter of time before you die stupidly. If you dig the ground out from under you, you can tunnel down faster, but you run the risk of hitting a hollow cave, which can lead to falling damage and/or finding yourself surrounded by monsters you can barely see. Even worse, you may fall into lava with no way to climb out, guaranteeing a swift death and the total destruction of everything in your inventory. Digging straight up has its own unique risks. You may strike water, which can drown you if you aren't prepared, or you may find yourself buried in falling sand or gravel, which suffocates you even faster.

Digging upwards can also release a lava pool to fall on your head if you don't stop to check the dripping lava in the block above you. Water also drips the same way. Before the 1.9 version of the game, there was no tell that lava or water was above you, which made digging upwards even more dangerous.

Zerg Rush: Silverfish, if not killed fast enough.
Zombie Apocalypse: As of 1.2, this happens every night in villages, with zombies being spawned into the game just for this purpose. Luckily for the villagers, they can now repopulate and have an iron golem protector to counter this.
Zombie Gait: Zombies show that in action. Skeletons do it too, but it's probably because they carry bows.
Community content is available under
CC-BY-SA
unless otherwise noted.