Main Characters
Michelanne "Mike" Mazinsky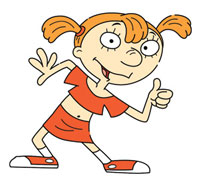 Mike is a streetwise girl from Manhattan who became a foreign exchange student and was sent to the secluded island of Albonquetine. She often leads the charge to create creature comforts from her civilized home, while at other times, she gets stuck in the middle of one of the island's wacky traditions.
Lu
"Princess" Lu is a self-absorbed Spoiled Brat who is bossy to everyone and demands that her "peasants" obey her every command.
Og
A soft-spoken Child Prodigy who often creates inventions and recreated things Mike misses about the big city.
Alfred
Og's father and a dedicated hunter who usually chases a wombat.
Margery
Og's mother and talented artist, historian, and chef.
| | | |
| --- | --- | --- |
| |  "I've been reduced to begging! Or worse...common thievery! | |
Wendell
Lu's father and governor of the island
Old Queeks
The island's old witch doctor and soothsayer.
Animals
Lancelot

Lu's long-suffering pet land turtle.
Philisophical Society
Og's talking animal friends who often discuss philosophy. Made up of Goat, Pig, and Spiney.
Pirates
The descendants of the pirates who shipwrecked the island's ancestors, the captain, mate and bos'n live on a small section of the island called "The Barnacle". They crave to turn Lancelot into turtle soup.
Cuzzlewitz
The Cuzzlewitz clan live on the other side of the island and tend to be more primitive and wild than their refined neighbors. Suprisingly, their number is larger than the Albonquetine clan.
Haggis & Baggis
Hermioine
Unlike the other Cuzzlewitz, the older sister of Haggis & Baggis is more cultured, speaks in complete sentences, and gets along better with the others.
Community content is available under
CC-BY-SA
unless otherwise noted.