This page deals with characters from the Mega Man franchise, featuring general background information on them and tropes they provide examples of. More specifically, this page refers to characters from the original eight (and current two) Mega Man games, often called the "Classic series". Mega Man Battle Network, Mega Man Star Force, Mega Man X, Mega Man Zero, Mega Man ZX and Mega Man Legends have their separate character pages.
The characters' names will be formatted in this style: English Name/Japanese Name (Serial Number, if applicable, though not mandatory).
---
Heroes
Mega Man/Rockman (DLN-001)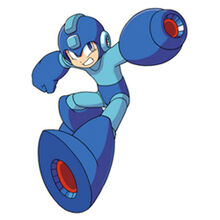 The legendary Blue Bomber himself. A housekeeping humanoid robot built by Dr. Light who was later modified into a battle-capable robot upon his request. Mega Man is equipped with the Mega Buster, and the ability to copy techniques from the Robot Masters he defeats.
 Mega Man: "I am more than a robot!! Die Wily!!"
Dr. Thomas Light/Dr. Thomas Right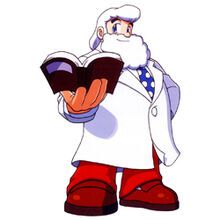 The primary developer of the "Robot Master" technology that created Mega Man, Roll, Proto Man, and others. He has always expressed an interest in using his inventions for the good of mankind.
  Robot Masters designed by Light have the serial number DLN-XXX (Doctor Light Number).
Absent-Minded Professor: Actually believes Wily has changed after sending his robot to stop Wily's evil scheme 'twice! Then he believes Wily again after roughly twelve more of [1] have been foiled, the last of which involved framing Light for world domination aspirations! If Light keeps this up, he'll develop a reputation for gullibility rivaling Knuckles the Echidna!
Always Someone Better: Early games depict Wily as jealous of Light's higher achievements.
Elmuh Fudd Syndwome: Fine Dogta Wawwey!
Light Is Good: Literally.
Spell My Name with an "S" and Japanese Ranguage: In the earlier games, localization for the English speaking territories alternated between rendering his name as Light, Right, and Wright before making Light the standardized name. Capcom themselves consider both names to be correct since the name of his Battle Network counterpart (Tadashi Hikari) translates to Right Light.
Proto Man/Blues (DLN-000)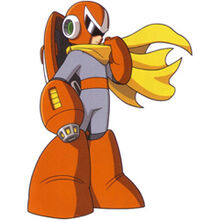 The "prototype" robot master created by Drs. Light and Wily. He was the first one to be capable of independent thought. Worried that Dr. Light would meddle with his programming, he left Light Labs to wander alone. He eventually finds his "brother", Mega Man, in 3, and fights him multiple times.
 Proto Man: "Looks like you need my help...again."
Cain and Abel: Proto Man was working with Wily in 3, but pulls a Heel Face Turn at the end. In the cartoon, he was the Worthy Opponent though it's been theorized that he would've eventually pulled a Heel Face Turn, with his role replaced by Bass (as he had an action figure coming out) if the Third season hadn't been canceled.
Cool Shades: Two pairs. One as a part of his helmet, and when he takes it off, we learn he was also wearing one underneath the helmet.
Cyber Cyclops: As Break Man.
Divergent Character Evolution: In Power Battles and Power Fighters, his moveset is basically his successor's, but in 9 and 10, he instead has his brother's Charge Shot and Slide. And odd case where Mega Man had to lose these features for his brother to have a more unique playstyle.
The Dragon: He appears to be this in 3...until he saves you after you defeat Gamma, out of which he's an ally. The TV Series plays this straight, with him working for Wily.

In Mega Man 4, he was apparently still working for Wily; after he saves Kalinka, Wily yells that he betrayed him.

Flawed Prototype/Super Prototype: Depending on your view of his unstable nuclear reactor.
For Want of a Nail: If he would had let Dr. Light remodel him to fix his power reactor, Dr. Wily would never had found him and done it himself, thus he'd never gain the ability to manufacture robots at the same level as Dr. Light.
Fountain of Expies: All the future incarnations of Proto Man, including Zero who variably will play the role of The Lancer, Aloof Big Brother, or The Rival at various points in their respective series.
Glass Cannon: In all three playable appearances, explained as resulting from an unstable energy core.
Heel Face Turn: After 3.
Iconic Item: His Proto Shield. How effective it is in playable appearances varies heavily, but it's still there.
The Lancer: Whenever Mega Man gets a partner, Proto Man will usually fulfill this role.
Meaningful Name: In English, at least...
Mega Man, He Is Your Brother: 3's ending.
Pet the Dog: Even if you take him as a villain in 3, he still saved Mega Man at the end.
Power Copying: Like his brother, he also has the ability to copy weapons.
Red Oni, Blue Oni: Although there's a bit of an inversion: while Proto Man is calm and composed, his rebellious nature towards Dr. Light makes him the Red Oni to Mega Man.
Ryotaro Okiayu: His seiyuu in Mega Man 8. The very same seiyuu as Zero in the X series. Funnily enough, there was once a theory that Zero was Proto Man.
Scott McNeil: His voice actor in the animated series.
Secret Character: He's Downloadable Content in 9.
Secretly Dying: His power core is flawed and he doesn't want Dr. Light monkeying with him.
Spell My Name with an "S": Much like his brother, expect to see Proto Man and Protoman pop up frequently.
Theme Naming: Yup.
Roll (DLN-002)
  The third humanoid robot built by Light Labs, and is a "sister unit" of sorts to Mega Man and Proto Man. She doesn't do any fighting on the field (except in Powered Up, where she is a playable character), preferring to use her smarts and help Mega Man from the home base.
  According to her character card in Mega Man & Bass, she hates cockroaches.
Ascended Extra: Roll became something like this over the years of the franchise! In 8, she ran a part shop in Auto's absence (Auto helped Mega Man out in the Tengu Man Stage during the flying scene). In Mega Man and Bass, She uses a communicator to give tips on CD locations for the player and boss weaknesses. In 9, she, along with Auto, runs the part shop again. In 10,

after the 8 robot masters are defeated, she saves Mega Man's life from the Roboenza Virus, all the while still being sick from the virus herself in the beginning of the game

! In the world of Capcom vs. Whatever, Roll went from a secret Joke Character in Marvel vs. Capcom Clash of the Superheroes and Marvel vs. Capcom 2 to a very powerful, and available from the very start of the game, Lethal Joke Character in Tatsunoko Vs Capcom!

Not to mention she's playable in Powered Up!

All Girls Want Bad Boys: In one Manga, Roll has a thing for Bass, and Bass pretends to reciprocate to the extent necessary to piss Mega Man off.
Arm Cannon: Sometimes yes, sometimes no. The cell phone port of the original game gives her an almighty charge shot with limited ammo, and Marvel vs. Capcom: Clash Of The Superheroes and Marvel vs. Capcom 2: New Age Of Heroes had the Roll Buster as a weak projectile. Games released since have gone the Improbable Weapon User route.
Brother-Sister Twincest: Some of her quotes in Powered Up (especially during the battle with Copy Roll) give the impression that Roll is a bit too attached to her brother.
The Chick: Well, as far as a humanoid robot can be a "Chick" anyway.

Considering she looks like a kid and has the voice of a kid anyway.

Distressed Damsel: Wily kidnaps her for some unexplained reason in The Power Fighters.
Fountain of Expies: Like her brothers, most series will have a blonde girl who dresses in either pink or red and acts as a sister, love interest, or mission control for the Hero -- Alia, Roll Caskett, Roll.EXE, Ciel, etc.
Heroic Sacrifice: A rare non-death example. Upon the defeat of the first four Robot Masters in 10, Dr. Wily creates a prototype cure for the Roboenza virus. Rather than take the medicine, however, Roll instead saves it for the possibility of another sick robot being brought into the lab. Sure enough, just as he defeats all eight Robot Masters, Mega Man falls ill from Roboenza....

However,

when Wily leaves behind a huge pile of Roboenza Cure Pills for Mega Man as thanks for being saved and brought back to good health at a hospital, it's safe to assume that Roll gets better, though the ending doesn't show it

!

Hitbox Dissonance: In Capcom's crossover titles, Roll's small size makes her a hard target to hit. Tatsunoko vs. Capcom takes this up a notch by giving her a broom, a weapon with good reach, further disjointing her hitbox. See "Lethal Joke Character" below.
Image Song: First appeared in Battle & Chase and has reappeared throughout the Capcom vs. Whatever series. It's a freaking Ear Worm, too!
Improbable Weapon User: If Mega Man Powered Up and Tatsunoko vs. Capcom are any indication, her Weapon of Choice is a broom.

In Powered Up, the Roll Swing changes depending on which costume she's wearing. It doesn't change if she's 8 Roll, however.
Marvel vs. Capcom. Come with explosive vases.

Irony: The storyline emphasizes the fact that Roll was not built for combat. Ironically, she has made the most appearances in the Capcom vs. Whatever series than any other character from the entire franchise (even more so than Mega Man, who himself got Demoted to Extra as a cameo in Roll's Tatsunoko vs. Capcom ending)!
Lethal Joke Character: Tatsunoko vs. Capcom turns her into one of these.

Marvel vs. Capcom did it first. She can take out Onslaught quite handily.
In Powered Up, the first form of Dr. Wily can easily be stunned by the Roll Swing, as well as Mega's Mega Kick. They both also do slightly better damage to most of the bosses than the Mega Buster (as long as you don't take Mega Man C's charged shots into account, and even then, they're on par with it during the castle boss battles).

Little Miss Badass: She can punch out Onslaught and Yami in crossover games, not to mention the series' ultimate badass. [2] While this level of power may or may not be canon, the other robot masters in Powered Up are afraid of her. As well they should be!
Littlest Cancer Patient: In 10, though it's not played for Glurge.
Popularity Power: Apparently, she can take Zero in a fight! Yellow Devil would have been so screwed...
Robot Girl/Maid

Super-Powered Robot Meter Maids: In those side games where she fights. Otherwise, she's just a regular robot meter maid.

Well, considering how she fights in many of the games (with random objects, often cleaning utensils), maybe her superpowers are related to cleaning.

Skip of Innocence: At the end of Powered Up! after she saved the day.
The Smurfette Principle: The only female Robot Master until the inclusion of Splash Woman in 9.
Took a Level In Badass: Somewhat, though she sometimes isn't even present enough to tell either way, but Tatsunoko vs. Capcom is probably a large example. Knocking much larger opponents off their feet and repeatedly ramming them in the groin with a mop is pretty hardcore.
Unwilling Roboticisation: In the Brazilian comic. It was quite gruesome, indeed.
Zettai Ryouiki: In Universe.
Rush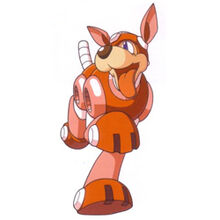 A robotic dog created by Dr. Light in 3 to assist Mega Man in his adventure. Can take on many forms, including a submarine, a hoverboard, a springy coil, and later even a Powered Armor.
Combining Mecha: Rush can turn into armor that Mega Man can use in the sixth and seventh games.
Hologram: Rush has a holographic projector built in to transmit messages from afar by Dr. Light or recordings like in Mega Man 9's ending.
Infinity+1 Sword: The very useful Super Adapter's homing upgrade. However, it's very hard to find, unless you know where to find it, that is.

Essentially, it turns Mega Man into even more of a Flying Brick, as his Hyper Mega Buster already dealt heavy damage to most enemies in the game and his Double Jump (thrusters portruding from his wings) could allow the use of shortcuts in most stages (and provide relief in the later Platform Hell sections); giving it homing functions only made Super Mega Man more of a plus, although it still doesn't quite make up for the disabling of his slide.

Nerf: In 3, Rush Jet gave you free range of movement, and jumping while riding it greatly reduces the amount of energy it uses up. This makes it incredibly easy to skip the tougher segments of most levels. It was changed in later games so that he automatically moves straight forward and disappears as soon as it touches something.
Plucky Comic Relief: He's there to assist Mega Man in the animated series with his transformations, but his secondary funtion is this. Often there to provide a "Everybody Laughs" Ending.
Powered Armor: Has three versions, with the third being a combination of the other two. And then...
Robot Dog: Duh!
Shout-Out: A walking Shout-Out to Scooby Doo in the animated series.
Shoulders of Doom: The Rush Power Adapter in 6 involves Rush turning into a massive pair of shoulder pads. When Mega Man puts on the shoulder pads, he becomes a short-ranged powerhouse with fists.
Sky Surfing: Provides Mega's main form of aerial transport (well, other than teleporting) in Rush Jet mode, where the Blue Bomber stands on him like a surf-board.

Dungeon Bypass: In a strict sense, the Rush Jet makes some levels marginally easier.

Transforming Mecha: Let's go over his forms: regular Rush, Rush Coil (with two variations), Rush Jet (with various additional powerups), Rush Marine, Rush Roadster, Rush Cycle, Rush Drill (in the non-canon Marvel vs. Capcom series, which had been intended to be used in the third game), three adapters (four if you count the Hyper Adapter from MvC)...
Beat
  After Mega Man saved Dr. Cossack's daughter from Dr. Wily, the grateful scientist created this robotic bird to aid Mega Man. Beat flies around in Mega Man's proximity, either taking out enemies in Mega Man's path or carrying him short distances.
Eddie/Flip-Top
  Eddie is a small robot who was built by Doctor Light to serve as a walking suitcase. He helps Mega Man by teleporting in to give him power-ups, and occasionally by tossing bombs out of his head. He has a problem with anxiety.
Stop Helping Me!: Very infamous for giving you the power up you don't need. Weapon Energy in a Robot Master level, which usually isn't long enough to warrant it, and a Health Pellet when you already have full health. The rare E-Tank or extra lives are always useful though.
Tango
  When Mega Man initially failed to defeat the StarDroids in V, Tango the cat was created to assist him in fighting the robots. His ability is to curl into a spiky ball and charge into enemy robots.
Auto/Rightot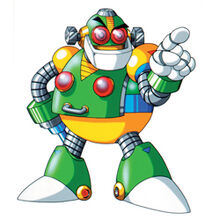 A mechanic robot created by Doctor Light, Auto considers himself Mega Man's biggest fan. He helps the Blue Bomber by creating new accessories for him to use. He's good friends with Roll, and treats Eddie like a pet.
Adult Child: If his CD biography has to be believed...[3]
BFG: Uses a cannon/rocket launcher in the Rush Jet sections of 8.
The Cameo: In the Playstation version of X3, in Volt Catfish's intro video.
Doppelganger: The robot who manages Proto Man's shop in 10.
Otaku: A big mechanics geek.
Remember the New Guy?: A new character for 7, but it was mentioned that he was already under Dr. Light's employ long before that time.
Villains
Dr. Albert Wily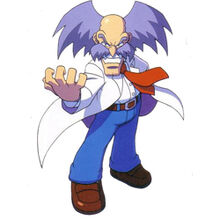 The main antagonist of the series, and Dr. Light's former partner at Light Labs. Jealous of being overshadowed by Light's success, he reprogrammed the original Robot Masters and used them to take over the city, and would eventually attempt to conquer the world with them.
  Robot Masters designed, controlled, or modified by Wily usually bear the serial number DWN-XXX (Doctor Wily Number), although some special-purpose Robot Masters such as Bass have different serial numbers such as SWN-XXX (Special Wily Number).
Guts Man (DLN-004)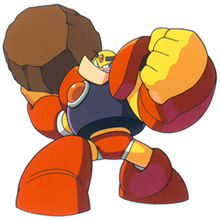 While not truly a main character, he's been in many of the games so far, normal, modified, or referenced, and is one of the original six robot masters. Unlike what one would expect, he has average intelligence. Incidentally, he enjoys karaoke.
 Guts Man: "It's a foreman's job to look out for everybody, but sometimes you gotta do what ain't in the blueprints!"
Cut Man (DLN-003)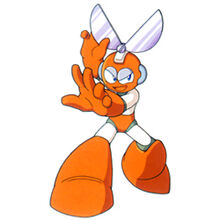 Like Guts Man, Cut Man isn't a main character, but is one of the robot masters who appears the most often. While Guts Man has been used as a boss most, Cut Man has canonically been in Wily's service the longest of the original six masters.
The Mega Man Killers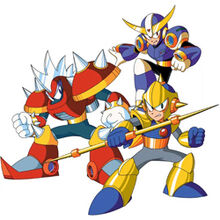 Minor but memorable characters from the Game Boy games, the Mega Man Killers, consisting of Enker, Punk, and Ballade, are designed for the sole purpose of destroying Mega Man. They are designated by the serial number of RKN-XXX (Rockman Killer Number) in Japanese and MKN-XXX (Mega Man Killer Number) in English.
Quint
  A minor but memorable character from the Game Boy games, Quint is apparently Mega Man himself, pulled from the future and reprogrammed.
The Genesis Unit/MegaWorld Army Corp
  Appearing in the Compilation Rerelease/Video Game Remake Wily Wars, the Genesis Unit, consisting of Buster Rod.G, Mega Water.S, and Hyper Storm.H, are the three bosses featured in the secret fourth game, Wily Tower. They are given the serial number of MWN-XXX (MegaWorld Number) in Japanese and WWN-XXX (Wily Wars Number) in English.
The StarDroids/Space Rulers
  Villains from Game Boy's V. They are designated by the serial number of SRN-XXX (Space Ruler Number), even in English.
Sunstar/Sungod
  An ancient super robot on which Wily based the StarDroids. He releases him against Mega Man for the final battle of V. He promptly blows Wily off the battle field, before facing Mega Man.
King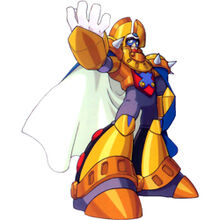 Robot Masters recruited by King (except Tengu Man and Astro Man) have the serial number KGN-XXX (KinG Number).
Other Characters
Bass/Forte (SWN-001)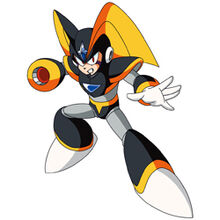 A robot created by Dr. Wily in 7 specifically to oppose Mega Man at every turn. He has a robot wolf named Treble (Gospel in Japan), with whom he can fuse to gain new powers, in a similar manner to Mega Man and Rush.
Treble/Gospel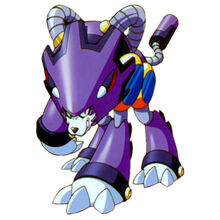 A robotic wolf created by Dr. Wily to help Bass the same way that Rush helps Mega Man. He can morph into a jet pack and fuse with Bass to let Bass fly for a limited time.
Reggae
  A robotic bird created by Dr. Wily. His most notable video game appearance was in the Japanese-only Party Game Rockboard.
Dr. Mikhail Cossack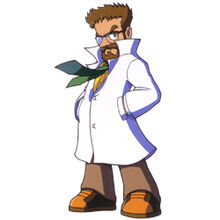 A brilliant Russian robotics scientist that Dr. Wily blackmailed into attacking Mega Man by kidnapping his young daughter Kalinka. Once Proto Man saved Kalinka, he was willing to help, going so far as to build Beat for you the next game.
  Robot Masters designed by Cossack have the serial number DCN-XXX (Doctor Cossack Number), though due to Wily's involvement they may be given DWN serial numbers instead.
Duo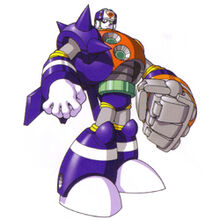 A machine from outer space that searches for "Evil Energy" to destroy it.
Community content is available under
CC-BY-SA
unless otherwise noted.