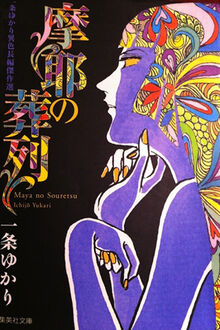 Maya's Funeral Procession (摩耶の葬列, Maya no Souretsu) is a Girls Love manga from The Seventies, written by manga pioneer Yukari Ichijo.
The protagonist is a Naive Everygirl named Reina Harukawa. She's the very sweet and sheltered daughter of a famous entrepreneur who specializes in jewels, and is also engaged to the handsome son of her dad's business partner. Reina and her family go to their summer house for vacation, and then she falls in love with her neighbor: a very beautiful young woman named Maya who's aloof to everyone but her emotionally unstable older sister... and Reina herself.
Still, things start to change for the worse very soon. As people around the two girls start falling dead, many questions are laid out... Who is Maya really? Why does she know so much about Reina's family? And if she has "designs" on them, will these directly involve Reina...?
Tropes used in Maya's Funeral Procession include:
Community content is available under
CC-BY-SA
unless otherwise noted.