This page is for listing the tropes related to party members who first appeared in the second Mass Effect game.
For the pages listing tropes related to NPCs, Antagonists and Party Members who first appeared in other games in the trilogy, see the Mass Effect Character Index.
Party Members
Urdnot

Grunt
"Grunt is...not a stabilizing element, Commander."

—Joker's description
A young lab-grown krogan with a violent attitude who believes that might makes right.
---
| | | |
| --- | --- | --- |
| |  "We should hide behind...stuff." | |
| | | |
| --- | --- | --- |
| |  Grunt: Like holding a book for a child. Just 'remember this,' picture after picture. No help with finding a reason to care. | |
| | | |
| --- | --- | --- |
| |  Grunt: I am pure krogan. You should be in awe. | |
Undying Loyalty: Even before his mission, he seems to have nothing but respect for Shepard, his "Battlemaster". He even threatens Uvenk for spitting on Shepard's name. This is because he loves to fight, and Shepard brings him along to fight "BIG THINGS".
| | | |
| --- | --- | --- |
| |  Shepard is my battlemaster. S/he has no match. | |
| | | |
| --- | --- | --- |
| | Grunt: You offer one hand, and arm the other. Wise, Shepard. | |
---
Jack
"I'm not saying anything about Jack. I'm not stupid."

—Joker's description
| | | |
| --- | --- | --- |
| |  Voiced by: Courtenay Taylor | |
A powerful and unstable human biotic with a chequered past. Formerly a biotics test experiment of Cerberus. Romance option.
---
| | | |
| --- | --- | --- |
| |  Jack: They really liked that moon. | |
| | | |
| --- | --- | --- |
| |  Jack: I'm not going to let [the Reapers] turn me into some fucked up bug thing. | |
Character Development: Depending on how you treat her, she can either stay a Dark Action Girl or show a softer side. This is shown in the two possible culminating scenes for a romance with her, one of which is just about sex, the other of which is far more tender.

It's worth noting that while

assaulting the Collector base

, if you choose her to man the biotic barrier through the Seeker Swarm room and she's loyal, she'll refer to you as "Commander" like she means it. For as violently psychotic and unruly a character as Jack is, that's speaking volumes about her development under Shepard's command.

More than that, she phrases

the word Commander around appropriate statements. That is, instead of being smarmy and snarky, she uses more short and to the point phrases that you'd expect from more disciplined crew members.

There's also the Suicide Mission: if you choose to have her lead a team during it, her final words will be " "Too many...tore me up. How'd you talk me into this? Heh...I wasn't supposed to care." Apparently, being around The Messiah long enough can make even Jack give a damn about everyone else.
If she's still alive in 3

she has become a teacher with a very strong bond with her pupils, due mostly to Shepard's influence.

As well as sticking it to the Illusive man by protecting biotics from people like him. Especially after Gillian's death at the hands of Kai Leng which would probably serve to solidify her resolve.

Cluster F-Bomb: Constantly. In fact, she drops all but two or three of the game's F-bombs -- mainly because she's the only character who uses the word in regular conversation.

If you start to romance her and then push her away at the end (either to pursue a different partner or just For the Evulz), or if you side with Miranda in their conflict, all she will ever say to you from then on is, "Fuck off!"

Toned down a bit in 3 when she becomes a teacher at Grissom. Gotta set a good example for the students, after all.

Colony Drop: She committed "vandalism" by smashing a space station into the hanar's favorite moon.
| | | |
| --- | --- | --- |
| |   Jack: Hey, Joker, f-- (Loading screen) | |
Cutscene Power to the Max: When she first appears, she tears through three YMIR mechs like they were made of wet cardboard. In normal gameplay, you're usually popping in and out of cover and gradually whittling them down.
Deadpan Snarker: She definitely has her moments.
(After she says she wants to blow up the Cerberus facility on Pragia)
Shepard: Jack, you can't hold onto this. It's messing you up.
Jack: Yeah, nice advice, but I've been messed up for years. No thanks to them.
| | | |
| --- | --- | --- |
| | Jack: I'm no fan of these guys either, but they're not the big problem here. | |
| | | |
| --- | --- | --- |
| | Jack: Mess with someone's head enough and you can turn a scared kid into an all-powerful bitch. Fucking idiots. | |
| | | |
| --- | --- | --- |
| |   Jack: Screw you, f--flight lieutenant. | |
| | | |
| --- | --- | --- |
| |   Jack: So fuck you. And thanks for asking. | |
In ME3, Joker asks if she has a swear jar, because emptying it would buy another cruiser.

Murder Is the Best Solution: If you need an explanation this far into the entry, you need to get your eyes checked.
My Hero Zero: Well, Anti-Hero, but hey, considering the trope in question...
Mythology Gag: She sometimes screams I WILL DESTROY YOU! in the same way the human biotic mooks did in Mass Effect 1.

Mocked by Rodriguez in ME3
 Rodriguez: I will destroy you!

Jack: Drink your juice, Rodriguez. You couldn't destroy wet tissue paper.
| | | |
| --- | --- | --- |
| |  Grunt: That's Jack? Jack is tiny. *Jack starts wrecking the place* Let's get down there, I want to see! | |
 Jack: Don't get killed, dumbass. When this is over, I'm getting laid.

Shepard: I love you too.
Tyke Bomb: The Shadow Broker's dossier indicates

she was actually taken by Cerberus shortly after birth. Her mother was convinced the child had died from horrible element zero-induced seizures.

Ungrateful Bitch: In her recruitment mission, Shepard not only frees her, but saves her by shooting a Blue Suns trooper just before he shot Jack. Her response is to loudly insult Shepard.
Unreliable Narrator:

She wasn't in the best position to figure out just what was going on in the Teltin facility.

What Would Shepard Do?:

If she survives the second game and you make it to Grissom Academy in time in the third, you'll find her teaching a batch of young biotics and defending them from Cerberus. She even admits that some of Shepard's leadership rubbed off on her, what with "all those damn speeches."

Woobie, Destroyer of Moons: Because seriously- after multiple gang rapes, a life of physical torture, emotional, and sexual abuse, Jack really deserves a little bit of happiness. And a Shepard hug. Unfortunately, Shepard may not survive such an encounter.
You Need to Get Laid: Inverted; see Sex Equals Love above.
Your Makeup Is Running: During her romance scene.
---
Jacob Taylor
"Jacob is way too nice a guy for the number of ways he knows how to kill people."

—Joker's description
| | | |
| --- | --- | --- |
| |  Voiced by: Adam Lazarre-White | |
A biotic and former marine who joined Cerberus to protect humanity, although he dislikes their extreme methods. He's also the protagonist of the iPhone game Mass Effect Galaxy. Also one of ME2's romance options for the female Shepard.
---
Absence Makes the Heart Go Yonder: He and Dr Brynn Cole are together in 3 whether or not you romanced him.
Anti-Hero: Type II or III.
Beware the Nice Ones: One of the most non-confrontational, baggage-deprived guys on your squad, but check out his loyalty mission's Renegade ending for what he's capable of when pushed.
Broken Pedestal: His father
Calling the Old Man Out:

Was pretty pissed to find out what his father had been doing for the past 10 years.

Chick Magnet: He's had a past history with Miranda, Kasumi totally digs him, and he can possibly romance a Female Shepard.
Derailing Love Interests: In 3, if you previously romanced him, he's already moved on to another woman he plans to settle down with.
Determinator:

Early in his mission in 3, Jacob gets shot in the stomach protecting some Ex-Cerberus Scientists. While he gets briefly treated, Jacob continues to power through the mission while injured.
 "You should get that wound looked at."

"I'm good. I mean, I will."
Disappeared Dad: For 10 years and counting...

at least, until his loyalty mission.

Disappointed by the Motive: n his loyalty mission, Jacob isn't so much disappointed as he is outraged over the fact that his father spent 10 years on a remote planet, indulging in what he calls "a juvenile fantasy."
Dogged Nice Guy: Inverted - female Shepard has to work to get him to open up to the possibility of a romance.
Don't You Dare Pity Me!: He doesn't want anyone thinking of him as a "baggage guy" or trying to "figure me out". You can actually convince him to break off the romance if you keep pushing him.
| | | |
| --- | --- | --- |
| |   "Even if you were right, how small would my problems be if you could "fix" them with grad-school psych and a crying jag?" | |
Fantastic Racism: If Fem Shep rejects his romantic interests in favor of Garrus, he derisively refers to the turian as 'that cuttlebone.'
Female Gaze: There's a point early in the romance in which the camera seems to switch to Shepard's POV, and pans up from his groin to his face.
Hero of Another Story: Literally, with Mass Effect Galaxy. This put him in the rare position of a previous player character stuck as second-fiddle to another one.
I Can't Believe A Chick Like You Would Notice Me: He seems rather surprised when female Shepard tries to start a romance with him, but eventually runs with it.
I'll Pretend I Didn't Hear That: When Grunt starts talking about how appetizing the smell of burning plague victims is.
Insecure Love Interest: See the tropes immediately above and below this one.
I Want My Beloved to Be Happy: Implies this towards Miranda.
Knight in Sour Armor: He's generally a nice guy, but displays a lot of cynicism regarding the Alliance and Citadel governments after the events of Mass Effect Galaxy which led him to join Cerberus in disgust. Not that he's altogether fond of them, either.
The Knights Who Say Squee: He begins the game as a mild Shepard fanboy.
The Lancer: A position he shares with Garrus and Miranda.
Leave Behind a Pistol: At the end of his loyalty mission, the Renegade conclusion is to give a gun to

his father

to kill himself rather than face a court martial or be killed by males driven to violence by the local flora.
Magic Knight: Both a capable soldier and a powerful biotic.
Man Hug: How he assures Shepard he's ready to go post-loyalty mission.
The McCoy: Jacob and Miranda serve as the foils/voice-of-reason towards Shepard. Jacob general support actions that tend to be morally right, and is the paragon-voice point.
Military Maverick: He left the Alliance because he couldn't handle all the Obstructive Bureaucrats. Having said that, he also gets the prize for the other half of the trope: of all the party members, he holds himself to the strongest level of military behavior, and is the only person on the ship aside from Kelly (and a loyal Miranda, once) who actually salutes Shepard.
Mr. Fanservice: Why hello there Mr. Unneccessary In Camera Focus Shirt Removal Ripped Guy. His abs are rendered with more detail than some character's faces. Shadow Broker info shows that he's earned those abs with an insane workout schedule.
Oblivious to Love: Not only does Shepard pretty much have to explicitly state her interest in him for it to register, but, by all accounts, he also doesn't seem to realize that Kasumi wants to jump his bones. Of course, since she's a downloadable character, he has no dialog related to her so it's hard to tell.
Only Sane Man: The Illusive Man placed him on Shepard's team for relative emotional stability as much as skill.
Platonic Life Partners: With Miranda.
Playing with Fire: Aside from Grunt and Shepard themselves, he's the only one with Incendiary Ammo.
Plot Armor: Like Jack, he can't die during his 3 sidequest.
Precision F-Strike: An "S-Strike", to be more accurate. Shortly after the cutscene where Shepard releases Jack from cryo, as the squad enters a wrecked room with a few Blue Suns enemies fighting off escaped prisoners, Jacob will blurt out "Holy shit!" in face of all the chaos and destruction.
Privateer: A former member of the Corsairs, a black ops unit that the Alliance could disavow knowledge of if they were caught.
Static Character: His character changes the least throughout the story. This is deliberate; he's supposed to be the most emotionally-stable crewmember. Everyone else's loyalty mission involves some form of baggage from their past, while Jacob has to actually be brought into his loyalty mission by an outside actor.
The Stoic: He tends to express less emotion than most of the characters.

Shell-Shocked Veteran: Bring him along to the Derelict Reaper and you'll learn that he hasn't gotten over Eden Prime as much you initially thought.

That Man Is Dead: His opinion of Ronald Taylor; no matter how the mission plays out, you'll hear some variation of it. "I've already mourned the man he used to be."
Took a Level In Jerkass: In 3, if romanced previously he is shown to have cheated on a Shepard with Dr. Cole in the six months they were incarcerated. Even he admits he was a bastard for doing so if Shepard chooses to call him on it.
"Well Done, Son" Guy: He does a good job of not showing it though.
What You Are in the Dark: His backstory is full of this. He doesn't mind so much.
| | | |
| --- | --- | --- |
| |  Jacob: Good deed's like pissing yourself in dark pants. Warm feeling, but no one notices. | |
Working with the Ex: In his words, his previous work with Miranda "got a little close - then it got really far apart." They're still on good terms, and she gives him the plot hook for his character mission to keep a promise. If he could only remember which promise...

And in 3,

with Shepard, if you romanced him in the last game

.
---
Kasumi Goto
"I like Kasumi, but why do I feel like I need to check the Citadel for parts she may have pawned?"

—Joker's description
| | | |
| --- | --- | --- |
| |  Voiced by: Kym Lane (credited as Kym Hoy) | |
A Classy Cat Burglar who is available in the "Kasumi - Stolen Memory" DLC pack for Xbox 360 & PC, and included on disc for PlayStation 3. She is so skilled that few are aware that she even exists.
---
 (On Korlus) She seems nice... in a mad scientist ethics-for-sale kind of way.

(On the Citadel) They're really selling the "geth did it" message. I bet you can't even say "Reapers" without inciting a panic. (airquote gesture)"Reapers!"
 "Sometimes [EDI] seems like a person, but when it comes down to it, I can't get past her being a computer."



"Killed or remade, what's the difference? They're only synthetics. Just fancy security mechs."
She even starts helping the Spectre sent to arrest her with one of his investigations just cause.

Shipper on Deck: She ships Ken/Gabby and Shepard/Any of the ME2 love interests (if applicable). But she especially ships Tali and Garrus with Shepard for their respective genders.

With a hint of implied Joker/EDI shipping on the side.

Hardly. See above Just a Machine. Her comments seem to imply that she finds Joker and EDI's banter amusing, not that she sees them having actual couple potential.
Foreshadowing: Ken and Gabby together? Check. Tali and Garrus together? If you romanced neither, check. Joker and EDI? Unbelievably, check!

Ship Tease: She has a crush on Jacob, of all people, although Jacob doesn't seem to notice.

Her Dossier in the Lair of the Shadow Broker implies her to be a Stalker with a Crush. And the Jacob haiku specifically says at one point, "cloaked desire watches." This means exactly what you think it means.
Mass Effect 3 continues the trend. She inquires as to how Jacob's doing, and Shepard answers that s/he doesn't know. She quips that Jacob's re-recruitment would have clinched her own return in a second.

Shout-Out: One of her combat taunts is "Haw-haw!".

The hood and catsuit also make her look very similar to the classic Baldur's Gate thief sprite.
At the beginning of her loyalty mission, she mentions "Badass Weekly".
Crossing over with meaningful name, KASUMI also happens to be the name of a block cipher used in mobile communications.
One of the artifacts is an Ogre statue... that looks like an Ogre from Dragon Age Origins.
She's one big Shout-Out to Knights of the Old Republic 2. She visually resembles Visas Marr and her last name is Goto.
Her Palette Swap for completing her loyalty mission makes her clothes red, reminiscent of another master thief.
From Dead or Alive, apart from being a namesake of that series' protagonist, Kasumi's loyalty mission has her infiltrating the mansion of a crime boss named Donovan.

The Smart Girl:

Along with Tali and Legion, she's an ideal choice for the Tech Expert during the suicide mission.

Stealth Hi Bye: Her special ability involves this.
| | | |
| --- | --- | --- |
| |  Kasumi: Now you see me... | |
Trademark Favorite Food: She loves ramen, and regrets not having stolen her grandmother's recipe.
Worthy Opponent: She considers Spectre Jundam Bau one, and, in fact, forwarded the information on the possibly indoctrinated hanar diplomat to him, claiming the galaxy needs more men like him. Even as he's trying to arrest her.
| | | |
| --- | --- | --- |
| |  Kasumi: Nobody's perfect. | |
The feeling's mutual - Jondum openly admires her.
| | | |
| --- | --- | --- |
| |  Jondum Bau: Her intelligence and skill are almost salarian. | |
---
Miranda Lawson
"I wouldn't say anything bad about Miranda. And expect to survive the reprisal."

—Joker's description
| | | |
| --- | --- | --- |
| |  Voiced by: Yvonne Strahovski | |
A human biotic and tech specialist, "born" on Earth. Her father genetically engineered her for perfection, but couldn't have cared less about what she wanted. When she ran from him, Cerberus offered her protection, gaining her loyalty in the process. She first appeared in Mass Effect Galaxy. Romance option for a male Shepard.
---
Henry Lawson: (After releasing Oriana) Alright, take her. But I want out alive, deal?

(Miranda uses her biotics to throw him out the window)

Miranda: No deal.
Brainy Brunette: She was the head scientist of the Lazarus Project.
Broken Ace: A lot of her character development stems from the revelation that she's not as perfect as she makes herself out to be.
Buxom Is Better: As the engineers put it...
Daniels: I've got green across the board. The forward tanks are buoyant and elevated.
Donnelly: Are ya talking about the Normandy or Miranda?
Daniels: I'm talking about the one covered and protected, not bouncing in the breeze.
| | | |
| --- | --- | --- |
| | Miranda: I fought against my father and his need to run every aspect of my life. He wanted total control of me, right down to my bloody DNA. After I got out of there, I couldn't stand by and let it happen to my sister. I risked my life to get her away from all that. Yet I didn't give a second thought to destroying your free will when I had the power. | |
Ice Queen: Explicitly called such by a soon-to-be-former Cerberus employee.
Informed Attractiveness: Despite being specifically engineered to be extremely beautiful, a lot of the fanbase finds her appearance...weird.

Possibly the Uncanny Valley in action. The other characters whose appearances were modeled after an actor had different voice actors and weren't human (Samara) or else were intended to be off-putting (the Illusive Man). Miranda's a little too perfect... which may be the entire point, and an intentional Uncanny Valley.

Or it could be that they had trouble animating her face. Miranda's expressions get weird sometimes.
Can be summed up fairly well by this comic

Miranda's appearance becomes noticeably more attractive in softer or warmer lighting. But a great deal of the game takes place in the cold, bright white lights of the Normandy, which visibly isolates flaws very effectively.

Ink Suit Actor: Albeit with dyed hair.
Insufferable Genius: At first, although dialog shows her Pride is largely a security mechanism she uses to deal with her insecurity about being a Designer Baby.
Jerkass Facade: This seems to be the case. It appears that she's a cold professional to everyone she meets until she spends time around them and decides that she can trust them. At the start of the game, she'll shut down any attempt at personal conversation, but in her office aboard the Normandy she's more open with Shepard. This is most obvious regarding Jack. If Shepard asks her about what Cerberus did, she'll say without hesitation that it was a mistake and was rightfully shut down as soon as The Illusive Man found out. But when Jack calls her out on it directly, she'll refuse to apologize.
Jerk with a Heart of Gold: She really does want humanity to succeed and will do what she can to keep those she cares about safe at any cost. She loses the 'jerk' part in the third game.

Despite her cold exterior she seems to genuinely care for Shepard even before being revived. When s\he begins waking up Miranda bitches out Wilson then helps Shepard stabilise with a warm smile.

Kick the Dog: She has a few moments in the second game.

In her very first real appearance, if you try to get her to go back and save survivors in the overrun Cerberus lab, she'll scold you for being shortsighted and refer to all the workers as "expendable". It should be noted, however, that Jacob seconded this, saying that the scientists knew what they were signing up for and if Shepard died, the last two years would have been for nothing.
On Freedom's Progress, she'll recommend taking Veetor for interrogation rather than letting Tali take him back for medical care, and will seem mildly disappointed if you let Tali take him.
Her fight with Jack. Confrontations between Party Members tend to be small moments for all parties involved, even though they do have pretty justifiable reasons for being mad. What makes her fight with Jack in particular stand out though is the line "Clearly, you were a mistake". And while it's true that Jack was looking for a fight there, Miranda's response is still cold. She will admit to Shepard in private that she believes what was done to Jack was wrong, but she never admits it to Jack herself.

Even the fact that her loyalty to Shepard is at stake in said conflict seems to be this, considering her mission had nothing to do with her allegiance to Cerberus, and instead was a deeply personal favor.

Right after the

Normandy gets attacked by the Collectors, and Joker, the sole survivor of the attack watches all his friends be dragged away by various cosmic horrors

, the first thing she does upon getting back the ship is

scold Joker for losing the crew and unshackling EDI (which saved the ship).

Keep in mind that

it was her brilliant idea that all the capable fighters aboard abandon the ship, leaving it wide open for attack.

Knight Templar: She's a member of Cerberus, so this one is a given. Averted once she quits.
Knight Templar Big Sister: She keeps extremely detailed records on all her sisters' potential boyfriends. Even her sister finds that a little creepy.
Lack of Empathy: While not as bad as Zaeed or Jack, she can sometimes be so apathetic she makes Mordin (the guy who defends the genophage) look like a saint. She is less than sympathetic regarding the Cerberus assault on the Idenna, describing it as 'nothing personal', calls Jack a 'mistake' during their 'disagreement' (though given Jack's less-than-ideal nature, this is understandable) and her response to Shepard letting a plague victim choke to death when he/she has the necessary equipment to help him is a simple "I doubt he could have helped us anyway." Ouch. Thankfully, she grows out of it in the third game.
The Lancer: She's Shepard's executive officer, although she shares the overarching Lancer role with Jacob and Garrus.
Last Kiss: If she dies in 3 and is romantically involved with Shepard.
Law of Inverse Fertility: Judging from Liara's files on her,

she's been trying really hard to get pregnant. Sadly, she has a benign neoplasm that makes her unable to conceive.

Like Father, Like Daughter: Subverted; they turn out to be very different people in the end. Both are highly talented scientists who use their intelligence to do the extraordinary. Miranda brings Shepard back to life, and Henry manages to control husks independently of the Reapers. However, while Miranda's only ethical quandary was whether to implant Shepard with a control chip (which she later regrets even considering), Henry

sacrifices thousands, if not millions of innocent people to indoctrination in order to make his breakthrough, and never regrets a thing.

Male Gaze: The in-game camera spends a lot of time focused on Miranda's taut, firm buttocks.
The Mario: As a Sentinel-style "Cerberus Officer", she's probably the closest Shepard's team has to this, being somewhat capable in combat, a decent biotic, and good at using tech to disable enemies. Her passive skill also provides bonuses to the entire squad's health and weapon damage, making her a good tactical choice for any player class or squad makeup.

With a bit of Glass Cannon as well. She has low health (lower than Garrus's) and all three of her skills are geared towards offence.

Morality Chain: A Paragon Shepard can become this to her.

Jacob also shares this role, being one of the few people that Miranda actually will listen to for advice.

Morality Pet:

Her (much younger) twin sister, Oriana.

Ms. Fanservice

To finish the previous quote:
| | | |
| --- | --- | --- |
| |  Donnelly: I don't know. Operative Lawson's uniform is very official: it always makes me stand at attention. | |
This is lampshaded during her loyalty mission (even if she's wearing the appearance pack armour).
And again by Ashley in Mass Effect 3, if you romanced her in the first game and Miranda in the second:
| | | |
| --- | --- | --- |
| |  Ashley: I wear armor into battle, not a swimsuit! | |
---
Mordin Solus
"No surprise, Mordin acts superior to everyone. Like he's got tenure at FU."

— Joker's description
| | | |
| --- | --- | --- |
| |  Voiced by: Michael Beattie (2), William Salyers (3) | |
Salarian doctor. Former member of salarian Special Tasks Group. Recruited by Shepard to combat Collector technology.
---
Subversion, actually. Has killed many times, but never with medicine (says so himself during loyalty mission).

Though Shepard can challenge him on whether upgraded genophage counts as killing with medicine or not. Likely a question he asked himself before.

Deadpan Snarker: Found several surveillance bugs. Destroyed some. Returned expensive one to Miranda.
Death Faked for You: If Wrex and Eve dead, can be convinced to fake genophage cure and help with Crucible project. Wreav too dangerous as leader without Eve to stabilize him. Pretend to have died in explosion.
Determinator: If Shepard is forced to

shoot him. Manages to crawl toward console despite lethal wound. Almost reaches console before collapsing.

Dirty Business: Guilt for actions major part of character.
Dying Moment of Awesome: If deploying genophage cure, silently hums Scientist Salarian while going about work. Facility collapsing around. *sharp inhale* ...Exhilirating.

Inverted if Shepard shoots in the back. Crawl to workstation. Die before temperature change ruins cure. Senseless death. Even Shepard disgusted with self.

Even A Mad Scientist Has Standards: Hates unnecessary wastes of life. Only kills bad people. Always careful with medicine. Protege... *sharp inhale* not so principled.
Evilutionary Biologist: Subverted. Generally well-intentioned. Strong ethical guidelines. Fairly ruthless regardless.
| | | |
| --- | --- | --- |
| |  Mordin: No testing on species capable of calculus. Simple rule. Never broke it. | |
Faking the Dead: Third game. If Eve dead and Urdnot Wreav sole krogan leader, can be convinced krogan not yet ready for cure. Will disappear to work on Crucible. Shepard lets krogan believe everything went as planned.
Fire, Ice, Lightning: Incinerate, check. Cryo Blast, check. Neural Shock? Close enough!
The Fettered: Believes strongly in scientific ethics, refuses to experiment on sapient life.
Gibbering Genius: Dictates thought processes in real time. Avoids infinitives. Irrelevant if heard saying inconvenient thought out loud.
Glass Cannon: Three skills, purely offensive.

Also has low defence rating. Death during suicide mission likely.

Go Out with a Smile: Third game.
Heroic BSOD: Upon discovering

pupil performed tests. Dangerous and reckless, even if misguided.

Heroic Sacrifice: Third game, Salarian sabotage to Shroud revealed. Stay behind to fix it. Die in the process. *sharp inhale* Conscience clear.
I Did What I Had to Do: Subverted. He insists this repeatedly during loyalty mission, but he's obviously trying to convince himself, not his companions.

Still resolute that it was the right action. Even against Shepard's best arguments. Invokes Grey and Gray Morality. Actions not unjustified.

Worth remembering alternative was genocide.
Also made peace with self after mission. Mind clear. Hands washed. No guilt. Free to focus on task at hand.

Insistent Terminology: Inverted. Mordin isn't particularly fond of the genophage being referred to as a "sterility plague", since it merely limits krogan birthrates rather than eliminating them outright.
Ironic Echo: If survived ME2, can die while curing genophage in ME3. Uses same lines about how others would have gotten it wrong.
It's Okay If It's You: No interest in Shepard romantically. If ever explored, Shepard optimal. Either sex. Ahem.
It's Personal: Deliberately invoked in order to anthromorphize fight against Collectors and Reapers.
Keet: Described as being like hamster on caffine. Salarian metabolism much faster than most other species', but fast even for Salarians.
Kill It with Ice: Uses omnitool to freeze enemies solid. Thaw quickly, but bodies fragile!
Kill It with Fire: Uses omnitool to incinerate enemies. Incredibly deadly. "Flammable! Or inflammable? Forget which. Doesn't matter!" (Same thing. Really doesn't matter.)
Lampshade Hanging: Meeting Shepard for first time. Attempt to work out why Spectre is here. Renegade interrupt offered. If not taken Paragon interrupt suggested. On board Normandy third interrupt option available. *sharp inhale*. Allows Shepard to interrupt when heard enough.
Mad Scientist: Not mad. Usually irritable. Sometimes affable.
Major-General Song: "I am the very model of a scientist salarian."
Measuring the Marigolds: Planned to walk on beach, collect seashells on retirement. Shepard asserted would go crazy within hour. Amended plans to run tests on seashells.
Morally-Ambiguous Doctorate: Good but conflicted. Did what had to do. Necessary, but still regrets.
Motor Mouth: "For the love of God, take a breath!"
Murder Is the Best Solution: Mission important. Talking takes too long.
My God, What Have I Done?:

Horrified by personal work on genophage. Still feel it had to be done.

My Greatest Failure: Justifies

work on Genophage

incessantly. Had to be done. No other option. Only correct and logical course of action...
| | | |
| --- | --- | --- |
| |    Mordin: I made a MISTAKE! Focused on big picture. Big picture made of little pictures. Too many variables! | |
| | | |
| --- | --- | --- |
| |  Mordin: I made a mistake! | |
| | | |
| --- | --- | --- |
| |  "Lots of ways to help people. Sometimes heal patients; sometimes execute dangerous people. Either way helps." | |
Possibly on receiving end in third game. If not convinced to go along with sabotage, Renegade Shepard forced to shoot him to stop genophage cure.

The Smart Guy: Runs the lab.
Sophisticated As Hell: Noted in Shadow Broker Dossier. Example adequate;
| | | |
| --- | --- | --- |
| |   "Specialist Solus suggests Commander Kirrahe has a foreign object in his cloaca [...] suggests that cloacal obstruction is in fact Kirrahe's cranium." | |
The Spock: Usually goes with more logical path. Belief in killing those who presents themselves as threat. Deconstructed during Loyalty mission.

Genophage involvement becomes source of conflict.

Squishy Wizard: Skills quite useful in combat, but shields and health quite weak. Survival requires support.
The Talk: Shown here, on Interspecies Romance. Try not to "ingest". Offers for all romances. Promises to "probe" Jacob/Miranda. Cerberus could have bugs anywhere...

Third game takes this step further. Offers

Joker

advice on proposed Robosexual liaison with EDI. All part of the service.

Technical Pacifist: He won't hesitate to kill if necessary, but he's still a doctor. He will always look for the solution that'll cause the least bloodshed, which is one of many solid arguments he makes in favour of the genophage (since the only other option was to kill all the krogan). Notably, of all your squadmates, he's the only one who's in favour of rewriting the heretic geth instead of killing them, since they would still be alive even if they are brainwashed.
Techno Babble: Constantly. Combines with Terse Talker, Motor Mouth. Some complain of difficulty understanding. Get doctorate! Have real conversation!
Terse Talker: Talks fast and short. First part natural to salarians. Second part special to himself. Likes Techno Babble dialogue. Always Thinking Out Loud. Reading Self-Demonstrating Article right now. *sharp inhale* May help you understand.
Thinking Out Loud: Constantly.
| | | |
| --- | --- | --- |
| | Mordin: Who's that? Pilot? No. Synthesized voice. Simulated emotional inflections. Could it be... no. Maybe. Have to ask. Is that an AI? | |
| | | |
| --- | --- | --- |
| |    Mordin: I made a mistake! | |
---
Samara
"I feel like Samara could shoot me in a very tranquil manner, which doesn't make me feel any better about it."

—Joker's description
| | | |
| --- | --- | --- |
| | | |
A member of an ancient cult of asari warrior monks who give up all personal property and spend their lives righting wrongs. They rarely leave asari space, but Samara is found on Illium, on the scent of a murderer she's spent centuries hunting...
---
 Samara: (restrained anger) Let. Me. Go.

Shepard: (firmly) No.
| | | |
| --- | --- | --- |
| |  Captain Anaya: She would die defending an honest cop, but would fight an army of corrupt ones to her death. | |
Except in the case of her two law-abiding daughters, Falere and Rila. She considers suicide preferable to killing them.

Really Seven Hundred Years Old: She's over 1000, old even for an Asari, and she really doesn't look it.
Sadistic Choice: The Code requires that she kill any Ardat-Yakshi not confined to a monastery. Her daughter is an Ardat-Yakshi, and the monastery had just been levelled. If a Justicar fails in her duties, the Code requires to kill herself to make amends. Guess what she does if you don't stop her. Fortunately, Falere will stay in the ruins to help rebuild, and if Samara hears about this, then the Code will be satisfied, but to make sure that she doesn't get any ideas about escaping, Samara will visit her when she can to keep an eye on her. Just like a Justicar should. That is the only reason.
Senseless Sacrifice: Shepard can make her suicide a pointless one. Shepard at his most pointlessly cruel.
Squishy Wizard: Like most of the Adept class, her physical durability isn't extremely high, but she can put out a lot of damage very quickly (she's also the only biotic teammate able to use assault rifles).
Statuesque Stunner: She is quite tall with very chiseled features.
Strong Family Resemblance: With Psychotic sex-vampire daughter Morinth.
Take a Third Option: Her occasional way of working around her code. In fact, her primary reason for joining Shepard in the fight against the Collectors was so she wouldn't be forced to kill innocents.

In ME3, when forced to make a, for her, impossible choice between

her innocent daughter's life and the demands of her code, she chooses the third option - suicide

.

Training From Hell: The Path of the Justicar is, by her own admission, a difficult one. This includes the training it takes to become one. Many fail to survive it.
Warrior Monk: Though it's noted that other cultures would see her as a vigilante.
Worthy Opponent: According to her, Nihlus. After seeing him kill an unarmed civilian, she spent a fortnight tracking him through the wilderness. He escaped by forcing her to choose between going after him or letting more innocents die.
You Have Outlived Your Usefulness: If the player chooses Morinth over her. Shepard even says "Morinth is more useful."

Which can be interpreted as either ruthless practicality or simple self-preservation.

Morinth, after all, is a known quantity by this point and only an idiot would die at her... hands. Samara explicitly says she would kill a Renegade Shepard if she hadn't already sworn an oath.
---
Thane Krios
"Thane seems like the strong, sensitive, murdering type. You know those are always great to have around. A real cuddler."

—Joker's description
| | | |
| --- | --- | --- |
| | | |
A drell assassin who is said to be the best in the galaxy. He used to take contracts for credits, but is spending his last days trying to right wrongs. A romance option for female Shepard.
---
| | | |
| --- | --- | --- |
| |  Thane: If I have to fight through guards, I've made a mistake. I rarely make mistakes. | |
Thane: (after Shepard claims he doesn't act like he's dying) You have the advantage there, Shepard. You've already died. Perhaps later you could give me some suggestions.
Thane: (after Mouse is startled by both his own presence and that of the Back From the Dead Shepard) Be still, Mouse. You may change your pants in a moment.
| | | |
| --- | --- | --- |
| |   Thane: I accepted the Dantius commission because I didn't know what else to do. Looking back, it's clear I resigned myself to death. I would have fulfilled my contract. | |
Determinator: When you meet him in 3, he was given three months to live... nine months ago.
Disappeared Dad:

Left his son Kolyat to be raised by relatives after his wife died. In his personal mission, he attempts to stop him from following his footsteps.

Dying Moment of Awesome: Or at least what finally brings about his death. After doctors judging that he'd die from his disease six months ago, he still manages to not only fight off, but humiliate Kai Leng. As he remarks on his deathbed, Leng should feel ashamed for the rest of his life for failing his mission because of a terminally ill drell.
Establishing Character Moment: Stealthily drops in from the ceiling and dispatches five mercenaries with his bare hands, before executing Nassana Dantius with a pistol, and then praying over her corpse.
Even the Guys Want Him:
Evil Parents Want Good Kids: Though Thane took great pains to conceal his real career from Kolyat, he eventually finds out and tries to follow in his father's footsteps. Thane's loyalty mission centers on keeping that from happening. Downplayed, since he's an Anti-Hero.
Face Death with Dignity: He passes away from complications of late stage Kepral's Syndrome, abdominal trauma and blood loss. He dies having made peace with himself and his son, knowing that others consider him a hero. He says a final prayer not for himself but for Shepard.
Foil: He's very similar to Samara. Both are a Religious Bruiser atoner type who have killed many evil people to make the galaxy a better place, are recruited on Illium, and have troubled relationships with their children. The big differences are that Thane is an assassin and Samara is a Warrior Monk paladin, so in effect they are on opposite sides of the law. Another difference besides weapon proficiencies is while their both biotics, Samara's are a flashy yet effective 

hinting that she's one of the "good" choices for the "Long Walk" section of the Suicide Mission

 whereas you wouldn't even know Thane's exact powers until he joins the squad, which is the basic Throw and Warp 

hinting that he's one of the "bad" choices for the same section.

Both their loyalty missions are also the only ones that require no fighting. However, while Thane's loyalty mission revolves keeping his son away from a life of crime and fixing their relationship, Samara's involves killing her daughter as she's gone way past any chance of redemption.

He is also one to Zaeed, both being hired guns who take their work very seriously, experts at tracking down their targets, are both considered the best in the business. The difference between them being Thane always kills his target, while Zaeed can be contracted to bring them in alive; Thane goes out of his way to protect bystanders, Zaeed will kill anyone if it makes his job easier; Thane prefers to kill up close and with precision, Zaeed tends to blow things up; Thane feels sadness for the deaths he has caused, Zaeed is proud of his kill count; Thane is quiet and polite, Zaeed is loud and rude. Thane was groomed from childhood to be an assassin, while Zaeed was an adult, down on his luck, bought a cheap rifle, and started offering his services.

Green-Skinned Space Hunk: A very, very, very rare male version of this trope.
Good Cop, Bad Cop: During an interrogation, Thane can either gently rebuke Shepard for beating up the suspect and calmly try to reason with the criminal...or just sit there and not do very much while Shepard beats up the suspect.
Guns Akimbo: In the Blur trailer.
Guttural Growler: Has a rather deep and raspy voice, which seems to be something of the norm of his race since his son, Kolyat, has a similarly raspy, if somewhat higher-pitched, voice.
Hell-Bent for Leather: His entire outfit looks like leather. Fanfics are bound to make good use of it.
Hitman with a Heart: He joins you not for the money, but because he wants make the galaxy a better place before he dies.
Holding Hands: As part of the romance with female Shepard.
Impaled with Extreme Prejudice:

In 2, not upgrading the Normandy's weapons by default leads to him getting impaled by a bulkhead during the trip through the Omega-4 Relay.
In 3,

he gets stabbed by Kai Leng during the Cerberus coup on the Citadel, which eventually leads to his death

.

Incurable Cough of Death:

He's got one of these in the third game, thanks to late-stage Kepral's Syndrome.

In Love with the Mark: Sort of.

His late wife was not his target, but got his attention when she stood in his line of fire to protect his mark from him.

Kill It with Fire: One of the Shadow Broker's dossiers lists his favorite methods of assassinating various species. One of the options listed for krogan? "Bomb."
Killed Off for Real: He gets stabbed while fighting Kai Leng, and the blood loss combined with complications from Kepral's Syndrome prove fatal, despite a transfusion from his son.
The Last Dance: After he learned about his terminal illness, he decided to devote the rest of his life to making the universe a better place.

This reaches a climax when he shames Kai Leng, despite a severe handicap

.
Love Redeems:

His wife made him realize that there was more to his life than assassination.

Female Shepard makes him realize the same thing if that romance is pursued.
Magic Knight: He makes use of powerful weapons and his bonus power enhances his ammunition, but can still use powers like Throw and Warp.
Manly Tears: Of frustration more than of the warm and fuzzy kind, but still. Part of the romance.
Mind Over Matter: The only drell biotic seen thus far.
Mr. Fanservice: Repentant assassin with a spiritual side? Check. Soft-spoken and eloquent? Check. Humanoid yet exotically handsome? Check. Kelly's not sure if she finds him scary or sexy. Best part: Reading the notes of the dev team as they tried to engineer him to have this reaction. It was, needless to say, a long and arduous process, and, ultimately, it seems a good deal of it relied on him being a Badass in a Nice Suit.
Neck Snap: He uses this on

Nassana's

bodyguards. The Shadow Broker's dossier indicates that this is in fact his preferred method of killing, although, if his target is krogan, he's equally willing to resort to explosives, though this is as much out of necessity as anything else, as krogan are very difficult to kill--not to mention have huge, muscular necks.
Noodle Incident: Responsible for an incident known as the "One-Hour Massacre" on Omega.
One Last Job: His assassination of

Nassana Dantius

. Then he talks to Shepard and decides to do One More Last Job.
One-Scene Wonder: His appearance in 3.
Optional Party Member: You don't have to recruit him.
Orbital Kiss: At the culmination of his romance.
Photographic Memory: Drell can relive any memory they choose. Counts as Blessed with Suck for a hitman that has issues with his family.
Power Perversion Potential: Drell can remember any moment and effectively experience it again. Not so nice if you're remembering getting shot, but if you decided to dwell on, ahem, nicer experiences...points for the fact that Thane mentions it in-game.
Professional Killer: "You've spent too much time fighting thugs who think custom-painted armor makes them professionals."
Religious Bruiser: While not a bruiser per se, he's the galaxy's best assassin, and the only person to pray for his victims. And, of course, that scene:
| | | |
| --- | --- | --- |
| | Thane: Amonkira. Lord of Hunters. Grant that my hands be steady, my aim be true, and my feet swift. And should the worst come to pass, grant me forgiveness. | |
| | | |
| --- | --- | --- |
| |  Thane: Kalahira, mistress of inscrutable depths, I ask forgiveness. Kalahira, whose waves wear down stone and sand. Kalahira, wash the sins from this one and set him on a distant shore of the infinite spirit. Kalahira, this one's heart is pure, but beset by wickedness and contention. Guide this one to where the traveller never tires, the lover never leaves, the hungry never starve. Guide this one, Kalahira, and s/he will be a companion to you as s/he was to me. | |
 Shepard: I think my translator just glitched. What did you call me?

Thane: "Siha." Someday I'll tell you what it means.
He will call a female Paragon Shepard "Siha" even without a romance being initiated.

You Are Worth Hell: The romance for female Shepard--the love scene starts with Thane's frustration that now that he has something to live for again, he's started to fear death once more. Additionally, his Shadow Broker dossier contains a romantic letter in which he expresses his wish to protect and be with her, even if it means he will die a slow, choking death on a hospital bed. The trope isn't directly invoked to its full extent, however.
Your Days Are Numbered / You See, I'm Dying: "This was to be my last job. I'm dying."
---
Zaeed Massani
"Zaeed is like you, but takes checks. As long as it's not my money, we're good."

—Joker's description
| | | |
| --- | --- | --- |
| | | |
A character who is only available through the Cerberus Network DLC content. He is the best bounty hunter in the galaxy and has been hired to help Shepard. He's also the co-founder of the Blue Suns mercenary group.
---
Warden Kuril: I got sick of seeing prisoners escape justice. Bounty hunters...aren't reliable.
Zaeed: Then you aren't hiring the right ones.
| | | |
| --- | --- | --- |
| |  Zaeed: Rage is a hell of an anesthetic. | |
The Dog Bites Back: After negotiations with a Cerberus contract go sour post-2, he starts taking jobs which disrupt their operations.
Even Evil Has Standards: He's hardly a pleasant man, but what ethics he has are largely responsible for his "leaving" the Blue Suns (he disapproved of their hiring of batarians, whom he saw as terrorists), and he expresses disgust at Cerberus' imprisonment of biotic children if taken along on Jack's loyalty mission. He also dislikes corporate security, preferring to work for his contracts and care who he's killing. Also, take him with you whenever the Collectors are involved and he is clearly disgusted and horrified by what he sees.
| | | |
| --- | --- | --- |
| |  Zaeed: "Cheaper labor," he said. "Goddamn terrorists," I said. | |
If brought to Jacob's loyalty mission, upon seeing what

Ronald Taylor

has done, Zaeed states that anyone who does this to their own men deserves a knife to the spine. Though if you talk to him afterwards on the ship, he's less judgmental.
In 3, apart from working against Cerberus, he's also VERY disgusted when

Din Korlack

tries to bargain when lives are at stake and he has barely anything to gain.

Exactly What I Aimed At: Pulled off during his loyalty mission, although it isn't quite as successful as he'd hoped.
Foil: To Thane, bordering on Evil Counterpart. Both are hired guns who take their work very seriously, are experts at tracking down their targets and are both considered the best in the business. The difference between them being Thane always kills his target, while Zaeed can be contracted to bring them in alive; Thane goes out of his way to protect bystanders, Zaeed will kill anyone if it makes his job easier; Thane prefers to kill up close and with precision, Zaeed tends to blow things up; Thane feels sadness for the deaths he has caused, Zaeed is proud of his kill count; Thane is quiet and polite, Zaeed is loud and rude. Thane was groomed from childhood to be an assassin, while Zaeed was an adult, down on his luck, bought a cheap rifle, and started offering his services.
He Who Fights Monsters: Paragon Shepard actually punches him and holds a gun to his head in order to hammer this point into Zaeed. By wanting to let innocents die in order to satisfy his need for vengeance, he's become no better than Vido.
Heel Face Turn: In Mass Effect 3, after some "bad negotiations" with Cerberus, he's been actively taking jobs working against them.
I Call It Vera: Jessie, his old rifle. His attachment to it is quite strong, despite the fact that it has been broken beyond repair for five years.

A message on Liara's information terminal in the third game shows that he's bought a parts kit for a discontinued assault rifle, indicating that he knows the Reaper War is going to be so bad that he'll need the most reliable weapon he ever owned by his side again.

Ink Suit Actor: Resembles his voice actor Robin Sachs, though besides the obvious scarring Zaeed looks older than Sachs is.
Jack Bauer Interrogation Technique: He describes the best way to get a Krogan to talk: Stick a knife behind his forehead plate in just the right spot and pry it right off. The thought of it apparently drives them mad.
Jerkass: He can be a real asshole. Then again, being shot in the face tends to affect your personality somewhat.
Karmic Death: If Shepard

leaves him to die on his loyalty mission, mostly because Shepard doesn't even kill him, just refuses to help him as he burns in the fire. The irony is noted by Shepard as well.
| | | |
| --- | --- | --- |
| |  Shepard: You started this fire Zaeed, it makes sense that you'd burn in it. | |
Kick the Dog: His loyalty mission is basically just one long kick the dog moment.
| | | |
| --- | --- | --- |
| |  Zaeed: A stubborn enough person can survive just about anything. | |
Odd Friendship: He and Garrus bond over booby-trapping Shepard's apartment of all things!

Slightly less odd when you consider how Garrus spent the two years after you stopped Sovereign (becoming a vigilante on Omega who pissed off all three of the mercenary groups) and the pride they take in their work. Not to mention their loyalty missions both involve revenge.
Javik thinks he's a Prothean in disguise and they discuss conquering the galaxy together after the Reapers are gone. Note that Javik's interactions with most people of this cycle is to call them primitives and complain endlessly about their shortcomings.

Old Soldier: He practically embodies this trope.
One Last Job: The money he received from Cerberus as payment for joining Shepard's squad has made him seriously consider retirement. Either that or suicide via blowing his ship up near Omega.
Optional Party Member: He's a DLC character.
Psycho for Hire: Albeit a much more subdued and refined version than most.

He even gets a bit self-referential - he claims that the only person not to piss themselves when having a gun next to their heads are psychotic maniacs and trained killers. And they can be hard to discern sometimes.

Rebel Relaxation: In his room on the ship and during the pre-suicide mission briefing; he's the only one not standing at the table, opting to slouch against a wall near the end of the room.
Redemption Equals Death: Possible in 3 if Zaeed wasn't loyal in 2. He dies saving ambassador Din Korlack from the other mercs who had been duped into thinking Din was still a Cerberus sympathizer.
Retired Monster: He was once a very vicious merc and

co-founded the Blue Suns

Retirony: Played with. The Shadow Broker's intel reveals that Zaeed is contemplating retirement after finishing Shepard's mission and he is so annoyed by the thought that the best plan he came up with so far is invoking the trope himself, by committing a Suicide Attack on Omega.
Roaring Rampage of Revenge: His real motivation during his character quest, despite his initial claim that he's in it to liberate a factory of workers from the Blue Suns mercenary group,

which he co-founded

. It's possible for a Paragon Shepard to not only allow the target to escape in order to save the workers, but gain Zaeed's loyalty anyway in a scene that proves good is most definitely not soft and indecisive.
Say My Name / Skyward Scream:

If he's left to die on his loyalty mission.
| | | |
| --- | --- | --- |
| |  Zaeed: SHEPAAAAAAAAAAAAAAAAAAAAAAARD! | |
Secret Party Members
Secret Character #1 SPOILERS
Legion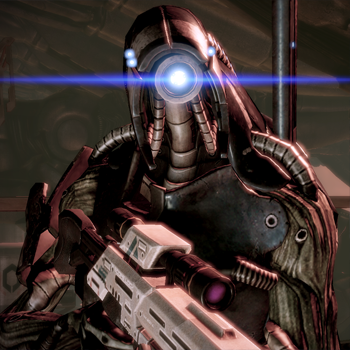 "Having Legion around is just begging for a rifle up your ass. Without the sweet talk."

—Joker's description
1,183 geth runtimes, operating on a special-purpose geth mobile platform, who are hunting for Shepard, complete with integrating a chunk of his/her armor into his/its/their[1] body.
---
| | | |
| --- | --- | --- |
| |  Legion: No two species are identical. All must be judged by their own merits. Treating every species like ones' own is racist. Even benign anthropomorphicism. | |
Brainwashed and Crazy: Will be programmed to fight for Cerberus if you sold it to them in 2; you fight it at their base near the climax of 3.
Character Development: If Legion died in Mass Effect 2's climactic mission, then in Mass Effect 3 its role is filled by a sort of backup (spoilers in video). This backup has no memories from the past three years and no memory of working with Shepard - and it's a rather different character from the "real" one. It's much less friendly and more logical, disinterested when Shepard tries to connect with it, and it doesn't seem to have any grasp of emotion or trust. It never mentions beauty or souls. Those three years changed it a lot.
The Chosen One: Legion is unique even among the Geth in that his platform has far more programs running inside it than any Geth. He was made specially to investigate organics (and Shepard).
Closet Geek: Apparently quite the gamer, and certainly a very good one.
Cold Sniper/Friendly Sniper: It starts out as a pretty archetypal example of the cold trope before warming up to Shepard through conversation. Mechanical outlook aside, Legion's a pretty nice... group of entities.
The Comically Serious: notably if you take him on an accidental "infiltration" of the Citadel.
 Legion: Geth do not infiltrate.

Security: [to Shepard] You'll have to leave your personal synthetic assistant behind. They're not allowed on public transport any more.

[[[Beat]]]

Legion: ...Geth do not intentionally infiltrate.
The Computer Is a Cheating Bastard: Hilariously invoked in the Lair of the Shadow Broker DLC. Legion's online gaming profile indicates it has been hit with multiple infractions because it was so skilled the game designers thought it was cheating. While it later challenged and overturned those relating to superior micro-management, reaction time, and tactics, it accepted a suspension for taunting its inferior human opponents during an event.
| | | |
| --- | --- | --- |
| |  Legion: Organics do not choose to fear us. It is a function of your hardware. | |
Crucified Hero Shot: It was in this pose when you find it in the Geth Dreadnought, being used against its will as an amplifier for the Reaper control signal.
Cyber Cyclops: As with its whole race.
Distinctive Appearances: It has N7 armor grafted to his frame to make sure you don't mistake it for another geth. And a massive hole through its chest, which oddly enough doesn't really seem to bother it much. Its replacement in Mass Effect 3, if it died on the collector base, has a holographic version of the armor and no memory of why it picked that.
Do Androids Dream?: As shown in its admiration for Shepard, Legion is capable of some degree of emotion, though it doesn't really understand it. The closest thing to anger you'll see is if you side with Tali during the loyalty confrontation - otherwise it's just "Anger is an organic response. We understand the theory, but we do not experience it."

The Shadow Broker DLC reveals that Legion has spent 75 hours playing the "Fleet and Flotilla" Dating Sim. It has a score of 15 ("Hopeless"). It's capable of some level of compassion, however.
This is also the kind of question ("Unit has an inquiry ... Do these units have a soul?") that caused the quarians to panic and launch a preemptive strike against the geth in an attempt to wipe them out, as the quarians assumed that the geth would eventually rebel and try to kill their creators.
Legion mentions that the geth have been quietly maintaining Rannoch, the quarian homeworld, as a form of memorial. When asked, Legion claims not to know why but speculates that it is done out of sorrow for the death of so many quarians during the Morning War.
In the third game, it asks this question repeatedly, and right before its Heroic Sacrifice asks Tali, and she answers "yes.".

Eleventh-Hour Ranger: If you want the best ending where everyone survives, it'll be this.
Expressive Mask: The plating around Legion's head/eye is articulated, allowing it to mimic organic expressions to an extent. Most likely intentional, as its platform was custom-made to interact with organics. In fact, the first time we see Legion, it's raising a Fascinating Eyebrow at Shepard's unexpected appearance.
Final Death: Legion is one of the only characters in ME3 who is guaranteed to bite it no matter what you do. If you don't side with the geth, he tries to Neck Lift you to death and you have to kill him. If you side with the geth or Take a Third Option, he pulls a Heroic Sacrifice to turn them all sentient. There is no outcome where Rannoch isn't the end of the road for him. Also, if you gave him to Cerberus in the second game, you'll have to kill him yourself during the attack on Cerberus Headquarters.
Glass Cannon: The only teammate you can equip with the Widow, but relatively fragile. Two prototype shield upgrades and a shield-boosting loyalty ability mitigate this.

Mitigate it to the point that Legion becomes one of the most durable party members, second only to Grunt and Soldier/Sentinel Shepard. At this point he's more just 'cannon.'

Hero of Another Story: Legion was the first geth to take up arms against the quarians. It's also hinted that Legion saved the quarians by letting them escape even though the geth could have finished them off once and for all. As a composite entity, he probably was compiled from these heroic Geth runtimes.
Heroic Sacrifice: If you side with the geth or get both sides to stand down, Legion disseminates its personality to upgrade the other geth. Siding with the quarians means you kill them before they have the chance.
Hero Worshipper: Heavily implied to be one to Shepard.

In 3 it's revealed Shepard was the first organic since the Morning War that the Geth chose to interact with on a one-to-one basis. This was hinted at in 2 when Legion admits to having visiting worlds Shepard had gone to, implying that the Geth may have built Legion with the intention of opening a diplomactic dialogue with the galaxy, via Shepard.

I Am Legion: It's specifically named after the quote by Shepard after it's recommended by EDI, since it refers to itself as a group of "1,183 runtimes", rather than just one "geth" and always calls itself "We".

In the third game, except for right before its Heroic Sacrifice, where it refers to itself as "I" for the first and last time.

Insistent Terminology: Shepard is always "Shepard-Commander" and any quarian is given the title "Creator-[insert name here]".
Interface Spoiler: It's referred to as "Legion" in the subtitles when you meet it first. Oddly enough, when you talk to it later, it's referred to as "Geth". In addition, by the time you progress far enough to meet it, the party select screen will most likely have a single, gaping hole with a dossier in it, thus cluing the player in that there's another party member to recruit and it just might be this "Legion" fellow.
Ironic Name: Named after a host of demons in the second game, in the third, Legion's Heroic Sacrifice makes him The Messiah to the Geth.
Jack of All Stats: When fully upgraded, it becomes arguably the most useful party member in the game. Legion's powerful sniper rifle makes it a better sniper than Garrus or Thane, its tech powers are almost as good as Tali's (only his lack of an Energy Drain ability puts it at a disadvantage in that department), his fully upgraded shields plus his "Geth Shield Boost" ability gives it almost as much durability as Grunt, and the fact that it can use assault rifles makes it good in a straight up firefight, like combat characters such as Zaeed, Grunt, and Garrus. It just lacks biotics, being synthetic and all.
The Knights Who Say Squee: Legion is an excellent sniper and one of the toughest Geth around, but the platform clearly thinks very highly of Shepard
Kuudere: It starts off as very logical and analytical towards Shepard, although it warms up quickly and even has a What Is This Thing You Call Love? moment later in its dialogue path.
Late Character Syndrome: Recruiting it triggers the end game; there's only time for two more missions after that. You still have an opportunity to do missions you've missed at this time (and take him along) but it will cost you the lives of several crew members. During the final sequence, however, it's not particularly useful as there are no synthetic enemies on the Collector space station.

However, upgrading its sniper rifle makes it an incredibly effective sniper, especially against Harbinger. Also, its shield boost turns it into a poor man's Grunt, which is nice if you're leaving Grunt behind to Hold the Line.
You can largely bypass this issue if you save a bunch of sidequests until after the suicide mission, and bring Legion along for those. The problem with this is that there's always very little dialogue during combat missions that aren't recruitment or loyalty related. So unless you're planning on letting your crew go milkshake, it's mostly one or the other when it comes to Legion's dialogue and combat prowess.
You can also modify your saved game to have it appear for squad use in the beginning of the game, after Freedom's Progress. You can get significant amounts of dialogue. It's also a potential game-breaker - you have a sniper who can easily be equiped with the Widow ("one shot, one kill" except against the toughest opponents) and has the combat drone which distracts enemies. It's entirely worth it, though.
Legion is extremely useful in the "Project Overlord" DLC if you wait until after you finish the main storyline to play it.

Lens Flare: It's eye produces one whenever said eye is in view.
Lost Forever: If you give its deactivated body to Cerberus.
Machine Monotone: 99% definitely. When it asks a question, its air of curiosity is palpable. If Shepard says something that implies understanding of geth morality, it will show signs of happiness.
| | | |
| --- | --- | --- |
| |  Legion: We wish to understand, not incite. | |
| | | |
| --- | --- | --- |
| |   Legion: Christian Bible, the Gospel of Mark, chapter five, verse nine. We acknowledge this as an appropriate metaphor. We are Legion, a terminal of the geth. | |
Technically, the problem was that Legion already had a name: geth. Given the geth's society, it's natural that they would be adverse to individualism. Also, Legion never uses the title to refer to itself specifically, that is, its geth runtimes, but rather its body, the terminal of the geth.

Not So Different: A rare positive example. Post-game, Legion mentions this about the geth and Shepard, if the latter destroyed the Collector base. S/he rejected the Collector tech the same way the geth rejected Sovereign's offer.

Also potentially to a Colonist Shepard in 3. Legion is heavily implied to have once been the argicultural unit shown in the Geth's memories that picked up a Sniper Rifle to defend other units during the Morning War. Legion was once a simple farmer. Sound familiar, Colonist Shepard?

One of Us: It's a robo-Vin Diesel. Check out its Gamer Profile!
Only Sane Entity: Being a robot tends to reduce strong displays of emotion, but it's telling when only two other playable members (Jacob and Tali) of your thirteen-member crew can qualify, and Tali is a borderline case.

It's arguable whether Legion itself even counts. Oddly, on one occasion (its confrontation with Tali) if Shepard points out that him trasmitting classified Quarian data could start a war, it admits that Shepard's right. This implies it didn't think its actions all the way through, which is weird considering it's supposed to be a purely logical machine that thinks at the speed of light.
Legion's loyalty mission makes mention that Legion requires its programs to reach consensus before it decides to act. Its plausible that the vote swung towards sending the data before Shepard pointed out a fair compromise.
Also plays the role in Mass Effect 3,

where unlike it's people, Legion actually realizes that siding with the Reapers no matter the circumstances is a really freaking stupid idea.

Optional Party Member: You can sell its body to Cerberus instead of activating it.
Pronoun Trouble: It's iffy on whether Legion should be referred to as a "he", an "it", or a "they", considering that Legion is made up of over a thousand geth programs that form a gestalt consciousness. Legion refers to itself as "we," although it can be hard to seperate whether it is speaking of the runtimes in the platform named Legion, or the geth species as a whole. In conversation it suggests that the distinction may be meaningless. It does occasionally refer to itself as a single platform in the singular.

In the third game, it uses "I" for the first and last time right before its Heroic Sacrifice. EDI says that this indicates that it achieved full sentience.

Robot Buddy: The nicest geth you'll ever meet, if only because most of the others you've met used you for target practice after skewering people on pikes.
Rogue Drone: Played with. The 1183 runtimes co-inhabit a single (very durable) combat platform and the nature of their mission makes contact with the main geth Hive Mind very sparse, but they're less "rogue" and more "on a permanent deep-cover mission, maintaining radio silence at all times" due to The Reveal about the geth-heretic split.
Sliding Scale of Robot Intelligence: Level 4; the geth programs that comprise Legion are, together, capable of cracking just about any computer system in microseconds, and have technical skills on par with some of the best (if not the best) organic engineers in the galaxy. They're also beginning to develop emotions, though they do not fully understand them yet.
Stab the Scorpion: How Shepard and crew initially meet it.
Stalker with a Crush: Played with. When asked why Legion chose a piece of Shepard's armor to fix itself (there had to be plenty of more suitable material around and a substantial hole remains), it pauses awkwardly, looks away a little and very quietly answers "No data available".
Stop Being Stereotypical: What Legion thinks of the geth that sided with the "Old Machines."
Thank the Maker: An odd case. Legion is very respectful towards quarians and refers to Tali as "Creator-Tali'Zorah"; however, it is wary of them at the same time, though still willing to make amends.
| | | |
| --- | --- | --- |
| |   Legion: We are immortal. Our gods disowned us. We must create our own reasons to exist. | |
 Fleet and Flotilla: Interactive Cross-Species Relationship Simulator:



"Based on the Bestselling Vid!"



Playtime: 75 hours, 6 minutes



Player Score: 15 (Hopeless)
Legion will also reveal that the Geth have been keeping the Quarian homeworld clean and intact, even comparing it to a cemetery or memorial. If you ask it why, Legion will honestly not know, but will suggest that they did it out of sorrow for the whole war.
Legion's claim to not know why he chose to repair himself with a piece of Shepard's N7 Armour. It is notable that one of Legion's primary objectives was to study Shepard, having journeyed to numerous world's in their path and the N7 Armour used was found at the Normandy crashsite. It's implied that Legion did so as a form of rememberance, possibly experiencing a sense of loss over Shepard's death which it could not rationally quantify.

Where It All Began:

It's implied that Legion was the first geth to kill a quarian. No matter what happens at Rannoch, he will die there.

Zerg Rush: Its common hacking tactic is to send all 1,183 geth within it to overload a firewall, more or less a walking DDOS attacker.
---
Secret Character #2 SPOILERS
Morinth
"I was worried you were gonna dump Samara for some crazy soul-sucker with a death fetish. All lithe and sexy and...never mind."

—Joker's (poor, oblivious) description
| | | |
| --- | --- | --- |
| |  Voiced by: Natalia Cigliuti | |
An asari serial killer that Samara is hunting. She is actually Samara's daughter. You can choose to kill Samara during the climax of her quest, and by doing so you can have Morinth join you instead of her mother. The "Lair of the Shadow Broker" DLC reveals that her real name is Mirala.
---
The Baroness: She is obsessed with dominating people, especially troubled artists and recluses.
 "I love the moment you see it in your opponent's eyes: he knows you're better and he's going to die."

"I love any game where your opponent can believe he's about to win...just before you kill him."
| | | |
| --- | --- | --- |
| |  Morinth: (angry) Oh no, I see what's going on - the bitch herself found a little helper. | |
| | | |
| --- | --- | --- |
| |  Subject's expertise would have made her a valuable team member if sociopathic tendencies were mitigated. | |
Static Character: Storywise, she gets hit with this when compared to Samara. And as noted above, she doesn't get much development in the third game either.
Token Evil Teammate: Oh dear Lord, yes.
Tragic Villain: According to Samara, though it doesn't make her any less evil.
| | | |
| --- | --- | --- |
| |  Samara: Morinth is a tragic figure, but not a sympathetic one. | |
---
Guest Party Members
Wilson
Wilson
| | | |
| --- | --- | --- |
| | | |
One of the Cerberus medical officers working on the Lazrus Project. After everything goes to hell, he helps you out after you heal him. When you finally meet up with Miranda, she guns him down for being the traitor who caused this mess in the first place, thus continuing the Bioware tradition of early game sacrificial party members.
---
 Wilson: Miranda? But you're...

(Bang!)

Miranda: Dead?
---
Community content is available under
CC-BY-SA
unless otherwise noted.