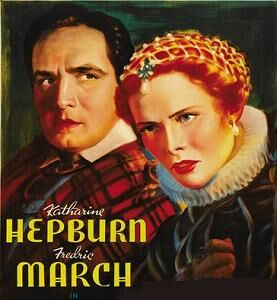 Mary of Scotland is a 1936 Historical Romance film from RKO studios, recounting the life and love of Mary, Queen of Scots, directed by John Ford and starring Katharine Hepburn and Fredric March. The film, based on a successful blank verse drama by playwright Maxwell Anderson, is an example of Hollywood History at its most extravagant -- but it is less the numerous historical inaccuracies than the wild melodramatics affected by every performer (excepting perhaps only John Carradine) that made the film a financial disaster and one of the films responsible for making Hepburn "box office poison" until her career was revived by The Philadelphia Story in 1940. Director John Ford was reportedly so disgusted at being slated to oversee a "woman's picture" that he took to leaving the set early and even delegated the direction of one of the romance scenes to Katherine Hepburn herself!
Ford also developed great mutual affection for Hepburn that lasted until his death in 1973.
Interestingly, Ginger Rogers tried out for the part of Elizabeth under the pseudonym "Lady Ainsley," much to the annoyance of Katherine Hepburn, who detested her (and actually kicked her at one point during the screen test). Nevertheless, Rogers was strongly considered for the part, until RKO decided that high drama would not be suitable to the screen image they were crafting for her. At one point Hepburn is said to have lamented the fact that she could not play both queens, on hearing which, Deadpan Snarker John Carradine remarked: "If you did, how would you know which one to upstage?" The part eventually went to Fredric March's wife, Florence Eldridge.
Despite its many and serious faults, the film is undeniably handsomely mounted, with attractive costumes by Walter Plunkett (which, indeed, started a mini-fad for in 1936 for Scottish styles) and striking high-contrast black and white cinematography by Joseph H. Augusta. Ford may have disliked the narmy script and loveydovey romantic plot, but seems to have enjoyed deploying his actors and the various masses of extras in an almost balletic fashion in several sequences in which the characters are essentially wordless while the soundtrack (by RKO second-string composer Nathaniel Shilkret) establishes the requisite romantic mood, often with surprising success.
Tropes Employed in this Film Include:
| | | |
| --- | --- | --- |
| |  "What do you know of my life? You were born a queen. Honors, thrones, everything fell into your lap. What do you know of the struggle for power? I started with nothing, robbed even of a name, not acknowledged by my father. My own mother -- yes, Anne Boleyn -- was executed. And I learned how a woman may be a queen one day, and stand on the scaffold the next. I was sent to the Tower by my own sister -- oh, I know what prisons are, and being threatened month after month with execution. I died a thousand times. But I fought my way upward, inch by inch, until I wore the Crown. I gave my love to no man, but to my kingdom -- to England! And you prate to me of love! What do you know of my life?" | |
Community content is available under
CC-BY-SA
unless otherwise noted.