For the main article, go here.
For the Marvel characters, try here.
For the characters introduced in Ultimate, go here.
Akuma
 You will feel the power of my fists!

Voiced by: Dave Mallow (English), Taketora (Japanese)
Home Series: Street Fighter
This warrior values strength above all else, going so far as to abandon his own humanity as a means to obtain more. It is said that the Buddhist beads around his neck represent warriors who have fallen before him. He wants Ryu to give in to the Satsui no Hadou so that he may have a Worthy Opponent.
Akuma's fighting style is different from Ryu's. He uses more simplistic combos, and he is meant to be played in a more offensive manner, akin to his Street Fighter IV incarnation. He is a Glass Cannon who can deal huge amounts of damage with and without meter.
| | | |
| --- | --- | --- |
| |   (in his victory image) I am no longer mortal! | |
| | | |
| --- | --- | --- |
| |   (vs. Sentinel) What is this... mockery? | |
Brought to You by The Letter "S": During his victory pose and after his Shun Goku Satsu, the kanji for heaven, "ten" (as seen on his back in the picture to the right), appears on the back of his dogi.
| | | |
| --- | --- | --- |
| | | |
Otherwise, he's one of the few characters who averted this trope.

Dangerous Forbidden Technique: Shun Goku Satsu. This technique is the most damaging Level 3 hyper in the game (was as of Ultimate, as now The Ace Attorney is the most damaging), not to mention it comes even faster than in the old games.
 Issun (in Ammy's victory image): That attack that demon did... It was just like when Mrs. Orange makes cherry cakes! That's crazy!

(Intro vs. Ghost Rider) The Shun Goku Satsu will show you true penance!
The Dark Side: He's hinted to have this powers (from the Satsui no Hadou).
 Phoenix: There's darkness in you. And I know darkness.

Phoenix: You have barely even tapped into the vast powers inside you, and already they control you.

Phoenix: We're more alike than I'd like to admit.

Arthur: You have the air... (sniff) ...of a demon!

Arthur: You are strong, but you must regain your humanity!

(to Ryu) You will feel the pain of the Satsui no Hadou!

Ryu: I will surpass the Satsui no Hadou!

Doom: You will reveal to me the source of your power, or you will die!
He also teaches Hulk and Ryu on it:
 (victory image, to Hulk) Your anger, rage and resentment is not enough! To defeat a demon you must give in to those urges!

(victory image, to Ryu) You're still a pup, Ryu. Let go of your inhibitions and embrace your dark side!
| | | |
| --- | --- | --- |
| |  If this is the best that the world has to offer, then what else is there left for me to prove? | |
Albert Wesker
Home Series: Resident Evil
Wesker was the leader of the S.T.A.R.S. Alpha team, but was secretly working for the Umbrella Corporation, whom the unit was sent to investigate. He has since betrayed Umbrella and, after a series of encounters with many acquaintances (most of which hate him), works for Tricell. With his constant experimentation of the T, G, Las Plagas, and Uroboros viruses, he has superhuman strength, speed, reflexes, and regeneration, making him a force to be reckoned with. His ultimate goal is to release Uroboros into the Earth's atmosphere, and leaving only the chosen few alive for him to rule over as their god.
His fighting style incorporates teleport mixup and show-offy, yet intricate combos involving the gamut of fighting game tech - wallbounces, OTG, you name it. Because of his simplicity, Wesker is considered broken by many, and users will certainly be hated for their efforts.
 (to Amaterasu, Thor, or Shuma-Gorath) I will be the only god.

(winning against one of the three) I am the only god.

(victory image after beating Chris) Don't worry, Chris. You can die in peace knowing the world has a new god to watch over it.

(to Rocket Racoon) Now you know... I am a god, over man and beast.

Chris: You're finished, Wesker! You're not a god -- you're a joke.
He does come the closest to being an actual Physical God in one scenario of the Galactus final battle, however, where he is revealed to be one of Galactus' heralds.

Animal Motifs: The basis for his attack names: Cobra Strike, Ghost Butterfly, Rhino Charge, Tiger Uppercut. Jaguar Kick.
| | | |
| --- | --- | --- |
| |   Now if you'll excuse me, I have a world to saturate... | |
 Magneto: Your attempts at artificial power both impress and disgust me, Albert Wesker.

M.O.D.O.K.: I must admit, I like some of the work you've done with bioengineering. It has... potential.

Sentinel: Target is not a natural mutant. All enhancements were the result of cellular manipulation.
Battle Aura: A subtle black, fume-like substance permeates from his body while he's standing still.
Big Bad Duumvirate: With Dr. Doom.

At first.

Calling Your Attacks: Is one of maybe three characters in the game to totally avert this, saying various one-liners or insults during his moves instead.
Camera Abuse: When he wins, he grabs the (implied) cameraman (representing his defeated opponent?) by the throat and lifts him off the ground.
Clothing Damage: The lenses of his sunglasses can break and the shades themselves will be destroyed if he takes too much damage. For his taunt he takes out a new pair.

They also come off whenever he uses his Maximum Wesker super. This becomes hilarious in that if you play Wesker, it's likely you'll use this move frequently and you can replace the glasses every time.

Cool Shades

The Glasses Come Off: During his Phantom Dance super. In Ultimate, he gets a damage and speed boost without them.

Counter Attack: One of his specials (Tiger Uppercut) and one of his hypers (Rhino Charge).
Creepy Monotone: Blended with Guttural Growler. Brrrr.
| | | |
| --- | --- | --- |
| | | |
 Mortals are so weak - You're NOTHING TO ME!!![1]

YOU DON'T STAND A CHANCE! Such a waste of life...

Oh please. BACK TO YOU!
Last-Name Basis: Almost everyone, except for Spidey, who mockingly calls him "Albert". Then again, he does it to many of the other villains as well.
| | | |
| --- | --- | --- |
| | | |
 Trish: What's so fun about taking over the universe?

Magneto: Not all those with power are fit to rule.
"The Reason You Suck" Speech: Gets this as a new win quote in Ultimate, and it has the honor of being the longest in the game. We're talking Rufus quality ranting here.
| | | |
| --- | --- | --- |
| |   How does it feel to be inferior? To know that you are destined for a life of mediocrity? Hmph. You probably can't even conceive how much better I am than you. | |
| | | |
| --- | --- | --- |
| |   Spider-Man: You have great power, Albert. But you don't use it responsibly. | |
 "You've disappointed me."

"Useless chaff!"
Amaterasu
 Aaawoooooooooooo!

Voiced by: N/A
Home Series: Okami
The Shinto sun goddess in the form of a white wolf. She uses her power to restore peace and beauty to the lands.
Amaterasu is an excellent all-around character who has three weapon styles at her disposal: the reflector, the glaive, and the rosary. While it is possible to win by using just one style, true mastery of Ammy requires utilizing and switching between all three styles, and learning how to use her for both rushdown and keepaway tactics.
 Thor: Tis fitting that two Gods meet in battle thusly!

Thor: It honors me to have fought a fellow God of such valor.

Issun (after beating Thor, victory screen): It looks like the Goddess of the Sun has triumphed over the God of Thunder! Good work, Ammy!

Thor: Thou art a courageous god. The inhabitants of Nippon are blessed to have you as their guardian!
| | | |
| --- | --- | --- |
| |   Issun: Whoa whoa whoa, Ammy! That person is not a tree! Don't eve--aww, crud. I'm really sorry about that. | |
Arthur
Home Series: Ghosts N Goblins
Sir Arthur is a brave and valiant knight who goes into hell to save his beloved Princess (Princess Prin-Prin, Princess Guinevere or whichever name your game manual says this time around). He also has a tendency to lose his armor with one attack. (Fortunately, this doesn't happen in this game.)
Arthur is a pure zoning character. His walking speed is slow, he does not possess a dash, and his damage output is not that great. But what he lacks in all of that he makes up for by filling the screen with projectiles, as well as various other ways that he can put distance between him and his enemies.
 GODDESS' BRACELET!

Great magic! FIRE DRAGON!
Chronic Hero Syndrome: He wants to save his princess, but he will stop any villains who comes in his way.
| | | |
| --- | --- | --- |
| |   (To all villains minus Akuma & Doctor Doom) I will not forsake my duties! | |
 Phoenix: Instead of fighting me, you should go and rescue your princess. It's not polite to keep a lady waiting.

(To Chris) You too are looking for something? Let's be quick about this then![2]
| | | |
| --- | --- | --- |
| |  I will fight you, fair and square! | |
Little People: He's rendered as shorter than anybody else (except for Joe, Ammy, and Rocket Raccoon). This is also lampshaded.
Mighty Glacier: Much like Dormammu, he's the ranged version of this trope. He fits even more; he doesn't have a dash at all.

Stone Wall: Only in the sense that he's lacking in mobility (floaty jumps, no dash) and his projectiles (from a defensive standpoint) work well for zoning and lockdown purposes.

No Name Given/Dub Name Change/Take a Third Option: It seems Capcom couldn't decide on Arthur's beloved definite name, Prin-Prin for the sake of tradition in older arcade and NES games or Guinevere in true King Arthur fashion and how it appeared in the SNES game manual. They decided to keep as just Princess on the PSP remake, it also sticks for this game.
Non Standard Character Design: Arthur is really short and toonier, referencing the art style of his series.
Real Men Wear Pink: One of his new palette swaps in Ultimate gives him pink-tinted armor, in addition to pink underwear with heart patterns.
Redheaded Hero: In his normal palette.
Shield-Bash: In some of his moves.
Smart Bomb: His Fire Dragon ("For The Princess"), since it covers almost full-screen range.
Summon Magic: His Level 3 conjures up a fiery dragon.
Super Mode: His Golden Super Mode Armor. It not only powers up his attacks, but also gives some of them certain properties like going through other projectiles or Homing Projectile in to the opponent. It is also accompanied by a yellow Battle Aura.
Younger Than They Look: According to his character bio, he's only 28 years old.
Chris Redfield
Home Series: Resident Evil
Part of the S.T.A.R.S Alpha team, Chris was one of the first to see the horrors of the Umbrella Corporation. He's one of the original 11 founders of the B.S.A.A., designed to deal with Umbrella-like threats.
Arbitrary Gun Power: He can do more damage with a seven-hit punch combo than with a full barrage from his handgun, shotgun, magnum, and flamethrower.
| | | |
| --- | --- | --- |
| |   (One of his winquotes) Compared to fighting zombies and B.O.W.s, this was like a vacation. | |
| | | |
| --- | --- | --- |
| |   (One of his winquotes) I may specialize in bioterrorism, but I won't hesitate to put an end to any wrongdoings that come my way! | |
| | | |
| --- | --- | --- |
| |  ...something's come up. Gotta go.. | |
More Dakka: One of his hypers has him use a machete (or, alternatively, a taser), a shotgun, a submachine gun, a revolver, and an RPG.
Multi Ranged Master: If there's a firearm you're thinking of, he's most likely got it in his arsenal. With the exception of sniper rifles, he uses every weapon type available to him in Resident Evil 5.
| | | |
| --- | --- | --- |
| |   Super-Skrull: Which is more obsolete -- your weapons, or you!? | |
 (One of his winquotes) You know why you guys lost? It's because you lack the teamwork that we have.

(One of his winquotes) I'm not going to lose any more teammates. I will protect them.
Even apparent in the first trailer for vanilla: Hulk is tearing up the roof of the building he and Chris are on, and yet Chris makes it his priority to make a grab for Morrigan when he sees her falling from the sky (having taken an attack from Iron Man).

Nice Guy: He features in several character endings as an apparent personal friend

to Captain America, Haggar, and the Hulk

. In his own ending

he's resisted the temptation to simply kill Wesker and has brought him to trial.

Only Sane Man: As shown in one of his win quotes.
| | | |
| --- | --- | --- |
| |  Chris: What's the point of all this fighting? | |
| | | |
| --- | --- | --- |
| |   Storm: Rarely have I met a man with such a strong moral compass. I regret that we had to meet in combat. | |
Chun-Li
Home Series: Street Fighter
An undercover Interpol detective with lightning fast kicks, Chun-Li seeks to avenge her father's death at the hands of the criminal organization Shadaloo.
 C. Viper: It's an Interpol agent. Don't worry, I'll take care of her.

Tron: Oh please. I'm not dumb enough to be caught by the cops.

Tron: Ahahaha! Sorry copper, but you're not taking ME in!
| | | |
| --- | --- | --- |
| |   Ryu: Your kicks still need practice. | |
| | | |
| --- | --- | --- |
| |   (In her victory image) Tall, blond, and handsome -- you're my type of guy... But do you have to carry that hammer everywhere? | |
| | | |
| --- | --- | --- |
| |   (to all villains) I won't let evil go unchecked! | |
| | | |
| --- | --- | --- |
| |   (To She-Hulk) Remember the old saying, 'mind over muscle'. | |
Crimson Viper
Home Series: Street Fighter
Real name: Maya. This worldly 30 year old fighter is an expert CIA agent, going undercover to expose the S.I.N. organization's crimes. She is also a single mother and her daughter, Lauren, is on her mind at all times.
| | | |
| --- | --- | --- |
| |   You're... Strider Hiryu...! | |
| | | |
| --- | --- | --- |
| |   (to Iron Man, in her victory image) That was just a taste of what our suit can do. If you want to know more, you know where to find me. | |
| | | |
| --- | --- | --- |
| |   Chun-Li: I don't care who you work for; don't get in Interpol's way! | |
| | | |
| --- | --- | --- |
| |   (to Cap) Talk about your gaudy getups. It's nice to be proud of your country, but get some fashion sense. | |
| | | |
| --- | --- | --- |
| |   It's an Interpol agent. Don't worry, I'll take care of her. | |
| | | |
| --- | --- | --- |
| |   (to Cap) This one could be a problem. | |
Dante
Home Series: Devil May Cry
Dante is a hunter dedicated to vanquishing demons, which were responsible for killing his mother and corrupting his brother Vergil. He is also half demon himself, the son of the demon knight Sparda.
Dante has the most versatile and complicated movesets of any character in the game, and is able to perform pretty much any strategy you would need, such as mixups, crossups, rushdowns and zoning, making him a threat to any and all characters. He has average stamina and damage output, but high combo potential.
His quote to the other girls (save Morrigan above, Trish, and Amaterasu):
| | | |
| --- | --- | --- |
| |  How come I never meet any nice girls? | |
His quote after defeating a female opponent:
| | | |
| --- | --- | --- |
| | | |
Double Jump: Air Hike. Additionally, Ultimate allows him to triple jump while DT'ed a la DMC4.
| | | |
| --- | --- | --- |
| | | |
| | | |
| --- | --- | --- |
| |  Sometimes you just gotta out-crazy the crazies if you wanna beat 'em. | |
 (against Trish) Don't think I'm gonna go easy on ya!

(against Viewtiful Joe) It's okay, Joe. We cool!
Shoot the Bullet: As shown here, if two Dante players use the Million Dollars hyper at the same time, they'll take no damage at all. This is also a Call Back to the first intro movie of the game, where he and Deadpool do the same thing.
Spin Attack: His specials, namely his Twister (and Tempest), Crazy Dance, Prop Shredder, Revolver & Sky Dance.
Spirited Competitor: Bordering on Blood Knight.
Sticks to the Back: His Rebellion.
Super Mode: Devil Trigger, complete with demonic voice distortion. It also gives Dante access to new specials.
Superpower Lottery: Long-range combos, easy juggles, easier OTG's, numerous projectiles, flight, teleportation, health regeneration -- Dante's got it all, if you can manage his gigantic library of techniques.
Sword Beam: His Drive attack.
Sword Pointing: In the special Episode 4 Trailer wallpaper.
Take That: A possible jab at DmC, as well a form of Trash Talk.
| | | |
| --- | --- | --- |
| |  My hair? It's not that I'm getting old, it's always been white. ... Why do you ask? | |
| | | |
| --- | --- | --- |
| |  Man, I'm starving. Where's my pizza? | |
 (to Dormammu) Tch. Get the hell out of my face.

(to Trish) Really, Trish... Is that the best you can do?

(to Vergil) You're the reason why we can't have nice things. Also, the ladies dig my sword skills more.
Felicia
 Wanna dance?

Voiced by: G.K. Bowes (English), Kana Asumi (Japanese)
Home Series: Darkstalkers
A cat woman raised by nuns, Felicia left the convent and is on a quest to become a superstar.
Felicia's rushdown fighting style takes full advantage of her cat-like agility. She works best by pressuring her enemies with a devastating series of super-quick attacks (which have the added benefit of still being fairly strong hit-for-hit in the process).
| | | |
| --- | --- | --- |
| |   (One of her winquotes) I'm Felicia, the most dancingest, singingest woman you'll ever meet! | |
| | | |
| --- | --- | --- |
| |   (to Dormammu) Hey, your head's on fire! | |
 NEKO PUNCH!

SLIDE KICK!

SAND KICK!
Catfolk: Belongs to one. Several of them come to her aid in her Level 3.
Catgirl: Exactly what Hulk calls her when he tags out with her. And...
| | | |
| --- | --- | --- |
| |   Arthur (when he tags out with her): Little kitty! | |
Cheerful Child: She really likes to smile and have fun. Spencer somehow doesn't like it:
 Spencer: I'll wipe that smile off your face.

Spencer: Sorry, sweetie. Playtime's over.
| | | |
| --- | --- | --- |
| |   (intro quote vs. Amaterasu) Come here, puppy! | |
| | | |
| --- | --- | --- |
| |   (winquote vs. Amaterasu) Let's play together again, puppy! | |
| | | |
| --- | --- | --- |
| |   No, I don't care how much catnip you have, I'm not getting into the car with you! [3] | |
 Felicia: Showtime!

Spider-Man: Hey, that's my schtick! You start spinning a web and I'll sue!
| | | |
| --- | --- | --- |
| |   I didn't want to fight, but you're the one who made me get all scratchy. | |
Took a Level In Dumbass: People who don't know her from the first Darkstalkers games will get surprised to see how she sounded more intelligent and fiestier than her current incarnation.
Wolverine Claws: Apparently, Felicia likes them.
| | | |
| --- | --- | --- |
| |   (to X-23) Wow! I love your claws. | |
Hsien-Ko
 Lets do this, sis!

Voiced by: Hunter MacKenzie Austin (English), Saori Hayami (Japanese)
Home Series: Darkstalkers
In a Darkstalker attack on their village, Hsien-Ko's mother gave her life to save her family. After these events, Hsien-Ko and her sister Mei-Ling have turned themselves into jiang-shi in order to fight for the return of their mother's soul.
 HENKYOUKI!

HOUTEN GEKI!

You're gonna get hurt! TENRAIHA!

CHIREITOU!
Cartoon Bomb: She can randomly throw these, with the bomb having a timer like in her own games.
 (win screen against Chris) Stop shooting! I'm not a zombie! I'm a jiang shi! I don't even eat people OR their brains!

(win screen against Jill) Hey! What do you have against the living dead anyway? We're not all bad!
| | | |
| --- | --- | --- |
| |  Eww, now my clothes are all sticky with slime... | |
Cute Monster Girl: Especially when she smiles at the camera after a win. D'aaawwwwwwwwww!
| | | |
| --- | --- | --- |
| |  (winquote against Nemesis) Don't laugh, Mei. Not all jiang shi can be as beautiful as us! | |
 Kono toko da ne. Right? (That's how it's done, right?)

Gomen ne! Just kidding! (Sorry! Just kidding!)
Also, in the second picture of her vanilla ending,

which is a comic she wrote of her and her sis' going to Doctor Strange so he can help give their mother's soul eternal rest,

the word "owari" ("The End") is written at the bottom right corner. This was kept in the American version.

Her Codename Was Mary Sue: See "Yank the Dog's Chain" below.
The Hunter: Technically a Darkhunter.
Mirror Match: Lampshaded.
 (to herself) Huh, didn't know we were quadruplets.

(to herself) I've got to watch out for these fakes!
Not Quite Flight: She literally walks on air for her air dash.
Otaku: From the look of it, she's a weapons otaku, just like Tasky.
| | | |
| --- | --- | --- |
| |   This isn't magic, it's Senjutsu... What's the difference? Man, there is no way I could hope to explain that here and now. | |
| | | |
| --- | --- | --- |
| |   (To Deadpool) I am NOT talking to myself. I'm talking to my sister. What's your excuse? | |
Yank the Dog's Chain: In her Vanilla ending, Hsien-Ko and Mei-Ling go to meet Doctor Strange, the Sorcerer Supreme, so that he can put their mother's soul to rest and return them back to normal humans. He does so without any reluctance... And then the dialogue reveals that the ending isn't real, but is a comic book the sisters drew together to deal with their troubles.

In Ultimate, they actually meet the character in question, who seems genuinely concerned about their condition and wonders if he could help.
Jill Valentine
Home Series: Resident Evil
Jill was a member of the S.T.A.R.S Alpha Team, along with Chris Redfield. Surviving the Raccoon City Incident and an attempt on her life by the Nemesis monster, she joined the B.S.A.A. and worked with Chris once more on a mission to find Ozwell E. Spencer, the founder of Umbrella. Encountering Wesker, who had already killed Spencer, she tackled him out of a window to their supposed deaths. Both survived, but Wesker used her as a test subject for Uroboros, and she was brainwashed into becoming his puppet bodyguard.
| | | |
| --- | --- | --- |
| |   (To Chris) All enemies will be destroyed. | |
Back-to-Back Badasses: With

Blade

in her ending, unwillingly.
Battle Aura: Like Wesker, she has little dark wisps rising from her body. And even more elaborate in her Mad Beast mode, in which she's surrounded by a purple aura.
| | | |
| --- | --- | --- |
| | | |
| | | |
| --- | --- | --- |
| |  This has been a long time coming, Wesker. | |
| | | |
| --- | --- | --- |
| |   (to Chris) You're expendable, Chris Redfield. | |
 (to the X-Men, Magneto, & Deadpool) Ready to seize mutant target.

(to the X-Men, Magneto, & Deadpool) Mutant taken into custody.

(to various others, including Galactus) My orders are to capture you.

(win screen text against Chris) You are beaten, Chris Redfield. Now you too will serve Wesker.
 Jill: Ready for training.

Wesker: Let's see how good you really are.

later on

Jill (when she wins): My training's complete.
Mike Haggar
 You're gonna regret this in the morning...

Voiced by: Matt Riedy (English), Kiyoyuki Yanada (Japanese)
Home Series: Final Fight
Mike Haggar is a former wrestler and the mayor of Metro City. He often takes to the streets to deal with Metro City's gang problems, especially if it involves his daughter.
Haggar is a slow, grappling character who will floor you if he can manage to get in close, making his approach predictable if his opponent is aware of it. He is the only character in the game with an invincible assist, with the trade off being that it costs him a bit of health to use.
 VIOLENT AXE!

PILEDRIVER!

BACKDROP!

Body... PRESS!!!
| | | |
| --- | --- | --- |
| |  (win screen text): Just be lucky you didn't touch my daughter, or else you would have seen me when I'm really angry! | |
 (before the fight) Don't worry. I'm more than a challenge for you.

(if Haggar wins) You'd make a great wrestler yourself.
| | | |
| --- | --- | --- |
| |   (to Ryu) I haven't had a fight like that ever since I became mayor. Thanks, kid, that hit the spot. | |
| | | |
| --- | --- | --- |
| |   (to She-Hulk) You have the speed, power, and smarts to take down anyone, but me. Why? It's all about experience. | |
Morrigan Aensland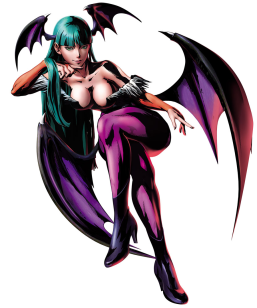 I want you... body and soul.

Voiced by: Siobhan Flynn (English), Rie Tanaka (Japanese)
Home Series: Darkstalkers
A hedonistic succubus, Morrigan is very powerful and prefers to neglect her duties and instead spend time in the human world.
 Trish: I don't care if you're a queen, princess, or court jester: you still lost, and that's gotta hurt!

Storm: If you truly are the queen of your realm, then you should behave in the manner befitting one.
Battle Aura: Her body is surrounded by faint greenish-white wisps of fire. When she floats across the ground, it forms a circular ring of fire around her feet. She also releases a full-body pinkish aura during her Astral Vision hyper, while her clone doesn't have an aura.
Bullet Hell: A natural result of using her un-fly combos to fire off an inordinate number of Soul Fists in a relatively short period of time. Adding Astral Vision and/or X-Factor to the mix only serves to exacerbate this.
 SOUL FIST!

SHADOW BLADE!

SHELL KICK!
| | | |
| --- | --- | --- |
| |   Such a pure and chaste spirit. Oh, the ways in which I could corrupt you... | |
Also, Phoenix, given her intro quote.
| | | |
| --- | --- | --- |
| |   You need to strip off those prosaic morals. | |
| | | |
| --- | --- | --- |
| |   Arthur: You truly are a temptress of the dark! Begone, for I have a princess to save! | |
| | | |
| --- | --- | --- |
| |   (one of her winquotes) Trust me, I'm not as delicate as I might look. I might be the one who ends up breaking you in half. | |
| | | |
| --- | --- | --- |
| |   (One of her winquotes) They say I get around. But it's so boring staying around the house all day, don't you think? | |
Sex Is Violence: Apparently, she can be "turned on" by fighting. This is vital for finding her "pleasure" (see "Spirited Competitor" below).
Ship Tease: Aside from Iron Man, Chris, Wolverine, and Shuma, there's also this:
| | | |
| --- | --- | --- |
| |   (to Dante [see also his quote above]): Well now, aren't you a handsome devil. | |
 (before the match) Allow me to release your hate.

(win pose) You need to learn to think happy thoughts.
Nathan "Radd" Spencer
Home Series: Bionic Commando
Spencer was a spec-ops soldier working for the government. He became notorious for stopping the resurrection of Adolf Hitler and ending the Bionic Wars. However, the government betrayed him by enacting the Bionic Purge, and he was sentenced to imprisonment. When a new threat arrived, Spencer was released, being the only man for the job.
Ambidextrous Sprite: Despite using 3D models for the game, his bionic arm. As with Ryu and other characters, the character animations are meant to be viewed from one angle, and model flipping preserves that appearance.
 C. Viper: So that was the power of the Bionic Arm, was it? Suspicious indeed, I better report to the higher-ups.

(To Arthur) There's no way medieval weaponary like that will be able to beat this arm!
Boisterous Bruiser: Ironic, isn't it? With lines like, "So long, sucker!" and "Party time!", it's hard to believe that this is the same Spencer from the grimdark 2009 sequel (although to be fair, he did exhibit shades of this trope even there).
 COME HERE!

Bionic... AAAAAARM!!!
| | | |
| --- | --- | --- |
| |   (when he beats Cap) I'm on a mission. Nothing personal. | |
 (to Iron Man) How much of that suit is bionic?

(to Spider-Man) You don't know nothing about swinging!

(to Chris) Is that it? You're seriously outgunned.

(to Felicia) I'll wipe that smile off your face.
Ryu
Home Series: Street Fighter
Ryu lives only for the fight and seeks opponents stronger than himself. He fights using the art of Ansatsuken as taught to him by his master, Gouken.
Ryu has a solid, balanced style that is good for beginners, with his potential brought out by players with a firm grip on the core mechanics of the game.
Blood Knight: Read it again: "Ryu lives only for the fight..." Not to Akuma's extremes, but still.
 HADOUKEN!

SHORYUKEN!

SHAKUNETSU!

TATSUMAKI SENPUUKYAKU!

HADOU SHORYUKEN!

Shinkuu... HADOOOOKEN!!!

Shinkuu... TATSUMAKI SENPUUKYAKU!!!

SHIN! SHO! RYU! KEN!!!
| | | |
| --- | --- | --- |
| |   (To Phoenix) I see you are battling your inner demon. You must prove that you are stronger than they are. | |
| | | |
| --- | --- | --- |
| |   (One of his winquotes) Dedicate yourself, and anything is possible! Human potential is truly limitless... | |
| | | |
| --- | --- | --- |
| |  (to Wolverine) And I thought facing someone with one claw was bad enough. You really put me to the test. Thank you. | |
Some characters call him out on this:
Chun-Li: You never stop fighting, do you?

Iron Man: There´s more to life than just fighting. Fast cars and women, for example.



Wolverine

:

You're a good kid. Lotsa spirit. But you gotta find somethin' to fight for. Trust me on this one.

—Wolverine: I thought you'd have more fight in you, kid.
Super Mode: In Ultimate, he gains a buff hyper (Hado Kakusei) that enhances his special moves:

Charged Attack: His S Hadoken (aka Baku Hadoken) and Shoryuken (aka Hado Shoryuken) can be charged for higher damage. If charged long enough, his Hadoukens can become invisible.
Reflecting Laser: His Shin Hadoken (evolved from Shinkuu Hadoken) can reflect off walls in Ultimate.

Supernatural Martial Arts: His Ansatsuken (or, as some sources put it, "Shotokan") fighting technique.
 Wolverine: Let's see some of those karate moves, kid.

Joe: Wait, wait. You throw fireballs and stuff...without the superhero getup? Dude, you got gyped badly!
Why Did It Have To Be Spiders?: His original character profile from Street Fighter II says that his only dislike is "spiders" (because one of them once crawled into his mouth while he was asleep). This is referenced in his pre-match speech against Spider-Man.
| | | |
| --- | --- | --- |
| | | |
Trish
 Be a lamb... go gentle on me.

Voiced by: Danielle Burgio (English), Atsuko Tanaka (Japanese)
Home Series: Devil May Cry
A woman created by the demon Mundus to seduce and destroy Dante. However, she ends up aiding Dante on his quest to vanquish demons.
| | | |
| --- | --- | --- |
| |   Yes, I'm actually a demon spawn from Hell, but I'm really a sweet girl once you get to know me. | |
| | | |
| --- | --- | --- |
| |   X-23: You too were created for a purpose you did not wish to fulfill. You have my sympathy. | |
She also tells this to Akuma:
| | | |
| --- | --- | --- |
| |   As a former demon myself, I gotta ask you. Is this really the life you want for yourself? | |
 So you're the God of Thunder. Really?

We may have similar powers, but you don't know me.
Tron Bonne
Home Series: Mega Man Legends
A pirate and mechanical genius, Tron Bonne uses her Servbots to do her bidding. She has a love-hate relationship with MegaMan Volnutt. She seeks all the world's riches, but usually ends up getting in debt because of her mishaps.
 BONNE STRIKE!

KING SERVBOT!
| | | |
| --- | --- | --- |
| |  "Yeah, that's right, I'm bad!" | |
 If it's not nailed down, it's MINE!

(to Doom) Let's see... I got this, and this, and... Ooh! I'll take this throne, too! I look better on it anyway!

(to Doom, Iron Man, Sentinel, or Zero) I found me some new robot parts!

(To Iron Man, Sentinel, or Zero) I can't wait to start building new robots with your parts.

Felicia: You should know that stealing is wrong! If my mother were here, she'd really punish you and good!
 (to Ryu or Akuma) Ugh, I smell the stink of poverty on you.

(to Ryu or Akuma) Sorry, I don't have time for poor people!

Deadpool: I noticed you're filthy rich. Luckily for you, my services are available at a very high price.
Ship Tease: As of Ultimate, Tron oddly enough has an attraction to Nova.
| | | |
| --- | --- | --- |
| |   Tron: You don't have any mecha, and you don't know how to fight. What are you even doing here? | |
| | | |
| --- | --- | --- |
| |   (to Zero) Now tell me where MegaMan [Volnutt/Trigger] is! I have some more heroic deeds to thwart! | |
Viewtiful Joe
Home Series: Viewtiful Joe
Sucked into MovieLand, Viewtiful Joe fights for truth and justice using the time altering powers of his V-watch, which is activated by the magical phrase "Henshin."
 (against any Marvel hero and Deadpool) Whoa! You're a real hero? For real?

(winning against any Marvel hero) Well now, guess we know who's the REAL hero.

(against Nova) Whoa! Nova! Can I have your autograph?

(against any Marvel villain) You will stop your evil ways! ... did I say that right?

(winning against any Marvel villain) Good always triumphs... as they say!

(to Wolverine) Duuuude! You're the REAL Wolverine! Can I get a picture? An autograph? Also, let's hear that SNIKT!
In the ending credits, he's seen trying on a miniaturized version of Cap's outfit. He's also got custom-tailored costumes based on Spidey, Wolvie, and... She-Hulk...?

Assist Character: Assisted by Sexy Silvia in his Six Cannon super.
Bash Brothers: With Amaterasu in Episode 2 Trailer.
Battle Boomerang: His Voomerang. It can be Charged Attack for Homing Projectile and fiery effect.
BFG: His Six Cannon.
Breaking the Fourth Wall: Occasionally, when Joe wins, he'll mention that he "beat Marvel vs. Capcom 3!"

Also his very presence is a fourth-wall breaker as, outside of Movieland, Joe is incapable of transforming unless there's a VFX camera pointed at him.

Bullet Time: Joe's VFX Slow ability works a bit differently here with his Viewtiful God Hand hyper: instead of slowing down everything (including himself), he instead grabs his opponent and actually transfers the Slow power into them directly.
 VOOMERANG!

RED HOT KICK!

MACH SPEED!

Come on, Six Machine! SIX CANNON!
| | | |
| --- | --- | --- |
| |   Hulk (when tagging in Joe): Funny Helmet Man! | |
Double Jump: And triple jump!
Fragile Speedster: The "Fragile" part is up to debate. (Joe's is about average in terms of health, tied with Iron Man, Morrigan, and M.O.D.O.K. at 950,000.) Aside of it, he has great mobility in the air (much like Chun-Li) and his attacks are fast, but he has poor reach and damage output. Even worse, he doesn't have a Level 3 hyper.
Fun Personified: He's so ridiculously energetic and so obviously thrilled to be mixing it up with "real" heroes and villains.
| | | |
| --- | --- | --- |
| |   Spider-Man: Being a carefree, fun-loving hero is all good, but you wouldn't even qualify for the Pet Avengers. | |
| | | |
| --- | --- | --- |
| |   (to Spider-Man) I can see the headline for the next Bugle: "Mystery Hero Saves The Day! Not Your Average Joe"! | |
| | | |
| --- | --- | --- |
| | | |
Amusingly, in the first Viewtiful Joe game, "Stylish" was the epithet given to Joe's rival Alastor as a playable character. And Alastor is a walking Devil May Cry reference, so...

Scarf of Asskicking: A pink scarf.
| | | |
| --- | --- | --- |
| |  (to Strider): Whoooo-wee! I just rocked your world, ninja-boy! And I got the cooler scarf to boot! | |
Zero
Home Series: Mega Man X
The last creation of Dr. Wily, Zero was awakened by Sigma to fight as a Maverick Hunter. Sigma, however, ended up infected with the Maverick virus, and betrayed his comrades. Zero has on more than one occasion teamed up with Mega Man X to stop Sigma's schemes. He always gets the job done in a cool and confident manner.
 HADANGEKI!

RYUENJIN!

HIENKYAKU!

SENTSUIZAN!

REKKOHA!

It's over... SOUGENMU!

Ittouryuudan! GENMU ZERO!
 (to Sentinel) Found a Maverick. I'll take care of it!

(to Sentinel) I'll hunt down all Mavericks, no matter where you hide. That is my duty as a Maverick Hunter!
Jerkass Facade: He may seem a bit abrasive and bluntly outspoken, but anyone with deeper understanding of his backstory knows that this is a mask used to cover up a chasm of emotional tragedies he's suffered through.
Laser Blade: His Z-Saber, natch. He's so confident on it.
Sword Beam: Both as his special and his Level 3 hyper.

Mirror Match: Lampshaded in his quote against himself, which possibly refers to him easily destroying the black copy of him in Mega Man X2.
| | | |
| --- | --- | --- |
| | | |
| | | |
| --- | --- | --- |
| |   (one of his win text) If X were here, he would have tried to talk things out first. Unfortunately, X isn't here. | |
| | | |
| --- | --- | --- |
| |  Stop lecturing me and show me what you got! | |
| | | |
| --- | --- | --- |
| |  I don't listen to lectures or losers. | |
| | | |
| --- | --- | --- |
| | | |
| | | |
| --- | --- | --- |
| |   (Victory screen vs. Hawkeye) You're very cunning. You have that in common with X. You also lost to me, so you share that too. | |
Community content is available under
CC-BY-SA
unless otherwise noted.