For a Free MMORPG, Mabinogi has quite a story and cast of characters. If you're looking for the original Welsh mythology, that should be at Mabinogion.
Multiple-Generation Characters
The following characters appear across the storyline of Mabinogi.
The Milletian
The Milletians are beings foreign to Erinn, whose souls are being guided there by Nao through the Soul Stream. They are notably different from the Tuatha de Danann, the native humanoid races of Erinn, due to their rapid aging and their ability to be reborn, possibly changing their entire physical identity in the process. Milletians live out their practically immortal lives doing whatever their desire, from the various forms of combat to the many life skills.
Put simply, they are you, the players.
Plotwise, only one specific Milletian is experiencing the conflicts of Erinn firsthand.[1] In this sense, they are referred simply as the Milletian. Each playable race has a tale that serves as their origin story, while the generation story lines afterward can be experienced by all of them. [2]
Tropes associated with the Milletian:
Nao Mariota Pryderi
| | | |
| --- | --- | --- |
| |  A beautiful girl in a black dress with intricate patterns. Her deep azure blue eyes remind everyone of an endless blue sea full of mystique. With her pale skin and her distinctively sublime silhouette, she seems as if she belongs in another world. | |
The mascot of the game and the first character met by the player, Nao "lives" in the Soul Stream and guides souls from other worlds into the world of Erinn. She is actually Mari reborn. After her death, she came into the service of the Goddess Morrighan. Nao also gives players presents (Accessories) on their birthday. You can return the favor by gifting her with dresses found in-game.
Tropes associated with Nao:
Morrighan
Goddess of War and Vengeance, Morrighan is one of the most well-known of the Gods by humanity in Erinn. Despite being a War Goddess, Morrighan is not a violent or vicious Goddess, and is, in fact, known more for her love in humanity and protection of warriors; she has often aided humanity in wars in the past, and helps warriors to obtain revenge. In the first war of Mag Tuireadh, Morrighan directly intervened in the combat when the Human forces were about to be destroyed by the Fomor army. She held the entire army off, alone, until she was eventually forced to sacrifice her own body to seal the passage, turning herself to stone for the sake of Humanity. The Goddess Statues built in each dungeon are in reverence for her.
The Generation 1 storyline reveals that, some time later, a human warrior name Ruairi began to receive prophetic dreams from her, begging for him to come to Tir Na Nog to save her. He joined forces with the Druid Tarlach and the young Archer Mari in an attempt to rescue her. However, in the end, it was revealed that Morrighan had chosen to betray humanity, and had instead lured the three into a trap to kill them. However, the player character will also receive dreams from Morrighan, in which she urges them to do the same. It is eventually revealed that Morrighan had been captured and sealed in Tir Na Nog just as she sealed the passages at the end of the First War by Cichol, the God of the Fomors, who proceeded to pose as her. The player character rescues her from Cichol near the end of the Generation 1 storyline, and Morrighan in return rescues the player when Cichol himself prepares to kill them after the Final Boss. She remains behind to protect the rift between Tir Na Nog and Erinn, and urges the player to become stronger.
She continues to guide the player through the Generation 2 storyline, urging them to become a Paladin and prepare for the inevitable war with Cichol's Fomors. During the Generation 3 storyline, Cichol's forces began to destroy her Statues, and Morrighan herself was finally beginning to lose in her efforts to keep Erinn and Tir Na Nog separate. Tarlach rescues her the second time however, and the two go to the players aid alongside Nao. She finally returns in Generation 10 to chide her sister Neamhain for nearly ruining the situation by attacking Cichol, and then urges the player to save the Soul Stream.



Morrighan appears again in Generation 11, urging the player to return the Caliburn to its alter to prevent the destruction of the world. More notably, some insight is given into her past; Morrighan orchestrated the destruction of the Partholonian race by bringing Cichol and the Fomors into Erinn. She then caused the Fomor-Human war by summoning Milletians into Erinn to destroy the Fomors in turn, and by the end of the Generation 11 storyline, the chain of fear continues on, with Morrighan becoming fearful of the player character's continued growth and swearing to destroy them personally.



However, the return of Nuadha in Generation 12 forces Morrighan to work alongside the player instead, lending her aid to defeat the King of the Gods. Afterward, Morrighan sends the Player on their way to save Neamhain, and more or less apologizes for her prior actions against them.



She appears next in G13, where she attempts to trick the player into killing Shakespeare, and after that fails, she summons The Grim Reaper to do the job instead. G15 shows that she can Cichol used to be friends. Shakespeare's vision of the future warns him that she intends to draw all Milletians into the Soul Stream to have them all killed.

G16 reveals her true motives however; the Soul Stream, which she built, presented a threat to Erinn. In G16 she urges Bella to perform a Heroic Sacrifice to purify the Soul Stream and make it save for Erinn. After succeeding in this, she promises not to harm the Milletians again, and sends Shakespeare home.
Tropes associated with Morrighan:
Cichol
 Remember this... The future that's been promised to you is a lie, my dear uninvited guest.

(Cichol, to Shakespeare)
God of the Fomors and Darkness. A cruel god who seeks to wipe out Humanity to bring about a rather ill-defined utopia of some kind. He was behind the previous wars against humanity by the Fomors, and was the cause of Morrighan's disappearance from the world. He's also an effective manipulator, and has deceived nearly all of the Dragons currently under his command.
Cichol traps and seals Morrighan before Generation 1 begins and poses as her in a bid to wipe out humanity. He plans to revive Glas Ghaibhleann, among many other generally nasty creatures of various types. Cichol is the primary villain of Chapter One (Generations One to Three of the storyline) and during Generation 9 and 10, but he falls Out of Focus during Chapter 2 (Generations 4 to 8), and ends up being usurped as the villain during Chapter Three (Generations 9 to 12), after Neamhain has him killed in Generation 11. He returns at the end of Generation 12 and seems ready to resume his role as the main villain.
G15 reveals that Cichol and Morrighan were once friends, but went separate ways when they argued over how to deal with the Soul Stream; Cichol argued for its destruction, while Morrighan wanted to leave it open to see what affects the Milletians would have on Erinn. Cichol's plan is revealed as well; he wants to purify Erinn with the blood of those who live there.
Tropes associated with Cichol:
Chapter One Characters
The following characters appear prominently in Chapter One of the storyline, which includes Generation One: "Advent of the Goddess", Generation Two: "Paladin", and Generation Three: "Dark Knight"
Tarlach
| | | |
| --- | --- | --- |
| |  A man wearing a light brown robe silently glares this way. He has wavy blonde hair and white skin with a well defined chin that gives off a gentle impression. Behind his thick glasses, however, are his cold emerald eyes filled with silent gloom. | |
The leader of the Three Warriors, and an accomplished Wizard (known in Mabinogi as Druids) who went to look for Tir Na Nog to rescue Morrighan. Tarlach's sister was killed by Fomors, causing him to become obsessed with finding Tir Na Nog, which is known to be a paradise where wishes are granted. When his friend Ruairi received a prophetic vision from Morrighan, begging for help, the two set out to find Tir Na Nog, and were joined along the way by the young Archer Mari. Unfortunately, their efforts ended in failure and the three haven't been heard from since.
Tarlach survived the events at Tir Na Nog, but he was crippled internally and left frequently ill and unable to cast magic anymore. The Succubus Kristell saved his life and nursed him back to health, but, finding himself to be unworthy of her intense devotion, left her and took up refuge in Sidhe Sneachta, where he forages for Mana Herbs by day as a Bear to survive. After the player deduces his identity, he (initially unwillingly) helps them throughout Generation One and Three. Afterward, his involvement in the storyline comes to an end, but he plays an instrumental role in obtaining a Spirit Weapon.
Tropes associated with Tarlach:
Ruairi
A friend of Tarlach's, and one of the Three Warriors. Ruairi received Psychic Dreams for Everyone from Morrighan, urging him to come to Tir Na Nog and rescue Her. The fact that Morrighan is beautiful comes up for him quite often... Ruairi was the swordsman of the group, and excelled at Melee combat, yet too was lost when the expedition for Tir Na Nog failed, and is presumed dead. His younger brother is Rian, the current lord of Emain Macha.
Ruairi finally resurfaces during the G2 storyline, where he has lost a lot of his happy demeanor as a result of the events at Tir Na Nog. The Dragon Morgant, and his daughter Triona, took care of Ruairi, who was comatose since the incident. During his time with Morgant, Ruairi came to trust in the Dark Lord, and when it seemed that Rian, the last living person Ruairi cared for any more (as he believed Tarlach and Mari to be dead) had also died, he pulled a Face Heel Turn and became a Dark Knight like Morgant.
At the end of the G3 storyline, he learns Tarlach and Mari are still alive and betrays Cichol, however, Cichol uses Ruairi as a sacrifice to call out the stone Cromm Cruaich. After the fake is destroyed, the genuine article arrives and decides to take Ruairi with him to ease his suffering. Ruairi later appears in the G8 storyline alongside Cromm Cruaich, who evidently is planning to sacrifice the young man to summon Adniel, the Golden Dragon. However, it eventually is revealed Ruairi wasn't the intended sacrifice, and Cromm Cruaich was killed either way by another dragon, sparing the young man. Ruairi returns alongside the player to Uladh, though he has yet to appear since.



Tropes associated with Ruairi:
Mari
A young archer girl who traveled with Tarlach and Ruairi in the hopes that the Goddess could restore her memory. Despite her youth, her skills in archery were nearly on par with Tarlach's magic and Ruairi's swordplay. She too was lost when the expedition for Tir Na Nog failed. Unlike Tarlach and Ruairi, she actually did die, but her spirit ascended through the Lia Fail and she was reborn on the other side as Nao.
She is the daughter of Mores and Sheila. Her mother sent her away as an infant and sealed her memory in order to protect her, just before she lost her own life. The village elder of Tir Chonaill, Duncan, took her in and raised her as his granddaughter.
Tropes associated with Mari:
Duncan
| | | |
| --- | --- | --- |
| |  A gray beard and long hair shade the deep wrinkles lining the chief's forehead. He definitely looks like an elderly man with decades of untold experiences. But his beaming eyes defy his age, and his deep voice resounds with dignity and authority no young ones dare to disobey. | |
The town chief of Tir Chonaill, and the first NPC met by a human player starting in Uladh upon arriving in Erinn proper. He assists new players in settling in by providing easy initial quests, and inadvertently sets the player upon the beginning of the G1 storyline. Later, his wisdom and experience assists the player numerous times through the G1 and G3 storyline.
After the death of Mari's parents, he raised her as his adoptive Granddaughter, and still maintains ties with her, as Nao.



Tropes associated with Duncan:
Kristell
| | | |
| --- | --- | --- |
| |  This priestess, in her neat Lymilark priestess robe, has eyes and hair the color of red wine. Gazing into the distance, she wears a tilted cross, a symbol of Lymilark, around her neck. She wears dangling earrings made of the same material which emanate a gentle glow. | |
The Priestess of the Dunbarton branch Church of Lymilark. In truth, she's an ex-Succubus who became Human out of her love for Tarlach. Her knowledge of Fomors and their language proves invaluable through Chapter One, and she provides the means for the player to reach Tir Na Nog to save Morrighan. She also saved Tarlach's life after his failed attempt to rescue Morrighan, and nursed him back to partial health before he left her.
Tropes associated with Kristell:
Mores
A peerless master druid, Tarlach's mentor, and a hero of the Second Fomor War, alongisde Lugh Lavada, the legendary Knight of Light. He gave his life to defeat an arch-wizard among the Fomors, and is remembered to this day as a hero. He's Mari's father. In truth, he was betrayed by his close friends and Ruairi's father: the Lord of Emain Macha at the time. He was rendered comatose for several months and left in a dungeon to die, during which time his wife was killed and his daughter spirited away. When he awoke, he was shown the events that happened while he was away and convinced into joining the Fomor's cause.
He began to question his new employer, however, when he was ordered to kill his own daughter and pupil. He sent Tarlach away from Tir Na Nog, where he was found and saved by Kristell, but the death of his daughter left him resenting the Fomors. He eventually discovered that the Morrighan he thought he had been serving was, in fact, Cichol, and began to discreetly work against him. At the end of the G1 storyline he reveals this and attempts to turn on Cichol, but ends up becoming the God's first victim in the storyline.



Tropes associated with Mores:
Morgant/Dark Lord
If you're curious, he's referring to Ruairi, Mari and Tarlach, in order. Or if you want to take a different interpretation, Mari, Ruairi, and Tarlach.
A powerful dark swordsman, serving as Cichol's right hand, and leader of the Ghost Armors. Morgant is responsible for converting most of Cichol's human servants over to his services. Ironically, Morgant himself is a human who has joined Cichol; he is Lugh Lavada, the legendary Knight of Light who has crossed over to become a Dark Knight for reasons yet unexplained. In Generation 2 and 3, he took interest in Ruairi and spared his life, and then trained him in the ways of the Dark Knight. His daughter is Triona, the current host of the Goddess Macha. Morgant was last seen leaving Baol dungeon with Triona, though he promises to return one day. His son, Elatha is later introduced in Chapter 3.
Tropes associated with Morgant:
Dougal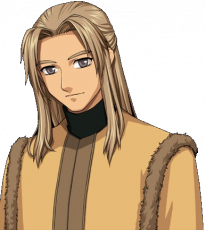 | | | |
| --- | --- | --- |
| |  A young man of medium height with sandy hair down to his shoulders, and eyes the color of ash. His leg seems to be bothering him, as he is shifting his weight onto the wooden cane in his right hand. His well defined chin, serene eyes and lips convey a handsome charm, but his eyes seem dry and desolate. | |
The sole survivor and inhabitant of the Other World's Tir Chonaill, Dougal offers some basic supplies to the player upon their arrival, and directs them in how to find Goddess Morrighan. In truth, he is the soul of the Glas Ghaibhleann found in G1, forced out of his body and into a Human one by Mores and Cichol so that it could be more easily controlled. He helps the player to thwart Cichol's plans in the hope he can return to his proper body if it were defeated. Even after G1 ends, however, Dougal can always be found in the same place, for reasons unknown.
Tropes associated with Dougal:
Esras
 Esras is a beautfiul lady in a resplendent dress that reminds you of a grand Priest's ceremonial robe.

Her skin is so pale that it seems almost transparent, yet her hair is shiny and full of life.

She has a confident manner and her voice rings out in a clear tone.

As soon as she feels my gaze, she stares back cooly at me with her lavender eyes.
Esras is the Prime Minister and Druid of Emain Macha, and is currently the caretaker of the current lord, Rian, Ruairi's younger brother. Due to his dwindling heath however, much of the administration of the city is left in Esras' hands. The player meets her early in G2, where she provides the player the means to begin their training as a Paladin. In truth, Esras is a Necromancer, and was most likely the one responsible behind the death of Rian and Ruairi's father. She resurrected Rian as a sad half-dead shell of his former self to continue her hold on the city. She began to use the Paladins to steal resources from other lands, most notably Bangor, by making them hunt down Kobold Miners, so that she could use the Gold to create Tabhartus, the guardian of Lia Fail, so that she could use Lia Fail to become a God.
The Player faces off with her at the end of G2, and after succeeding Lugh Lavada as a True Paladin, defeats Tabhartus and Esras, but not before being framed as the murderer of Rian in the eyes of Ruairi as a result of Esras' machinations, prompting him to declares It's Personal.
Tropes associated with Esras:
Price
| | | |
| --- | --- | --- |
| |  You can spot this man from a mile away with his bulging muscles, thick arms and neck, as well as his protruding chest. His clothes are a bit shaggy and his headband that is tightly holding up his hair looks to be slightly soaked in sweat. Once you get close to him, you can't help but notice his big smile that covers his face, and his mustache that twitches each time he speaks. | |
| | | |
| --- | --- | --- |
| |  His clothes and face are definitely Price, but something is different about him. With anger and remorse written all over his face, he almost looks like a different person. It's his eyes that have completely changed his persona. Though everything else about him looks gloomy, his eyes are brightly shining like a blazing flame. | |
A traveling merchant who wanders Uladh, selling a collection of strange wears. After the player character gives up their official Paladin Training, Price helps keep and ear out for rumors to steer the player in the direction of a True Paladin, urging them to follow the path of Lugh Lavada, rather than his successor; Redire.
In truth, this is because Price is Redire himself, having lost his pride and nearly executed due to the machinations of Esras. Redire still keeps contacts in Emain Macha, unwilling to simply allow the city to fall to ruin at Esras' hands. He helps the player through the end of G2, and helps the player again in a critical moment of G3.



Tropes associated with Price:
Triona
A mysterious young girl who nurses Ruairi back to health after his fateful defeat in the other world. Introduced in G2 alongside Ruairi. She is Morgant's daughter, and the cause of the Fomor Raid on Emain Macha; Redire found her as an infant in Math Dungeon, and Morgant laid siege to the city to get her back. During the course of the story she falls in love with Ruairi, as he is the only person to accept her.
G3 reveals she's currently the host of the Goddess Macha, and much of Cichol's plans revolve around releasing Macha from Triona. His plans ultimately fail thanks to the intervention of Tarlach and Ruairi's Heel Face Turn. She is last seen leaving Baol dungeon alongside Morgant. She died at some pointer afterwards.
Tropes associated with Triona:
Chapter Two Characters
The following characters appear prominently in Chapter Two of the storyline, which includes Generation Four: "Pioneers of Iria", Generation Five: "Elves of the Desert", Generation Six: "Giants of the Snowfield", Generation Seven: "Ancient Secrets of Irinid" and Generation Eight: "Dragon". Ruairi also appears during Generation Eight: "Dragon", but he is listed among the Chapter One characters.
Alexina
| | | |
| --- | --- | --- |
| |  Between her toned shoulders are slender yet trim muscles and her naturally flowing hair falls softly over her collar bone. Her sparkling eyes are reminiscent of a wild animal and she is always gazing far away across the horizon as if taking in the grand prairies of Iria. | |
The head of exploration at Qilla Base Camp, situated in the area Rano, on the continent of Iria. She provides Exploration tools and Exploration quests, though her involvement in the overall storyline is minimal aside from occasional appearances in Chapter Two's quests, and at the beginning of the latter half of the G10 mainstream.
Tropes associated with Alexina:
Castanea
| | | |
| --- | --- | --- |
| |  The bleary voice coming through some wet paper... Her unfocused pupils glow in the coolness of the air. | |
Leader of the Elves of Connous, Castanea greets Elven Players upon creation of their characters and gets them started on the beginner Elf quests. She also offers alliances to Human Players, and will reward them with an Elf Support card if they agree.
She has a dark side about her, however, as sole person aware among the Elves of their gruesome fate; that someday every Elf is cursed to transform into a Desert Wraith. She alters the memories of all involved to keep this secret.
Tropes associated with Castanea:
Atrata
| | | |
| --- | --- | --- |
| |  Like the snow that glistens under the moonlight, her skin is clear and translucent as if it would melt at any moment. Her gaze is so cold, even the heat of the desert would have no choice but to cool for her. | |
The quiet healer of the Elf Village. She once healed the champion of the Giants, Taunnes, from near-death. Castanea imprisoned and mind-wiped her for it. Crumena attempts to use her to summon a corrupted Golden Dragon in G8, but the player and Taunnes rescue her.
Tropes associated with Atrata:
Yoff
| | | |
| --- | --- | --- |
| |   Peering out from behind his shabby old robe, that looks worn out as if by some powerful wind, his cool red eyes seem to twinkle like the scales of a fish just below the water. The slow, throbbing sound of his voice seems to reverberate hollowly in moist, dark air. | |
Yoff is the Arena Keeper of the Connous Battle Arena, located outside of Filia. He is involved in the early parts of the elf transformation quest. He was once an Elf named Phasneus, but the ancient curse upon his kind transformed him into the Desert Wraith who would become known as Yoff. Castanea wiped his own memory, as well as that of all who knew him, making him an Unperson.
Tropes associated with Yoff:
King Krug
| | | |
| --- | --- | --- |
| |   His imposing red tattoo around his eye, his snow leopard armor and commanding loud voice, makes you quickly realize that you're standing in the presence of the Physis Giant king. | |
King of the Giants, Krug can be found standing outside the chapel in Vales. Together with his wife Queen Kirine, he welcomes newly created Giant characters to Erinn and gives out many of their beginner quests. Like Castanea of the Elves, he offers alliances to Human Players and a Giant Assistant Character Card if they agree.
Tropes associated with King Krug:
Taunes
Blacksmith of the Giants, Taunes was once their greatest warrior before he lost his eyesight and Krug's favor in a botched campaign against the Elves. Taunes appears in G8, saving both Atrata and Iria from Crumena. With her help, he kills Crumena in one shot.
Tropes associated with Taunes:
Cromm Cruaich
| | | |
| --- | --- | --- |
| |  Love them... and take care of them... Whether it be a human being like you, or other living creatures... whether it be the world you live in... or, most importantly, the very being that lives and breathes every day, YOU... Differences will disappear in the name of understanding, and that would be the true calling of beings like you that have come to this world. That's how the world will be shaped and formed... through your very own two hands... The next time you summon me, I hope to see more things in Tir Na Nog go through positive changes... | |
Cromm Cruaich, leader of the Blue Dragons, is a Fomorian Dragon who is a pet of the Goddess, Macha. Petrified Cromm Cruaich is the final boss of G3, or not. It's not the real thing; it's a stone copy. The real one shows up after to take Ruairi away.
Cromm Cruaich served the Fomors during the first war, during which he ate Nuadha's sword Claimh Solas, and killed Nuadha himself. He appears in Chapter 2, intending to use Ruairi to summon the Golden Dragon Adniel. However, Crumena succeeds in tricking the player into aiding him to kill Cromm Cruaich.
Tropes associated with Cromm Cruaich:
Crumena
Crumena is the leader of the Red Dragons in Zardine, he ultimately wants to corrupt the summoning of Gold Dragon. At first, during G8, you help him, under the guise that there are other Dragons trying to prevent the summoning. He has you help him kill Cromm Cruaich, sending him into a fiery demise. He is the final boss of G8, attempting to use Atrata to summon a darkened version of the Golden Dragon, Adniel. Taunes arrives to aid the player, however, and slays the dragon in one blow.
Tropes associated with Crumena:
Belita
| | | |
| --- | --- | --- |
| |   Her fingers comb through her short hair with great familiarity. Over the white volcano smoke appears a subtle smile that speaks of sweet mystery. | |
One of the members of the Zardine expedition, and the local healer and fossil examiner, Belita provides most of the quests during the late part of G8.
Tropes associated with Belita:
Legatus
| | | |
| --- | --- | --- |
| |   Scales that resemble the serene blue color of Caldera and voice as calm and cool as a lake. The eyes of the dragon that are constantly drifting far away quietly tells of the mystery of a recluse. | |
Legatus is a Blue Dragon who helps you in Generation 8. He directs the player to find Ruairi, and then takes them to the site of the final battle.
Tropes associated with Legatus:
Adniel
Adniel is a golden dragon who was resummoned to defend the Irian lands and assault the Shadow Realm. First appears at the end of G8, and features prominently in the G9 final, where he helps the player kill Claimh Solas. Can be summoned once per ingame day to rain destruction on enemies in the Shadow Realm.
Tropes associated with Adniel:
Chapter Three Characters
The following characters appear prominently in Chapter Three of the storyline, which includes Generation Nine: "Alchemist", Generation Ten: "Goddess of Light", Generation Eleven: "Sword of the Gods" and Generation Twelve: "Return of the Hero".
Leymore
Royal Alchemist of the Aliech Regime, Leymore helps the player frequently throughout the Chapter 3 storyline.
Tropes associated with Leymore:
Cai
Another Royal Alchemist, and Leymore's longtime best friend. Acts as The Mole during G9, having given up on the Fomor's ideals after briefly joining them. He pulls a Heroic Sacrifice to save Leymore from his own, and Comes Back Wrong in G10, until the player saves him in the final battle. From there, he supports the player through G11 and G12.
Tropes associated with Cai:
Jenna
A member of the Tailltean Alliance Forces, and a Temple Knight, Jenna spends most of G9 playing the Distressed Damsel, barely appears in G10 at all, but finally becomes important in G11 when Neamhain makes her her pawn to fulfill her plans. Leymore's childhood friend, her forgotten past holds a terrible truth.
Tropes associated with Jenna:
Collen
| | | |
| --- | --- | --- |
| |   His clear, inky eyes gaze intently at you. And his silent expression holds the depth of ancient secrets. | |
The town priest of Tailteann, and a Priest of the Royal Court. He is an old friend of Jenna.
Tropes associated with Collen:
Andras
| | | |
| --- | --- | --- |
| |   A blood-red cape billows behind her. Her uniform practically goes all the way up to her chin, giving her an air of austerity and resolve. | |
Human Praetorian Captain of Taillteann. She is in charge of giving out most of the quests for Generation 9: Alchemist. She is also the adopted daughter of Lezzaro, Minister of the Royal Palace.
Andras is actual an elf, her ears hidden by the scarf she wears around her head. She has been friends with Elatha since he saved her life when she was ten years old.



Tropes associated with Andras:
Karpfen
| | | |
| --- | --- | --- |
| |   You can almost feel the chills of her native snow fields emanating from the crimson tattoo around her eyes and the confident bellow of her voice. | |
Sister of King Krug, and leader of the Giant Expeditionary Force in Tailteann.
Tropes associated with Karpfen:
Granat
| | | |
| --- | --- | --- |
| |   Although his smile and voice appear serene, you sense the strong spirit of a Connous Warrior inside him, granting him confidence even in the midst of a tense situation. | |
Leader of the Elf Expeditionary Force in Tailteann.
Tropes associated with Granat:
Berched
| | | |
| --- | --- | --- |
| |   His age is apparent through his deeply chiseled features, and his voice is faintly reminiscent of a woodwind instrument echoing across a wide plateau. | |
A druid who lives near Tailteann's Stonehenge. His granddaughter was Cai's lover, but she was sickly and died. He also knew Elatha, and saved him at some point years ago. He was the mentor of Mores, who in turn was the mentor of Tarlach.
Tropes associated with Berched:
Dorren
| | | |
| --- | --- | --- |
| |   The steam escaping from the fiery hot Alchemy ovens dances around an elegantly dressed older woman. | |
The town alchemist of Tailteann. Many quests in Chapter Three involve helping her with her research. G12 reveals she's one of the Four Vates; the most skilled and respected Alchemists in the Aliech Regime.
Tropes associated with Dorren:
Elatha
| | | |
| --- | --- | --- |
| |   His dark red eyes mimic the color of the skies in the Shadow Realm, and his deep, unfocused voice oozes like thick liquid through the dead air. | |
An incubus who spends his time in the Shadow Realm, known as the Shadow Walker. He appears to have a close friendship with the Human Praetorian Captain, Andras.
He is in fact the son of Neamhain and Morgant, and brother of Triona.



Tropes associated with Elatha:
Tethra
A Fomor commander whom you meet multiple times throughout the Generation 9 storyline.
Tropes associated with Tethra:
Fallon
The leader of the Alliance forces stationed in Tailltean, Fallon summons all players of a certain level to request their aid in the Shadow Wars. Unfortunately, his squad is ambushed and decimated shortly into G9 and Fallon himelf is not heard from from again. Until it's revealed late in G9 that he's betrayed humanity and joined the Fomors to see his dreams come true. He's the first to die at the hands of Claimh Solas; the final boss of G9.
Tropes associated with Fallon:
Neamhain
Goddess of Light, also known as "The Irinid", a spirit worshiped in Iria. Also the wife of Lugh Lavada, and mother of Elatha and Triona. After witnessing the wars of Humans, Elves and Giants, she gives up on all races and makes it her goal to purge Tir Na Nog. In the long run, she often ends up unknowingly working for other villains, and her powers are ultimately stolen by Nuadha in G12, leaving her on the brink of death. Her current state is unknown.
Tropes associated with Neamhain:
Python Knight

Tuan mac Cairill, the Prince of Partholon
The leader of the Python Knight armies that roam the Shadow Realm's Tara Castle.
He is actually the ancient Partholonian prince, and used the player's character to reawaken the Brionac so that he can ressurect his fallen race. He warns the player not to trust Morrighan, and indeed, her true colors begin to show after his defeat.
Tropes associated with Python Knight:
Helvetius
Leader of the Corrupt Alchemists faction. He plays a small role in the beginning of Chapter 3, mostly taunting Jenna in shadow missions. He was once good friends with Lennox. His role in Chapter 12 is somewhat larger; culminating in a large scale battle between the Royal and Corrupted alchemists.
Tropes associated with Helvetius:
Lennox
| | | |
| --- | --- | --- |
| |  The top alchemist in the entire Aliech Kingdom glances at you with a curious expression. The thin wrinkles around his forehead make him seem wise and experienced. | |
A high-ranking Royal Alchemist, inventor of the Alchemy Tower Cylinder, and Leymore's father.
Tropes associated with Lennox:
Nuadha
The king of Mabinogi's gods. Nuadha lost his original right arm in battle, but replaced it with a silver prosthetic. He was killed by Cromm Cruaich later, but returned to life as a result of the Corrupted Alchemist's homunculus experiments upon Claimh Solas. Upon his return, he becomes intensely afraid of death, and set out to gain immortality. Morrighan and the player join forces to defeat him, and upon his defeat he's sealed away inside Falias. G14 reveals he was later moved to Avon to be imprisoned there at some point.
Tropes associated with Nuadha:
Eabha
| | | |
| --- | --- | --- |
| |  A boy with a cowlick atop a bowl-cut haircut. His bright eyes and slight smile make him seem friendly and approachable. | |
Eabha is a young boy working as Dorren's apprentice, who helps her out by selling alchemy supplies.
Eabha is actually a Homunculus, created when Dorren, Lennox, Helvetius, and another powerful alchemist were asked by the Ailiech Royal Regime to save a dying child.
For some reason, Eabha is identical to the Gatekeeper of Falias.
Tropes associated with Eabha:
Chapter Four Characters
The following characters appear prominently in Chapter Four of the storyline, which includes Generation Thirteen: "Hamlet", Generation Fourteen: "Romeo and Juliet", Generation Fifteen: "The Merchant of Venice" and Generation Sixteen: "Macbeth".
Shakespeare
Yeah, you read that right. The same playwright William Shakespeare from real life.
Shakespeare, also known as the Tragic Bard, lived during the time of Partholon, in the city of Avon. Being a seer, he foresaw the destruction of Partholon as the result of the plague Morrighan and Cichol unleashed, for the Partholonian's abuse of the Caliburn. When he was unsuccessful in warning the Partholon, Shakespeare saved the children by luring them away with his Enthralling Performance. They went on to become the Tuatha de Danann.
The gods, infuriated by Shakespeare's interference, imprisoned him within Avon and moved it to another dimension, where he remained for untold years. During his imprisonment, Shakespeare wrote several plays, including Hamlet and Romeo and Juliet and spent his time creating the Paper Sheep and Paper Butterflies, and divided Avon into equal light and dark halves.
At the start of G13, Morrighan appears before the player to warn them that Shakespeare had escaped from Avon, and to ask them to help stop him. Instead, the player ends up helping him throughout G13 and G14, bringing about Morrighan's anger.
In G15, it is revealed that Shakespeare himself is the very first Milletian, who somehow traveled over from our own world into Erinn. During his early days in Erinn, Shakespeare met and fell in love with a girl named Bella, but they were separated when Cichol attacked the two, warning that Shakespeare was an uninvited guest and should leave.
Shakespeare sets off the plot of G15 by telling Shylock to attempt to take Antonio's heart. In reality, he intended to drive Shylock into despair so that he would willingly give up his body to Shakespeare, so that Shakespeare could use it to escape Morrighan's eyes forever. Before he could finish his plan, Morrighan caught up with him and recaptured him. The generation ends with a dark vision of the future, showing all Milletians dead at Bella's hands.



in G16, Bella and Shakespeare reunite, and she deceives him into killing the King of Tara. This is all a part of Lugh Lavada's plan to take the throne of Erinn. Shakespeare spends the rest of the Generation preparing for a confrontation with Bella, only for Lugh to kill her before he can see her again. In the end, with Bella dead and no reason to remain in Erinn, Shakespeare demands Morrighan to send him home, and she obliges. Upon his return, the skills and memories he learned in Erinn were lost forever.



Tropes associated with Shakespeare:
Marlowe
Hamlet
Horatio
Claudius
Gertrude
Polonius
Laertes
Ophelia
Romeo
Juliet
Mercutio
Tybalt
Antonio
A nobleman merchant based primarily in the Dominion of Belvast. He becomes best friends with Bassanio after saving him from a shipwreck and maintains a merchant rivalry with Shylock.
Unlike the other Generations in Chapter 4, the backstories of Antonio and the other characters from The Merchant of Venice are only loosely based upon the original play, and instead of being actors within the Globe Theatre, they are actual people living in the world of Erinn.
Tropes associated with Antonio:
Bassanio
A former nobleman burdened with debt. Long ago, he met and fell in love with Portia in Iria while traveling the world. While he would not permanently stay in Iria, nor would he bring her along, he promised to come back to her once he wished to settle down. The emergence of his debt curbed those plans, as he wished to only come back to her a wealthy man, and he resorted to alcoholism.
Tropes associated with Bassanio:
Portia
| | | |
| --- | --- | --- |
| |  A girl with lovely blonde hair and blue eyes is looking you, smiling. Her rosy cheeks radiate with mischievous mirth. As if greeting a friend after a long time apart, she throws both of her hands in the air in greeting. | |
An elven heiress in Filia. Her beauty is known across Erinn as being comparable to even that of Morrighan's, and many men from around the world have traveled to Filia in hopes of marrying her. However, her deceased father had set up a riddle for those who would dare propose; those who answered wrongly would not be allowed to marry her. Portia, however, had already found a lover in Bassanio, and waited for his return after his departure from Iria until a section of the Memory Tower containing her memories of him would break apart and distort her memories of him. After the Milletian returns the piece to her, she remembers and finds a new resolves to meet with Bassanio once more.
Tropes associated with Portia:
Shylock
| | | |
| --- | --- | --- |
| |  The sharp angles of his cheekbones and chin, along with his slate blue eyes, give him an intimidating appearance. He winces in pain now and then, deepening the furrows and wrinkles of his forehead. With cold eyes, Shylock glares at you and speaks. | |
A miserly aged man, and a business rival of Antonio's. Years ago, Shylock lost his wife and daughter to the cruelty of a noble named Videk. After Videk dies, Shylock holds Antonio responsible, reasoning that Antonio did not aid him in his time of need despite having the ability to do so. Antonio approaches Shylock early in G15, asking for a loan of 3 million gold. Shylock agrees, provided that Antonio pay back the loan in three months or give up his heart to Antonio.
In reality, Shakespeare made contact with Shylock just before Antonio did, and said he would reunite Shylock with his loved ones, provided he could bring Shakespeare Antonio's heart. In reality, Shakespeare knew Shylock wouldn't go through with it, and merely wanted to push Shylock far enough into despair that Shylock would give his body to Shakespeare so he could escape Morrighan's eyes forever. In the end, Shakespeare sends Shylock into the story of Golvan to reunite him with his family.
Tropes associated with Shylock:
Bella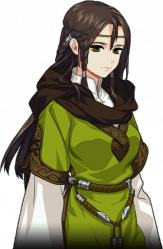 What a nightmare... I remember it so clearly. The Milletians...they were all dead. Dead...by Bella's hand. This is war on the Milletians!

(Shakespeare concerning Bella)
A strange girl introduced in G15 that Shakespeare meets just as he arrives on Erinn, the two spend three years together and fall in love during that time. Bella is suddenly torn from Shakespeare when a group of Fomors attack the two lovers and take Bella way, leaving Shakespeare to die. At the end of G15, the player sees a bleak future, in which Bella murders them and Morrighan declares the extinction of the Milletian race.
In G16, Bella reluctantly tricks Shakespeare into killing the King of the Aliech, allowing Lugh Lavada to take the throne. Cichol reveals she's the "Emissary of Destruction" and has the power to control the minds of others. She poses to Lugh as his deceased daughter Triona, but near the end of G16 he sees through her facade and slays her. With her last breath, Bella gathers the souls of the recently killed and uses them to purify the Soul Stream, ending its dangers to Erinn.



Tropes associated with Bella:
Owen
| | | |
| --- | --- | --- |
| |  His silver hair is cropped and combed with authoritative precision. Though his skin appears fine and pale, and he is impeccably dressed, you cannot help but notice the subtle signs of aging on his face. There is a hint of longing in his eyes, as he gazes out over the sea. | |
The Fleet Admiral of the Aliech Regime, stationed at Belvast. Owen achieved prestige when he managed to capture the unassailable Belvast Island, which was a Pirate stronghold at the time. He achieved this through landing hot air balloons on the island, rather than attacking by sea.
Owen aids the player throughout G15 and G16, especially by providing Princess Eirawen safe haven on Belvast, and leading the assault against Lugh Lavada.
Owen appears to be based off Macduff from the original Macbeth.
Tropes associated with Owen:
Scathach
| | | |
| --- | --- | --- |
| |  A beautiful lady stands alone in the wreckage. Though the sun filtering through the rocks cast her in a warm light, a chill runs through your bones as you approach. What is this cold ire in her eyes...? | |
Admiral Owen's lover, cursed into taking the form of a hideous and malevolent witch during the day. She's forced to live alone in a cave in Scathach Beach to hide her curse. Her Witch form plays a role during G16 by warning the player of what Shakespeare is up to.
Scathach is partially based off the three witches from Macbeth except that she is only one witch.
Tropes associated with Scathach:
Eirawen
| | | |
| --- | --- | --- |
| |  'The princess carries herself with all the grace and elegance you would expect from the heir of Aliech. A pair of violet eyes burn with determination on her snow-white face.' | |
The abrasive princess of the Aliech Kingdom of the Uladh continent. As King Ethur Mac Cuill II's seemingly only child, she is the first in line of succession for the throne. However, her inheritance of the throne is called into question with the appearance of the legendary Knight of Light Lugh Lavada, who reemerges in time to demand his right to the throne. Suspicious of Lugh Lavada and the nature of her father's death, she asks for the aid of the Milletian in order to find the truth and help reclaim the throne.
Her role in Generation 16: Macbeth parallels Malcolm from the original play, while her father parallels King Duncan.
Tropes associated with Eirawen:
Lugh Lavada
The legendary "Knight of Light", who led humanity to victory during the Second War of Mag Tuireadh, in place of the petrified Morrighan and deceased Nuadha. In honor of his heroism he was given the throne following the war, but he later abandoned it and vanished somewhere into the world.
He returns at first as a high ranking Dark Knight, calling himself Morgant during that time. He later returned in his original Paladin form to conspire for the death of the King, in order to retake his throne. He forms a pact with the undead of Peaca dungeon, intending to use them to snuff out all life in Erinn. He's the final boss of G16.
Lugh Lavada is a stand in for the eponymous character from the original Macbeth.
Tropes associated with Lugh Lavada:
Other Characters
Eiry
A spirit sealed within a basic weapon of some sort, Eiry is given to you directly upon your arrival to Erinn. She serves a double purpose; to give out Tutorials, and to serve as a slightly better than average first weapon to use. She leaves the player's side for good after reaching level 26 (Human), or completing a certain beginner quest (Elf and Giant).
Tropes associated with Eiry:
Ferghus
| | | |
| --- | --- | --- |
| |  His bronze complexion shines with the glow of vitality. His distinctive facial outline ends with a strong jaw line covered with dark beard. The first impression clearly shows he is a seasoned blacksmith with years of experience. The wide-shouldered man keeps humming with a deep voice while his muscular torso swings gently to the rhythm of the tune. | |
The smith of Tir Chonaill. Notorious amongst players for his poor repair skills; many a blade or armor plate have met an untimely end due to his ineptitude.
Tropes associated with Ferghus:
Cecilia
A young girl from Emain Macha who was recently pushed into Commerce by her best friend Ysolte. The two are saved by a martial artist named Keane, and Cecilia falls helplessly in love with him. Later on in the side quest, Cecilia begins to learn martial arts from Keane. Depending on the player's actions during the short side story she appears, in she can either marry Keane or fall in love with the player instead.
Tropes associated with Cecilia:
Ysolte
Cecilia's assertive best friend, Ysolte is seemingly less then impressed in Keane, but falls for him as well. Like Cecilia, Ysolte learns martial arts under Keane.
Tropes associated with Ysolte:
Mina
Keane's first disciple, she helps in assist the two girls at the start of the side quest. She becomes the girl's romantic rivals after their designs on Keane become clear. Mina was once a Bandit Siren, until Keane defeated her in battle.
Tropes associated with Mina:
Keane
Community content is available under
CC-BY-SA
unless otherwise noted.