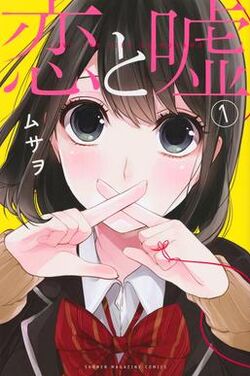 Love and Lies (Koi to Uso) is a 2014 manga.
In a surprisingly not that bleak future considering what what we are about to tell you, the Japanese government has determined that by the age of sixteen every Japanese citizen must have assigned a partner to each other, with the objective of breeding not only the best but the most children possible. Our protagonist, Yukari Nejima, doesn't want this fate, because he has already fallen head over heels of his childhood friend Misaki Takasaki. But laws are laws, and he is assigned to marry a young girl called Ririna. What Hikari can even do in a situation like this?
Written and drawn by Musawo Tsumugi. Published by Kodansha with release online by DeNA's Manga Box app in multiple languages.
Tropes used in Love and Lies (manga) include:
Community content is available under
CC-BY-SA
unless otherwise noted.