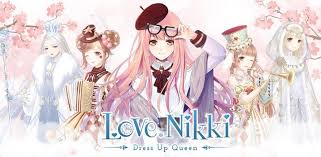 Love Nikki: Dress Up Queen
is a mobile game that mixes elements of dress-up and RPG, developed by the Chinese companies Suzhou Nikki Co. and Elex. It's actually a part of several mobile games (near all of them discontinued) featuring a teenage girl named Nikki, and the first one to be officially distributed outside of China. Aside of the original Chinese version (known as Miracle Nikki and released in 2015), there are independent servers for the West, Japan, South Korea, Taiwan, etc. etc.
The premise follows a very fashionable and kind highschool student from Earth, Nikki, and her talking cat Momo. One day, they find themselves Trapped in Another World: they have been summoned into the continent of Miraland by one of its rulers, Queen Nanari from the Lilith Kingdom . In Miraland there are no wars or big conflicts, since the citizens of its seven lands (Lilith Kingdom, Cloud Empire, Northern Kingdom, Ruin Island, Apple Federation, Pigeon Kingdom and Republic of Wasteland) resolve their differences on the catwalk instead. The closest to an all-out war took place years ago in the form of a massive Fashion Show known as the Nine Days War, and two amateur stylists shared the glory of victory: Princess, later Queen Elle from the Pigeon Kingdom, and a Mysterious Woman only known as "Hostess L". Ever since then the first has used her newfound power to spread the iron-fisted influence of her natal Pigeon Kingdom, whereas no one knows where the second went. So Queen Nanari hopes that since Nikki is not from Miraland, she'll be able to restore the balance between the Realms.
Nikki decides to go forward and fulfill this new mission, with the help of Momo and many other friends that she meets in her travels: the energetic and plucky Bobo, the aloof yet gentle Lunar, the resourceful heiress Kimi and her companion Mr. Joe, the whimsical and talented Royce, Royce's serious model Neva, etc. And as she finds out more about the fashion shows and the story of Miraland, she begins to uncover her own talents and develop more as a person...
---

Love Nikki : Dress Up Queen includes the following tropes:
Gameplay Related Tropes
Mobile Phone Game: The game is avaliable for iOS and Android smartphones and tablets.
Item Related Tropes
Costume Porn: But of course. Near every single piece of clothing, wig, accestory, etc. has many details. The more elaborate the outfit/piece is, the hardest to craft/get/etc. it is.
Story and (general) Character Related Tropes
Community content is available under
CC-BY-SA
unless otherwise noted.