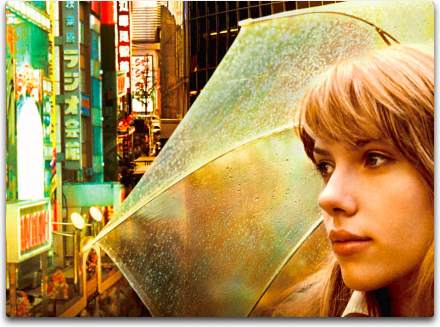 I can't tell you how many people have told me that they just don't get Lost in Translation. They want to know what it's about. They complain "nothing happens." They've been trained by movies that tell them where to look and what to feel, in stories that have a beginning, a middle and an end. Lost in Translation offers an experience in the exercise of empathy.
Lost In Translation is the second film directed by Sofia Coppola after The Virgin Suicides. It stars Bill Murray and Scarlett Johansson, with Giovanni Ribisi and Anna Faris in notable supporting roles.
Bob Harris (Murray) is a Hollywood actor past his prime, who despite his fame and success feels existentially empty. He goes to Tokyo to play in a commercial for the Suntory whiskey brand. Plagued by insomnia, he meets Charlotte (Johansson), the young and bored wife of a fashion photographer (Ribisi). On the outskirts of the movie is Kelly (Faris), a movie star who is promoting her newest flick.
With too much time on their hands and no idea what to do in Japan, Bob and Charlotte drift together and become emotionally close.
---
Contains examples of:
 The Director: (in Japanese, to his interpreter) The translation is very important, okay? The translation.

Interpreter: (in Japanese) Yes, of course. I understand.

The Director: (In Japanese, to Bob) Mr. Bob. You are sitting quietly in your study. And then there is a bottle of Suntory whisky on top of the table. You understand, right? With wholehearted feeling, slowly, look at the camera, tenderly, and as if you are meeting old friends, say the words. As if you are Bogie in Casablanca, saying, "Here's looking at you, kid,"—Suntory time!

The Interpreter: (In English, to Bob) He wants you to turn, look into camera, okay?
Community content is available under
CC-BY-SA
unless otherwise noted.