This page is under construction.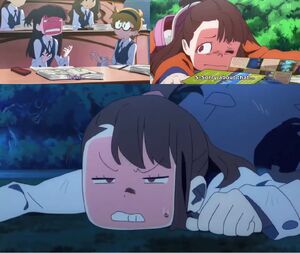 A list of
Funny Moments
in
Little Witch Academia
.
General
A recurring joke/tradition of the series owing to Akko's own Butt Monkey status is that Akko has her face flat with bruises from mild harm:

The first short film has her face smacked against the desk by a small fairy summoned by a professor for dozing off.
In pilot episode of TV Series, "Starting Over", Akko fell flat on the face after unintentionally crashed onto Sucy. Other instances include in "Don't Stop Me Now" and "Stanship Take-Off!".
Chamber of Time game, she got crashed against the ground after failed to stop

an animated skeleton model under the influence of a Magic Key and Lukic's concoction

for a second time.

Akko's first meeting with Sucy is always a hilarious one owing to latter's status as Token Evil Teammate:

Teri Terio manga has Sucy tricked Akko to uproot a baby mandrake with... let's just say amusing result if you ignore the nose-bleed.
TV Series has greater effort and humor: In an effort to make the brunette leave her alone, Sucy first animate Akko's Alcor plushie which tthen comically pecks her in the eye without warning and later, silently gives a handshake with illusory snakes to scare the daylight out of her when the former didn't work.

Keisuke Sato manga's adaptation of aforementioned situation has more subtle way to shut the motormouth Akko up: Turn her mouth into a closed zipper and run!
Short Films Continuity
In addition of being somewhat nightmarish and awesome, the moment when Sucy melts a minotaur with Festering Potion counts as Narm since she remarked, "I guess it was too strong."
In The Enchanted Parade Akko seems to lose count about how much she and her roommates got called into Student Counseling Room.
Anime Continuity
Keisuke Satō Manga
TV Series
Episode 7:

The episode begins with Lúkic terrifies her students by describing morbid consequences of committing fraud and reviving the dead in creepy and unsettling manner... until Akko turns the mood 180 degree by asking whether the whole thing will be included in the oncoming exam, leaving the speechless creepy professor nodds awkwardly.

Episode 10:

The episode's recurring gag is that whenever a person is stung by a Cupid Bee and then sees his/her crush, said crush's appearance is drawn in Shōjo manga-esque style
Chamber of Time
Community content is available under
CC-BY-SA
unless otherwise noted.