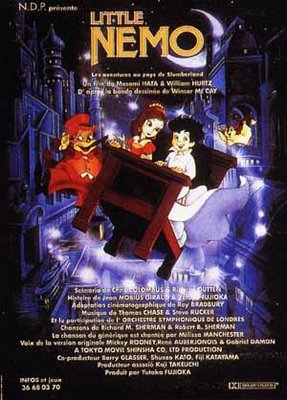 Little Nemo: Adventures in Slumberland is an Animated Adaptation of the Comic Strips Little Nemo by Winsor McCay.
It was produced in the late Eighties in Japan, where it was released in 1989 with limited release in the US. In 1992 a re-cut edition was released in the US. This film also served as the basis for Nemo and Little Nemo the Dream Master, two Capcom-developed video games for the arcade and NES, respectively, in 1990. The latter ultimately became more well-known than the both the film and the comic itself.
---
Little Nemo: Adventures in Slumberland provides examples of the following tropes:
 The Nightmare King: Ooo, pajamas do scare me so! Mwahahaha!
Community content is available under
CC-BY-SA
unless otherwise noted.