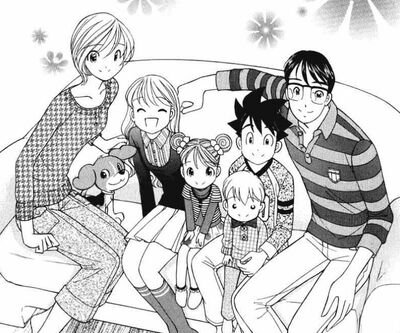 Shoutarou Ninomiya receives an award for fifteen years of being the only employee at his company never to take a vacation or day off. He rushes home excitedly to show the certificate to his wife Yuri... who hands him divorce papers and the care of their two sons, Youta and Ryouta. Hoping it will make Yuri forgive him and come back, he quickly buys the eponymous orange-roofed house, which he knew that she liked.
Cut to the beautiful Natsumi Okajima and her two daughters, Runa and Rina, coming back from a trip to visit her sister. .  Entering their house, they find a strange woman stepping out of the shower, who promptly runs into the bedroom crying "Your wife and kids are back early!" Now, freshly divorced and wanting to start anew, she splurges the settlement money on a cute house with an orange roof...
Shoutarou and his sons, and Natsumi and her daughters both show up to move in on the same day. Turns out they've both been tricked by a Shady Real Estate Agent and bought the same house. Unable to locate the con or get help from the police and with nowhere else to go, they have no choice but to temporarily move in together. . .
A manga by Noriyuki Yamahana, the author of Yume De Aetara, Little Hose with an Orange Roof (オレンジ屋根の小さな家, Orange Yane no Chiisana Ie) is a manga from Shueisha's Business Jump; it lasted 64 chapters and was published in 8 tomes. It follows the gradual knitting together of two half-families, and the growing sparks between Natsumi and Shoutarou, along with his attempts to readjust from a workaholic to a family man. A good read for anyone old enough to feel the usual high school romance fare isn't really relevant to them anymore, or someone who does like highschool romance but wants to try something else.
---
This eight-volume series provides examples of:
Community content is available under
CC-BY-SA
unless otherwise noted.