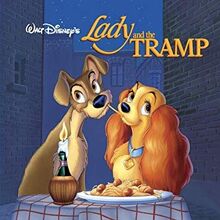 Originally released in 1955, Lady and the Tramp is the 15th entry in the Disney Animated Canon. It tells the story of a loving couple and their family pet from the dog's point of view. Big changes are coming to Jim Dear and Darling's family, something that Lady has trouble understanding. Meanwhile, Lady herself has caught the eye of the Tramp, a stray dog (and ladies' man) who prefers the uncertain freedom of the streets to a collar, which he views as slavery. He tries to convince Lady to live more recklessly, but she believes just as strongly in The Power of Love.
The movie spawned a series of comics, starting with the newspaper strip Scamp: Son of Lady and the Tramp, Scamp also stars in a direct-to-video sequel to the movie, Lady and the Tramp II: Scamp's Adventure, which was released in 2001.
---
Tropes this Disney classic provides examples of:
Artistic License Animal Care:

Serving coffee and doughnuts to your dog is not the wisest thing to do. While the doughnuts are simply lacking in nutrition, coffee is outright toxic to dogs.
Additionally, leaving a muzzle that prevents a dog from biting on a dog for longer than 30 minutes can be extremely dangerous for the animal.
Swatting your dog because it's misbehaving is really not something you're supposed to do.note  This one is a case of Values Dissonance, because corporal punishment (for both dogs and human children) was perfectly acceptable at the time of the film's release (and especially in the time period of the film).
Asian Buck Teeth: The Siamese cats have slanted eyes and, yes, two prominent front center fangs. They also speekee Engrish.
Author Appeal: The movie is set during The Gay '90s because Walt Disney was a big fan of that particular time period, and the town in the movie was inspired by his own hometown of Marceline, Missouri.
Notes
↑ In total, it took Disney 52 years before killing another main protagonist (antagonists were killed, but they don't count). In the many years between, all protagonists got Disney Deaths, at most.
↑

Watermelon and chop suey are generally considered warm weather food, either way.
Community content is available under
CC-BY-SA
unless otherwise noted.