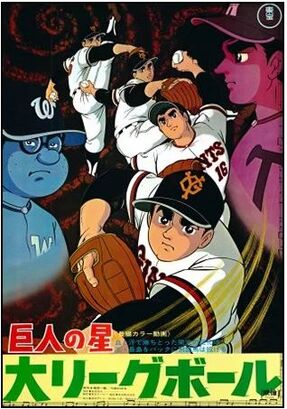 Kyojin no Hoshi (Japanese: 巨人の星,
Star of the Giants
) is a Japanese sports manga written by Ikki Kajiwara and illustrated by Noboru Kawasaki. It was published in Weekly Shonen Magazine through 1966 and 1971, spawning 19 volumes. If someone wants to know where the
Sports Story Tropes
 in Japan come from, they need to not look further:
Kyojin no Hoshi
is the
Trope Codifier
of almost all of them.
The protagonist of this story is Hyuuma Hoshi, a young boy who lives in a very poor household with his father Ittetsu and his older sister Akiko. Ittetsu used to be a very well-loved baseball player until World War II, where he sustained a severe injury that put him out of the race forever. The bitter, impoverished man has not lost his passion for baseball, however, and he sees his son as someone who can go all the way to baseball stardom. As such Ittetsu subjects Hyuuma from early childhood to all kinds of Training from Hell and an extremely harsh mental and physical treatment (now seen as downright abusive), all to shape him into the best and most powerful player in Japan. And as Hyuuma properly immerses himself in the world of baseball, he finds great friends (like his partner Chuuta Ban), just as great rivals (like Housaku Samon and Mitsuru Hanagata) and begins to devote himself to the sport in body, mind and soul...
While not the first baseball manga (that honor belongs to Kazuya Fukumoto and Tetsuya Chiba's Chikai no Mayu, which ran in 1961), this was the second sports anime television series broadcast in Japan in 1968 (the first one was 1967's Macha Go Go Go! / Speed Racer), reaching 182 episodes and airing from 1968 to 1071.
The series later spawned: a sequel manga (Shin Kyojin no Hoshi, which ran from 1977 to 1979 and had 11 volumes), two anime sequels (1977's Shin Kyojin no Hoshi and 1979's Shin Kyojin no Hoshi II), several anime movies (The Movie itself [1969 and then one of 1982], Ike Ike Hyuuma [1969 as well], Dai League Ball [1970] and Shukumei no Taiketsu [1970]), a 13-episodes OAV centered on Hyuuma's friend and rival Mitsuru Hanagata (Special Edition: Fierce Tiger Hanagata, 2002), a PS2 game by Capcom, an Alternate Retelling manga also from Mitsuru's POV (Yoshiyuki Murakami's Shinyaku "Kyojin no Hoshi" Hanagata, 2016-2010), a series of pachinko games, and an Indian animated remake that replaces baseball with cricket (Suraj: The Rising Star, 2012). As a bonus, the character designer was none other than the late Shingo Araki, who was and still is famous for working in classic series like Ashita no Joe [1] , Saint Seiya and Rose of Versailles.
(Also, rather curiously, the ladies from CLAMP wrote BL doujinshi about the series)
This page is in constant construction!
Tropes used in Kyojin no Hoshi include:
 Tropes from the First Part (Kyojin no Hoshi)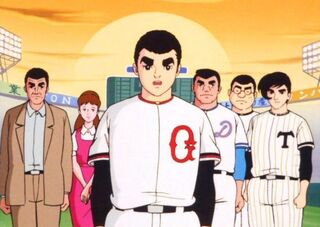 Abusive Parents: Ittetsu Hoshi sincerely and really wants to shape Hyuuma into a baseball star, a bigger one than he could've ever been. He could've done so without forcing him go to through massive Training From Hell, without snapping on him when Hyuuma talked back to him, without pretty much forcing Akiko to take up a maternal role towards Hyuuma due to all of this, etc. Considering the setting AND the time this series was created in, however, it's likely that Ittetsu was intended to be a case of Parents as People and Tough Love than this trope.
Animation Bump: Back in the 60's the mere fact that the movies were in full color meant this, since many home TV's in these days were black-and-white ones.

The 2002 OAV's centered on Mitsuru mostly re-use scenes from the original series, but the additional ones inserted to wrap up the narrative (like those linked) are better animated.

Ascended Extra: Mitsuru becomes this in the OAV's and the alternate retelling manga.
Bash Brothers: Hyuuma and Chuuta are a sports version of this.
Big Fancy House: The first episode of the Special Edition OAV begins in the Hanagata family's lovely country house by a lake.
Bowdlerise: The scene where

Hyuuma goes to Mina's house and finds her dead

was taken out of the Italian dub.
Brooding Boy, Gentle Girl: A flashback in episode 94 shows that the Hoshi parents were this to a letter. The mother's death is implied to be one of the biggest reasons why the already alcoholic and heavily depressed father, who was a seemingly normal dad before the war itself, became... well, who he is.
Calling the Old Man Out: The sweet and quiet Akiko can play this trope straight towards Ittetsu, if Hyuuma needs it. She eventually gets fed up with Ittetsu's treatment of her brother in regards to him and Ruri... and soon she moves out from the family home, leaving the tearful man alone.

She does it again when Hyuuma's injury in his left arm reaches career-ending levels, blaming Ittetsu's harsh treatment of him for it. Mitsuru has to calm her down from that one.

Career-Ending Injury: Several injuries suffered by the characters here will either risk becoming this or downright go there. Even Mitsuru (in the past) and Hyuuma go through these. Hyuuma's specific case was supposed to be the catalyst of the Downer Ending, but after years Kajiwara convinced Kawasaki to re-start the series and create Shin where Hyuuma manages to re-learn how to play.

The reason why Ittetsu had to retire was one of these, which he got in World War II.

Cool Big Sis: Akiko tries to be this and a mother figure to Hyuuma. He certainly considers his "Oneechan" as such and clearly adores her.
Dance of Romance: Hyuuma and Rumi. Sort-of.
Defeat Means Friendship: Chuuta did NOT like Hyuuma at first. When Hyuuma proved himself to be stronger and more determined than he believed, they became besties and partners.
Dub Name Change: In the Italian dub:

Hyuuma --> Tommy Young
Ittetsu --> Arthur Young
Akiko --> Giusy Young
Chuuta --> Charlie Red
Mitsuru --> Alexander Mitchell
Housaku --> Simon Holden
Kyouko --> Alice

Fingore: Hyuuma gets a bleeding injury on his thumb during a match with

Housaku

's team. It brings quite the problems when he plays against Mitsuru afterwards, and Mitsuru himself is appalled when he finds out.
Friendly Rivalry: Hyuuma has these with Housaku Samon and especially Mitsuru Hanagata.

Who, ironically, later becomes his brother-in-law.

Hair Decorations: Rumi has a light pink headband with a bow.
Heroic BSOD: Hyuuma suffers more than one of these through the story, like a rather hilariously memetic one has has when no one comes to spend Christmas with him... and a very, very dramatic one when

Mina dies and he can't be there for her.

Heterosexual Life Partners: Chuuta Ban and Hyuuma Hoshi, partners and best friends.
Hospital Hottie: Hyuuma's prospect girlfriend Mina Hidaka, who works in a small clinic. Ironically, she's also an Ill Girl.
Idol Singer: Rumi Tachibana.
Ill Boy: One could say that,

Hyuuma

becomes the first big example of the "

sportsman who isn't ill but does have a very serious injury

" variation so common in Sports Manga. The first part of Shin depicts how he gets better via re-learning how to use his right hand rather than his injured left one...
Ill Girl:

Mina Hidaka, who has malignant melanoma.

Japanese Delinquents: Kyouko, who looks like a proto-Ganguro (sans deep tan).
Japanese School Club: Joining a famous school's baseball club is a totally vital step to become a famous baseball player, so Ittetsu literally works himself sick to gather enough money so he can enlist Hyuuma into the rich kids' school Seiun Institute and help him get scouted.

Chuuta Ban is not only the son of the director of the Seiun school, but the star of the judo club. After befriending Hyuuma, he switches to the baseball team and becomes his friend for life.

Kimono Is Traditional: Chuuta Ban's father aka the director of Seiun School is almost always seen in a traditional black male kimono.
Lonely Rich Kid: Mitsuru Hanagata is the only child of an insanely rich family dedicated to car businesses. But he doesn't have many friends and even used to be bullied, especially when he lived abroads. The alternate re-telling that has Mitsuru as the protagonist focuses quite a bit on this side of him.
Manly Tears: PLENTY of these. One of the most iconic examples is when Mitsuru finds out that Hyuuma played against him despite having a bloody and painful injury on his thumb coming from the match against Housaku. When all is explained, both young men embrace one another in tears.
Missing Mom: Hyuuma and Akiko's mother, who died of illness and exhaustion when they were little kids.

Mitsuru's mother also passed away when he was a kiddo.

Never Got to Say Goodbye: Hyuuma's Ill Girl of a Love Interest Mina passes away when he's in a baseball match. When the poor guy arrives to her home and sees her dead plus speaks to her grieving family, he does NOT take it well.
Pink Is Girly: Akiko tends to wear pink clothes.
Pink Girl, Blue Boy: The start of the Mitsuru-centered OAV's have him wearing an outfit that includes a light blue shirt, while his girlfriend

Akiko

is in a pink sundress.
Princely Young Man: Mitsuru is the Ice King type, adding tiiiiiny dashes of the Yamato Nadeshiko kind.

Chuuta downplays it, since he starts as an Ice King but defrosts FAST.

Promotion to Parent: Akiko Hoshi has to play this role, since her and Hyuuma's mother died very young and Ittetsu is a less-than-ideal father to them. As such, she is Hyuuma's biggest supporter and is gently yet fiercely protective of him, willing to go against Ittetsu and others if it means she'll be able to help him.

Hyuuma's Friendly Rival Housaku Samon is the eldest of six siblings - the others are his three brothers and two sisters, all of them much younger than he is. He desires to be a baseball star so he can provide for the children adequately; by the time Shin has begun, said dream has become true and his Love Interest Kyouko helps him out.

Ship Tease: Mitsuru and Akiko get a bit of this, even when some manga scenes between them were taken out of the original anime series. i.e, when Akiko breaks down over Hyuuma's Career-Ending Injury, Mitsuru is the one who talks to her and calms her down. They ultimately have a Relationship Upgrade

Hyuuma has it with two girls, Rumi and Mina.

But nothing comes from either potential relationship.

Stage Dad: Ittetsu, HOLY SHIT!
Star-Crossed Lovers:

Hyuuma and Mina

can be seen as such
Stellar Name: For both the series and the protagonist.
Stock Shoujo Bullying Tactics: Hyuuma was harassed by other kids for either his poverty or his training harness, and in fact he met his Friendly Rival Mitsuru when he witnessed the harassment and stepped in to stop it. In his first days in Seiun he also was bullied by Chuuta, but when he turned out to be stronger than the other youth thought, they became fast friends.

Mitsuru himself lived in England as a child, and he was heavily bullied by English kids. He didn't necessarily have it easier when he returned to Japan, either.

Strong Family Resemblance: Physically speaking, as seen in the second picture Hyuuma looks like a younger Ittetsu. Akiko resembles her and Hyuuma's Missing Mom, but with lighter and longer hair.
Third Person Person: Rumi.
Tender Tears: Both of the Hoshi siblings are prone to these, but especially Akiko. At times it's easier to count the scenes in which the poor girl does NOT seem to be about to start crying.
Training from Hell: This series is the Ur Example in anime: poor Hyuuma was put through hellish training as a baseball player since childhood by his father. The most iconic part of the training was a special spring-loaded harness Hyuuma wore beneath his clothes, which made even daily tasks part of this.
Trope Codifier - Ur Example: Again, if someone wants to know where pretty much ALL Sports Story Tropes in Japan come from, they need to not look further than Kyojin no Hoshi. It has pretty much EVERYTHING: Training from Hell, Melodrama, the "never give up on anything" mentality, etc.
Yamato Nadeshiko: Hyuuma's kind and gentle older sister Akiko fits in fairly well via being his mother figure and the more down-to-Earth member of the Hoshi household (even if... tearful and frail), having long dark hair plus cutely modest looks, etc. After she marries

Hyuuma's rival Mitsuru Hanagata

in the sequel, she starts wearing kimonos and looks even more like one.

To no one's surprise, Akiko and Hyuuma's late mother turns out to have been one.

Youthful Freckles: Curiously, the one who has them is Housaku rather than Hyuuma. He "loses" them in Shin, however.
Tropes from the Second Part (Shin Kyojin no Hoshi - Shin Kyojin no Hoshi II)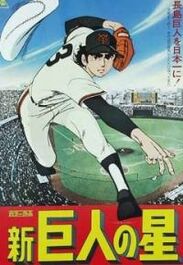 Cite error: <ref> tags exist, but no <references/> tag was found
Community content is available under
CC-BY-SA
unless otherwise noted.