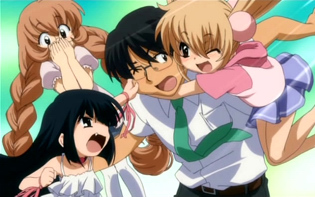 "My dream is to become sensei's bride."
Kodomo no Jikan (A Child's Time) tells the tale of Rin Kokonoe, a girl in third grade who develops a massive crush on her 23-year old teacher, Daisuke Aoki. This in itself wouldn't be so bothersome, if it weren't for the fact that Rin is extremely forward about this and gives it a definite sexual slant which is very inappropriate for her age.
Aoki is totally appalled by Rin's behavior at first, both because of its inappropriateness and because she uses it to blackmail him more than once, but he decides to help Rin out by trying to be a good teacher to her. The series as a whole in all its adaptations vacillates between playing this behaviour for laughs - and fan-service - and exploring the reasons behind such clingy and obsessive behaviour. This can result in a certain amount of Mood Whiplash, and is the greatest threat to the series' integrity as a coherent narrative.
The manga has a noticeable amount of Character Development, much of which found its way into the anime. This is what sets it apart from more comedy-driven shows with more or less the same subject matter. The amount of Fan Service (Lolicon-based or otherwise) waxes and wanes, but the general trend of the series is towards more fan-service.
The anime is based on the manga by Kaworu Watashiya, being her first work that got turned into an animated format. The manga itself was first scheduled to be translated and released in the USA by Seven Seas Entertainment as Nymphet, but the release was canceled because of the rather controversial nature of the series. In 2007 the first season of the anime was dropped from two Japanese stations following the generalized controversy, and only aired with massive amounts of censorship. The adaptation continued in 2009 in the form of an OVA series, which covered the fourth volume of the manga and stayed much more true to the original. Another OAV was released in January 2011 this time adapting a story from volume eight.
The manga has been re-licensed for English release, via a Kickstarter (under the title Kodomo no Jikan). Furthermore, it became they most funded graphic novel.
Please do not confuse with Kodomo no Omocha. Also not related to the 2000-2002 Hentai OVA of the exact same name.
Note: Due to this work's reputation, all links to it should probably be considered NSFW regardless of content and/or context.
---
Tropes used in Kodomo no Jikan include:
  Mimi: You see, it was written by a school teacher for a 10-year old girl he loved, named "Alice".
  Aoki-sensei: Pillow fights are prohibited! Horror stories are prohibited! Porn magazines are prohibited! Sacrificing is prohibited!
  Mimi-chan's ero-limiter finally broke down?!
Christmas Cake: Shirai-sensei. Lampshaded in one chapter, when she and Aoki get into the usual argument, and the latter asks her if she's his mother.
  Have you forgotten that black-haired couples never work!?
  Rin: But back when Mimi-chan got hers, you told me that I didn't need one...\\
Aoki: That was two years ago!
Chapter 45 during the suicide note arc.
  Rin: I want to see your dick, sensei...\\
Aoki: Why would you even want to see something like that!? Besides, you saw it in the toilet in third grade, didn't you!?
  Rin and Kuro: (Shocked) She believed every single word...
Community content is available under
CC-BY-SA
unless otherwise noted.