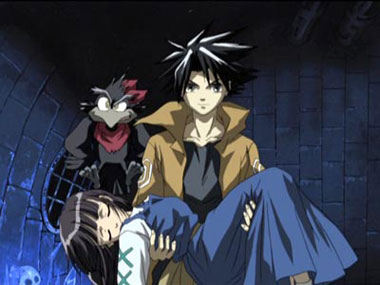 ]
King of Bandit Jing is a seven volume manga series by Yuichi Kumakura, and has been adapted into a 13 episode anime.
King of Bandit Jing is a series of short, usually disconnected stories starring the eponymous young boy. His partner is a wisecracking crow named Kir who can transform into a Wave Motion Gun by fusing with Jing's arm; this is the only supernatural power that Jing possesses. Although his reputation seems to extend throughout the universe of the series, many enemies underestimate Jing, not expecting the "great King of Bandits" to be a "little kid".
Each story focuses a new treasure or object that Jing is seeking. He is accompanied by a woman or girl (affectionately referred to as "Jing Girl") somewhere along the way on his quest for this item, and an enemy that either wants to protect what it is he intends to steal or get to it before he does. Much of the appeal of the series comes from the fantastic and often surreal world that Jing lives in, bordering on the Expressionist style.
The manga series was followed by a sequel series known as King of Bandit Jing: Twilight Tales. The closest that the anime series got to a sequel was an OAV called "King of Bandit Jing: Seventh Heaven" which somehow managed to be even more incomprehensible than the main series was.
---
This series has examples of:
Community content is available under
CC-BY-SA
unless otherwise noted.