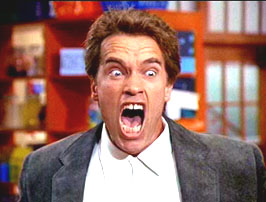 "Who is your daddy and what does he do?"
Kindergarten Cop is one of Arnold Schwarzenegger's earlier comedic roles, following his comedy debut in Twins.
Arnold plays Det. John Kimble, a cop trying to put away drug dealer Cullen Crisp. Hoping to locate Crisp's estranged wife and son in order to draft them as witnesses, and having no information about them except the name of the school where the son goes, Kimble goes with his partner to find them. Initially it is his partner who is supposed to teach the kindergarten children with Kimble as the muscle, but when she gets food poisoning on the journey, Kimble has to do it.
Hilarity Ensues when tough guy Arnold turns out to be completely unprepared to take on the challenge of babysitting five-year-olds. Meanwhile, Crisp gets released from prison and sets out to find his family...
While the film was not what everybody expected thanks to deceitful trailers, it helped to type-cast Arnold as an action-movie actor, and was a moderate success.
Tropes used in Kindergarten Cop include:
 Twin Girls (in unison): Our mom says our dad's a real sex machine.
 Girl: I mean his wife took his kid and a couple of million...
  Phoebe: Nah, he doesn't wanna eat that. He's a tough guy. Tough guys don't eat jello.
Community content is available under
CC-BY-SA
unless otherwise noted.